It's all good, that's the message from bestselling author Cassie Mendoza-Jones; kinesiologist, business alignment coach and naturopath. For those of you who don't know, kinesiology is a holistic health approach through muscle monitoring and promotes physical, emotional, mental and spiritual health.
"I work with women and entrepreneurs, healers, coaches and creatives who are driven, devoted and honouring their dreams, and who want to become more powerfully aligned to their bigger vision, clear perfectionism, procrastination and overwhelm, and create their own version of a beautiful and aligned business and life." – Cassie Mendoza-Jones
"My work is for you if you're ready to let go of limiting beliefs, fears and worrying thoughts that consume you, and if you want to build a life and business that feels really good to you." – Cassie Mendoza-Jones
We had Cassie in to sign hundreds of copies of her latest self-help guide It's All Good: How to Trust and Surrender to the Bigger Plan. This comes off her previous bestselling book You Are Enough, which explored why we have become so worried about what other people think of us, and what our infatuation with comparison can cause on physical, mental, emotional and spiritual levels.
In It's All Good, Cassie strives to teach people how to live in the present, rather than getting caught up in the disappointments of the past or the fear of the future. Cassie wants to help people to trust the journey they're on, to surrender to the now and bring all their energy to the present.
We asked Cassie to answer some questions about her new book It's All Good and found out what she loves to read herself!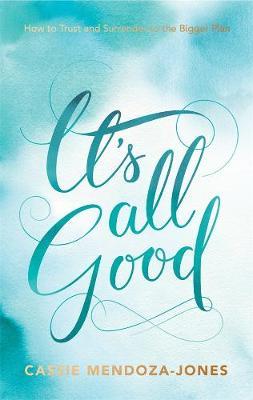 It's All Good
How to Trust and Surrender to the Bigger Plan
Often it's during our most challenging times that we learn and grow the most. When we detach ourselves from past disappointments and future outcomes, trust our journey, and surrender to where we are now, we can tap into a newfound ability to breathe fresh energy into all areas of our life.
When we surrender to the bigger plan, we can be comfortable with the uncertainty that often lies between making plans and seeing our dreams manifest. Filled with practical tips, affirmations, meditations, energetic tools and more, It's All Good guides us to surrender, tune into trust, and ultimately achieve the peace of mind that comes from knowing we are always supported.
About the Contributor
Bronwyn Eley is new to the book industry, having previously served in the Royal Australian Air Force & even spent some time as a barista until entering the exciting world of Booktopia. Books are her true passion. Bronwyn writes in her spare time, often has her face buried in a book and enjoys keeping fit (which she undoes by eating loads of chocolate) with Martial Arts and personal training. She can't answer what her favourite book is but she has a soft spot for Peter Pan (J.M Barrie), Outlander (Diana Gabaldon), Stardust (Neil Gaiman), The Illuminae Files (Jay Kristoff and Amie Kaufmand) and Six of Crows (Leigh Bardugo). Fantasy, sci-fi and YA make up the majority of her bookshelves.