You may recognise her as the host of ABC's flagship news and current affairs program, 7.30. She's one of Australia's most acclaimed journalists and now she's an author too. Leigh Sales has written On Doubt, an essay on the instability of Australian politics, Donald Trump, and a world no longer set on the truth. Leigh's essay focuses on the media and political trends that are defining us today.
"It was about my concern that facts were being replaced by the rise of opinion in journalism. I was concerned to see the way that I thought journalism was drifting away from facts towards the vibe, the opinions." – Leigh Sales
For a limited time, you can get a copy signed by Leigh herself by heading to our website.
Leigh sat down with Booktopia's John Purcell to chat about On Doubt and more. Listen here: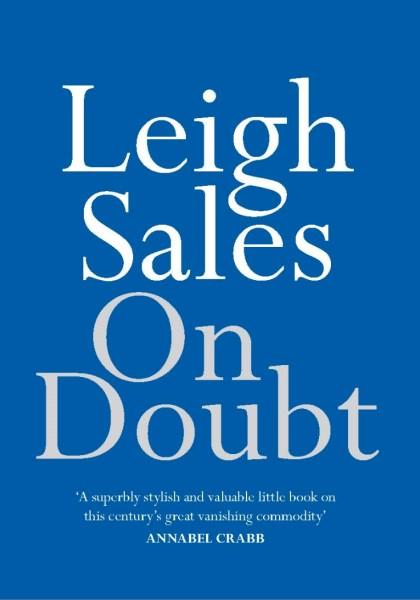 On Doubt
Acclaimed journalist Leigh Sales has her doubts, and thinks you should, too.
Donald Trump, the post-truth world and the instability of Australian politics are all examined in this fresh take on her prescient essay on the media and political trends that define our times. Almost a decade after she first wrote this personal essay, her message of truth, scrutiny and accountability is a much-needed pocket-sized antidote to fake news.
About the Contributor
Before entering the exciting world of books, Bronwyn served in the Royal Australian Air Force, travelled extensively and worked (still does!) as a barista on the weekends. Books are her true passion. Bronwyn's debut fantasy novel Relic is coming out in 2019 with indie publishing house Talem Press. They are to publish her entire trilogy called The Relic Trilogy. In her spare time, Bronwyn writes, reads and enjoys keeping fit (which she undoes by eating loads of chocolate) with Martial Arts and personal training. She can't answer what her favourite book is but she has a soft spot for Peter Pan (J.M Barrie), Outlander (Diana Gabaldon), Stardust (Neil Gaiman), The Illuminae Files (Jay Kristoff and Amie Kaufman) and Six of Crows (Leigh Bardugo). Fantasy, sci-fi and YA make up the majority of her bookshelves.