Last week Booktopia was lucky enough to have Mark Manson in to chat about and sign copies of his bestselling book The Subtle Art of Not Giving a F*ck.
The Subtle Art of Not Giving a F*ck is a generation-defining self-help guide. It's about finding the things in life that really matter in order to live a happier life. It uses a combination of academic research and humour to show us how to stop trying to be positive all the time so that we can truly become better, happier people.
"There are infinite ways to see how you don't measure up." – Mark Manson on his bestselling book, The Subtle Art of Not Giving a F*ck.
This book has been in Booktopia's bestsellers list for many weeks. Reviews left by our customers have described it as "life changing", "hilarious and relevant", and "refreshingly honest and bold".
Booktopia's John Purcell and Ben Hunter sat down for a chat with Mark during his recent visit, and a lot of fun and laughter was had. "There's a lot of feelings on inadequacies at the moment", Mark says.
Listen to the podcast below, although fair warning, there is a lot of swearing.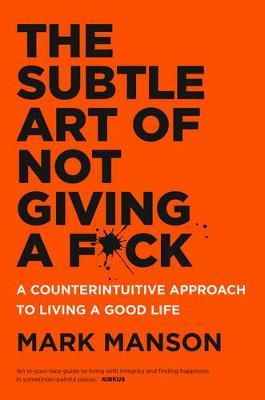 The Subtle Art of Not Giving a F*ck
A Counterintuitive Approach to Living a Good Life
For decades, we've been told that positive thinking is the key to a happy, rich life. Mark Manson, however, doesn't sugar-coat or equivocate: "F**k positivity," he says in his wildly popular internet blog. "Let's be honest, shit is f**ked and we have to live with it."
Backed by both academic research and well-timed poop jokes, Manson makes the argument that improving our lives hinges not on our ability to turn lemons into lemonade, but on learning to stomach lemons better...
About the Contributor
Tanaya has been a lover of books for as long as she can remember. Now, her book collection is a little out of control, mostly consisting of YA fiction and pretty hardcovers. When she's not reading, she spends a lot of her time taking photos of books for her bookstagram account, @prettypagesblog. She also has a love of Disneyland, bullet journaling and cats.
Follow Tanaya: Twitter