Lian Tanner has been dynamited while scuba diving and arrested while busking. She once spent a week in the jungles of Papua New Guinea, hunting for a Japanese soldier left over from the Second World War. She likes secrets, old bones, and animals that are not what they seem. Nowadays she lives by the beach in southern Tasmania with a large fluffy tomcat called Harry-le-beau.
Lian is the author of the popular The Keepers Trilogy and The Hidden Series. Her latest book, Accidental Heroes, is the first book in The Rogues series. Lian now answers Booktopia's Ten Terrifying Questions.
1. To begin with why don't you tell us a little bit about yourself – where were you born? Raised? Schooled?
Tasmania, Tasmania and Tasmania. I've lived here all my life except for three years in Papua New Guinea when I was in my early twenties, and a year hitchhiking around Europe in my mid-thirties.
2. What did you want to be when you were twelve, eighteen and thirty? And why?
At twelve I wanted to be a vet, mainly because I loved animals and thought that a job where I could spend time with them would be close to heaven. It took me a while to figure out that a vet who dissolved into a puddle of tears when she saw a wounded rabbit probably wasn't going to be much use to anyone.
At eighteen I'd just started a degree in earth sciences, and had vague ideas of becoming a geologist or a geomorphologist. But I loved the dramatic stories rather than the science – I'm still entranced by glaciers and volcanoes, and how they form.
At thirty I was in a band called the Ovarian Sisters and my main aim in life was to sing, perform street theatre, and enjoy myself. But I was writing as well – in fact, I was writing from when I was about six, and by the time I was thirty I was starting to experiment with children's stories in my spare time.
3. What strongly held belief did you have at eighteen that you do not have now?

When I was a kid one of my brothers had a superhero colouring book that was full of stirring images and quotations. The one that stuck in my mind was 'Right Conquers Might'. It was a very reassuring idea for a child, and I clung to it for quite a long time. I certainly still believed it at eighteen. I don't think it lasted for much longer though.
4. What were three big events – in the family circle or on the world stage or in your reading life, for example – you can now say, had a great effect on you and influenced you in your career path?
I think the main things that influenced my development as a writer were the novels I read as a child. Of those, I would single out The Jungle Book by Rudyard Kipling, The Lion, The Witch and the Wardrobe by C.S. Lewis, and The Stormy Petrel by Violet Needham.
5. Considering the innumerable electronic media avenues open to you – blogs, online newspapers, TV, radio, etc – why have you chosen to write a book?
Writing was always my first choice (though in another life I might have been an illustrator). At one point I was writing radio and stage plays, but I suspect I was always heading towards novels. Writing for any sort of theatre is a collaborative process, and although that has its own delights, the solitude of writing a novel suits me better.
6. Please tell us about Accidental Heroes.

Accidental Heroes is a middle-grade fantasy-adventure, set in the same world as the Keepers trilogy, but with different characters. It takes place in a city when no one believes in magic, and it's the story of Duckling, a girl who trusts no one, and Pummel, a boy who trusts everyone. They're about to get caught up in a plot to kill the Heir to the Faithful Throne, and the only way they can save themselves (and the Heir) from an awful death is to learn to use the magic that no one believes it.



Booktopia's Tracey Mills reviews Accidental Heroes, read the review here.
7. What do you hope people take away with them after reading your work?
Enjoyment, satisfaction, some unanswered questions and a new interest in food tasters.
8. Whom do you most admire and why?
Ursula Le Guin. She writes such thoughtful books, full of heart and intelligence.
9. Many people set themselves very ambitious goals. What are yours?
To write stories that will help make sense of the joys, terrors, hopes and uncertainties of childhood.
10. What advice do you give aspiring writers?
The usual – read read read, write write write. But also, go out and live your life. You need something to write about, and you need life experiences to teach you about the world and yourself.
Thank you, Lian!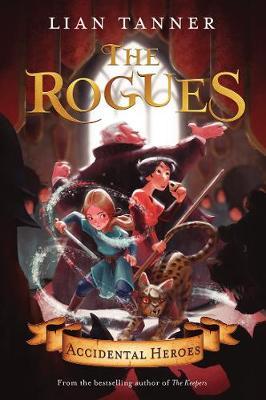 Accidental Heroes
The Rogues: Book 1
The Rogues is a vividly exciting new trilogy set in the same world as the best-selling Keepers, with all new characters. A brilliant fantasy-adventure for 9 to 13 year olds.
The devious Lord Rump and his granddaughter, Duckling, need a disposable boy, and Pummel, a farm boy looking for work in the city, fits the bill perfectly. Duckling is happy to tangle him in her grandpa's web, as long as Grandpa keeps his promise - that this is his very last Scheme. Lord Rump's machinations take both children into the Strong-hold of Berren - where time has stopped and no one can leave - and before long they are entwined in a plot to kill the heir to the Faithful Throne...
About the Contributor
Anastasia Hadjidemetri is the former editor of The Booktopian and star of Booktopia's weekly YouTube show, Booked with Anastasia. A big reader and lover of books, Anastasia relishes the opportunity to bring you all the latest news from the world of books.