For those who grew up pouring over literary classics like C.S Lewis and J.R.R Tolkein, The Wonderling is sure to capture both hearts and imaginations. Written by New York Times bestselling author, Mira Bartok, the book follows an orphaned Foxling (half fox, half human) named Number 13 (later named Arthur, after the brave and bold King Arthur, by his best friend Trinket, the Sparrow). Arthur has lived at the Home for Wayward and Misbegotten Creatures, run by the devious Miss Carbunkle, since he was a young groundling, and the tale sees Arthur finding himself, his courage, and his home.
Movie rights for The Wonderling were sold based on the book's synopsis – incredibly, the novel wasn't even written! (Fox Studios paid seven figures for the movie rights). Michael Vukadinovich is currently working on the screenplay for the movie. Tony-winning and Oscar-nominated Stephen Daldry will direct the film (The Crown, Billy Elliot, The Hours, The Reader). Mira Bartok now answers Booktopia's Ten Terrifying Questions.
1. To begin with why don't you tell us a little bit about yourself – where were you born? Raised? Schooled?
I was born in Chicago, Illinois, but we moved to Cleveland, Ohio when I was four. I was raised by my mother who was a musical prodigy, but unfortunately, she was so afflicted with schizophrenia that she could barely function. Therefore, my sister and I basically raised ourselves, with a little help from our grandparents. Nonetheless, I was fortunate enough to be in a program for gifted children, which meant that I read the classics, had art classes, and was immersed in music and language programs from an early age.
After high school, I went to a small liberal arts college, then transferred to the School of the Art Institute of Chicago where I made films, artists books, drawings, and installation art. I was very involved in the Chicago and New York gallery scene before I started writing books. I also have an MFA in painting from the University of Illinois and an MFA in fiction from the University of Massachusetts. That is probably way more information than you even want to know!
2. What did you want to be when you were twelve, eighteen and thirty? And why?
At 12 – an artist. At 18 – an artist. At 13 – an artist… and a writer. Why? From the time I was four, whenever someone asked me what I wanted to be when I grew up, I said, "an artist." I've never been able to imagine being anything else. The only difference now is I'm an artist who also happens to write. I've always felt that the most important thing was to serve the project, and if the best way to express that idea is through a children's book, great. But next time around, the best idea I have might best be executed in a podcast, a film, or book of poetry.
3. What strongly held belief did you have at eighteen that you do not have now?

I believed that we all are inherently good, deep inside. Sadly, I no longer believe that. What is going on in the U.S. right now is proof of that.
4. What were three works of art – book or painting or piece of music, etc. – you can now say, had a great effect on you and influenced your own development as a writer?
That's so hard! I can't narrow it down to three works! So I would say J.S. Bach for music, a long list of films by Werner Herzog, pretty much anything created by the South African artist William Kentridge, The Arrival by your local hero Shaun Tan, and I would toss in Bosch and medieval illuminated manuscripts, along with my mentor, poet Dara Wier's collected works.
5. Considering the innumerable electronic media avenues open to you – blogs, online newspapers, TV, radio, etc – why have you chosen to write a book?
I was trying to write a fantasy trilogy which was part graphic novel, set in World War II above the Arctic Circle in Norway, in a Sami reindeer herding community where I lived in 1996-97. But I just couldn't figure out how to pull it all together, so I thought I would write a very short "practice" book, with no intention to even publish it. Thus, The Wonderling was born!
6. Please tell us about The Wonderling.

The Wonderling is the story about a terribly shy one-eared misfit named Number Thirteen, who lives in a world of other misfits called groundlings, animal-human hybrids who are the lowest of the low on the social ladder, dominated by humans. He is part fox /part human, and, with the help of his bird-groundling friend Trinket (who names him Arthur after the mythical king), he escapes the horrible orphanage they live in and sets out to find his destiny. He has an incredible gift of music inside him, but it takes a while for him to realize it. He is a reluctant hero, very humble, very brave, and has an innocent heart. It's a book about empathy, friendship, courage, magic, and the power of music to transform one's life.
7. If your work could change one thing in this world – what would it be?
I hope the book inspires them to be humble and compassionate, especially in these dark times. I also hope they find the funny bits funny, because I really enjoyed writing those!
8. Whom do you most admire and why?
The first person who comes to mind at the moment is my friend and collaborator Jedediah Berry (The Manual of Detection). What I admire in Jed is that, aside from being a visionary, lyrical writer of speculative fiction, he isn't afraid to bend genres and tell stories in innovative ways, such as his "make your own narrative" deck of cards, or his collectively written twitter pieces. He is also a master of plot and structure. Jed helped me immensely when I was trying to figure out all the crazy plot twists in my book!
I'd also add my sister, Natalia Rachel Singer, who is an incredibly dedicated writer and teacher of writing. She is the hardest working writer I know, and has taught me much about being dedicated to one's craft. I also admire how much value she places on every single sentence, which is evident in her exquisitely lyrical voice.
9. Many people set themselves very ambitious goals. What are yours?
My goal is to live long enough to finish: the Wonderling series, my Norwegian Arctic series, my secret project with Jedediah Berry (a collaborative, illustrated book called The Forgotten Island), and publish at least one book of poetry, a book of short stories, and a bunch of picture books before I die. Is that too much to ask?
10. What advice do you give aspiring writers?
Read, read, read, read. And write, write, and re-write and continue re-writing until it's ready to send out. I'd also say: leave your ego at the door, build community, get a dog or a cat, always challenge your assumptions, and always be humble and kind.
Thank you, Mira!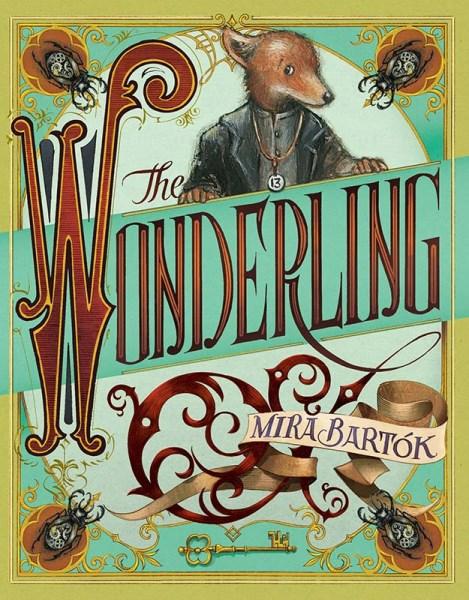 The Wonderling
In this extraordinary debut novel with its deft nod to Dickensian heroes and rogues, Mira Bartok tells the story of Arthur, a shy, fox-like foundling with only one ear and a desperate desire to belong, as he seeks his destiny. Welcome to the Home for Wayward and Misbegotten Creatures, an institution run by evil Miss Carbunkle, a cunning villainess who believes her terrified young charges exist only to serve and suffer. Part animal and part human, the groundlings toil in classroom and factory, forbidden to enjoy anything regular children have, most particularly singing and music...
About the Contributor
Anastasia Hadjidemetri is the former editor of The Booktopian and star of Booktopia's weekly YouTube show, Booked with Anastasia. A big reader and lover of books, Anastasia relishes the opportunity to bring you all the latest news from the world of books.