The Misadventures series is a romantic series comprised of standalone novels, each written or co-written by bestselling romance authors including Helen Hardt and Shayla Black.  Expect these books to be steamy, romantic and sweet. The first book in the series, Misadventures of a City Girl, is co-written by Meredith Wild and Chelle Bliss. Chelle now answers Bootkopia's Nine Naughty Questions.
1. Headless washboard abs, a torrid embrace, the sprawling homestead, an elegantly dressed décolletage, or the vaguely kinky object against a dark background – what's your favourite type of romance cover and why?
I'm not going to take the easy way out and say all of them, although I want to so badly. I know this is hard to believe, but I prefer headless washboard abs. It gives me the sexiness of what's inside while still letting me determine the face that matches the character best.
2. What is the secret life of a romance writer? What goes on between you and your keyboard (or quill) behind closed doors?
The secret life of a romance writer is completely mundane and the least sexy existence there is. Typically, I sit on my couch with my hair in a messy bun, no makeup on, a pair of comfy shorts and a tank top, and peck away at the keyboard for hours. I tend to make funny faces and often talk to myself as I work through a sentence or a plot line. From the outside, most days I probably look more like I need a padded room more than living my dream as a glamorous romance writer.
3. At the heart of a romantic story is the way in which the main characters reveal their true natures to each other. How much of yourself do you put into your characters, and have their stories been affected by your personal experiences?
There's always a tiny piece of me in almost every character that I create. Whether it's a small quirk or a personality trait, I find a way to slide something in that is part of my essence. My life experiences do sometimes affect a story.
4. I'm interested in how you differentiate between romance fiction, erotica and porn. Are romance readers getting naughtier?
At the very core of romantic fiction is a love story. It's like the world didn't bloom into existence until the two characters met. Although the stories may be getting dirtier and pushing the envelope a little further, it's always above love in the end.
Erotica and porn are entirely different beasts. True erotica is more about sex and less about a relationship, just like porn. Some of it is gratuitous and fun without the focus on a happily ever after for the couple or people involved. It's not about the journey, but immediate gratification, unlike romantic fiction.
I don't think romance readers are getting naughtier. They've always craved more, but now there's a large variety of books for them to finally satisfy their appetite.
5. Please tell us about your latest novel. Did you have a secret alternative title while you were writing it?
Writing Misadventures of a City Girl was by far the smoothest project I've ever completed. We had the title, cover, and basic summary before we typed a single word. The best part of writing with Meredith Wild was the unexpected. She'd write a few thousand words and then send it my way to add a few thousand more. I never had any idea about what was going to happen or what situation she was going to end her part on. I had to be on my toes and ready to tackle anything. It was hands down the most fun I've ever had writing a book. It was the ultimate experience in creativity.
6. What's the most memorable reaction you've received after a friend or family member read one of your books?
Ahhh! My significant other's grandmother started reading Misadventures of a City Girl and then sent me text messages that it was too hot and that she had to put it down even though she didn't want to stop. She then video chatted me and proceeded to tell me the parts of the story that made her a little hot under the collar. She told me that she would finish the book, but she couldn't do it too fast because she was a single gal and it turned her on. I don't remember a time when I laughed so much.
7. Romance writers are sometimes denigrated and asked when they'll write 'real' books – what do you tell the haters?
I would argue the fact until the day I die. Romance books have an impact on readers just like any other genre. Reading is supposed to be an escape, a dream world we can crawl into and there's no better genre than romance for that fairy tale that'll leave a smile on a reader's face. Romance novels are more complex than guy meets girl. There's always a challenge or personal growth that takes place. They aren't all a roll in the sack. There's always a lesson that's often overlooked by someone who's never read a romance novel. No one says romance movies aren't real movies, so why does the stigma persist with romance novels?
8. Romance readers love discovering new authors. Please tell us about five books you recently read and loved to bits.
Retaliation by Cat Mason was my favorite MC read this year. I can't get enough of her dirty-mouthed bikers, sassy females, and funny one-liners. I devoured Retrieval by Aly Martinez because it was filled with so many twists and turns that I couldn't read it fast enough. Mr. Perfect by J.A. Huss had me laughing out loud as I turned the pages, but it's also a smokin' hot read. Shayla Black is always a go-to author for me and she didn't disappoint in More Than Want You. Maxon and Keely sizzled and it had a spectacular plot twist. And last but not least, Misadventures of a Good Wife by Helen Hardt and Meredith Wild was highly emotional and so sexy I had to fan myself as I read it.
9. Please tell us your favourite scene from your latest book, and why it's particularly delicious!
There are so many scenes in Misadventures of a City Girl that I love, but if I have to pick one, I'm going to say when Madison finds Luke's cabin in the woods. She surprises him with her presence and it's pure perfection.
Thank you, Chelle!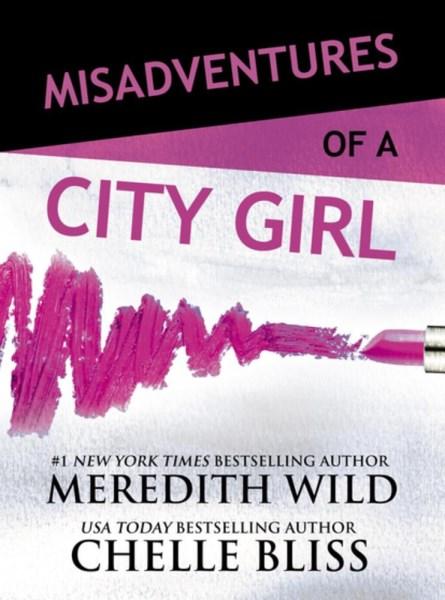 Misadventures of a City Girl
Fresh off a divorce from a Hollywood hotshot, Madison Atwood needs an escape. With the paparazzi fresh on her heels and her love life splashed on every tabloid, she runs away to a swanky retreat in Northern California. Avalon Springs is the mountainside haven she needs to find herself again.
Luke Dawson lives off the grid, preferring solitude to society. When he finds a beautiful woman soaking in the hot springs on his property, he can't stop himself from watching her. She captures his attention, but she's just a city girl--a beautiful distraction disturbing the peace he's settled here to find...
About the Contributor
Anastasia Hadjidemetri is the former editor of The Booktopian and star of Booktopia's weekly YouTube show, Booked with Anastasia. A big reader and lover of books, Anastasia relishes the opportunity to bring you all the latest news from the world of books.