Life on Air by David Attenborough
Review by Lara Summerville
Sir David Attenborough is globally beloved for revealing the hidden treasures of natural history on Earth, and in Life On Air he has gifted us with a far more personal treasure. This wonderful book takes the reader on the journey through Attenborough's television career, one spanning over 65 years.
Life on Air offers a truly enriching reading experience; Attenborough's distinctive voice is heard so clearly throughout this book, and his extraordinary natural talent as a storyteller is beautifully revealed, to the delight of the reader. He delivers his readers nothing but the facts, imparting them with the same humble modesty and dry wit that readers have come to know and love on the screen. Unlike Attenborough's famous documentaries, which excel in capturing unique footage of flora and fauna in situ, Life On Air details the intimate experience that humans can have with nature, as well as Attenborough's vast accomplishments that he's celebrated behind the scenes.
It's a highly relatable account, one which allows the reader to marvel at the grandness of nature as they travel the world alongside Attenborough. My imagination ran wild as I read, imagining being amongst the first foreign explorers to explore the depths of the New Guinea forests, or to walk alongside mountain gorillas as they moved through the jungle. I was similarly in awe as I imagined the thrill of being on the first expedition to encounter an unknown tribe of indigenous peoples, or as I sat beside Attenborough, privileged to privately view cultural rituals in the sanctity of the wilderness. In that sense, Life On Air is not unlike a "Making Of" episode, those small bits which Attenborough is renowned for including at the end of each of his series. He delights his readers at every turn with anecdotes of the wildlife he encounters, his mishaps with international travel, and of the many human experiences that would not normally feature in a natural history film.
Whether you're a lover of natural history or not, this is a book that all will treasure.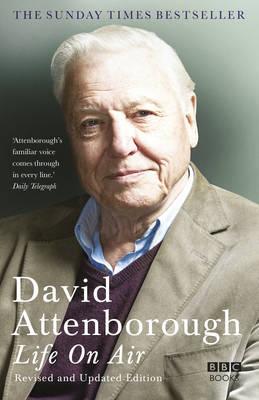 Life On Air - Revised and Updated Edition
Sir David Attenborough is Britain's best-known natural history film-maker. His career as a naturalist and broadcaster has spanned nearly six decades, and in this volume of memoirs Sir David tells stories of the people and animals he has met and the places he has visited. His first job - after Cambridge University and two years in the Royal Navy - was at a London publishing house.
Then in 1952 he joined the BBC as a trainee producer, and it was while working on the "Zoo Quest" series (1954-64) that he had his first opportunity to undertake expeditions to remote parts...
About the Contributor