Once a year, on All Souls' Day, it is said in Ireland that the dead may return. The 2017 Man Booker longlisted book, Solar Bones by Mike McCormack, is the story of one such visit.
This profound new work is by one of Ireland's most important contemporary novelists; the award-winner of the Goldsmiths Prize and Irish Book Awards Novel of the Year. Solar Bones is McCormack's latest masterpiece, an ambitious and other-worldly novel that plays with form and defies convention.
McCormack now answers the Booktopia Book Guru's Ten Terrifying Questions.
1. To begin with why don't you tell us a little bit about yourself – where were you born? Raised? Schooled?
Like many another Mayo man of my generation I was born in London of Irish emigrant parents. But we moved back to Mayo on the west coast of Ireland when I was a nipper. I was raised for a time on my grandparents farm in North Mayo but then settled back with my parents in a small village called Louisburg where I went to school.
2. What did you want to be when you were twelve, eighteen and thirty? And why?
When I was twelve I wanted to be a cowboy – a cattle rustler, gunfighter, bank robbing type of cowboy. I still hold to the bank robbing part of that ambition.
When I was eighteen I wanted to front my own heavy metal band. Oddly enough I never thought to get off my arse and form a band – such things just were not done in my part of the world. Still though, it was a definite dream.
At thirty I was pretty much set in my ways as a writer and all I wanted to do was write the best book I could.
3. What strongly held belief did you have at eighteen that you do not have now?

I believed at 18 that it was only a matter of a few years before Mayo would win an All Ireland title… over thirty years later that belief has taken some hammering.
4. What were three big events – in the family circle or on the world stage or in your reading life, for example – you can now say, had a great effect on you and influenced you in your career path?
The book has to be Flann O'Brien's The Third Policeman. When I lifted my head out of it, the world, and the world of books, had been changed. It showed me how infinite the novel could be.
A piece of music – hmmmmm…. I was introduced to Arvo Part's music in my early twenties and its ability to sketch out its own silence is something which has stayed with me.
It is impossible to narrow this down to one particular picture. In my twenties, I shared houses and spent a whole lot of time with artists, photographers and video artists. I got a really valuable education from them – I learned to see light and colour and shade in all its mood and movement. That whole period was really important to me.
5. Considering the innumerable electronic media avenues open to you – blogs, online newspapers, TV, radio, etc – why have you chosen to write a book?
The obvious answer is that I am a novelist, a fiction writer, so the idea was always going to present itself to either the long form or short form fictional device. But I think that there is something especially generous about the novel, something about the way it can accommodate the waste and repetition and glory and frustrations of a lived life with equal regard, which made it hospitable to the idea of Solar Bones.
6. Please tell us about your latest book…
Put swift and simply Solar Bones tells the story of a middle aged engineer, Marcus Conway, who, between the hour of midday and one o clock, is inundated with a deluge of memories which go back to his childhood and reach up to the present moment. He remembers his father and mother, the birth of his children, the ups and downs of his marriage and the politicking he has in his work. And it is all told in one continuous outpour…
7. If your work could change one thing in this world – what would it be?
If anything, a sense of astonishment that we are alive at all when the odds say we should be otherwise.
8. Whom do you most admire and why?
I admire several writers for a whole lot of different reasons. And the older I get the more I have come to admire certain writers. I have been thinking of the Irish writer John Banville's work recently and apart from the obvious allure of his prose and artistry, I have great admiration for the way he has stuck to his guns over the years and gone his own way. I doubt if he would see himself as an artistic hero but I think he is.
9. Many people set themselves very ambitious goals. What are yours?
I have an ambition to write a book in one draft, a book gifted to me from on high which will need no editing or amendment. I think I could be waiting a while on this one.



10. What advice do you give aspiring writers?
Learn to listen to yourself. Listen to that quiet, distant voice within yourself which you can only hear by way of long immersion in your own inner silence.
Thank you for playing, Mike!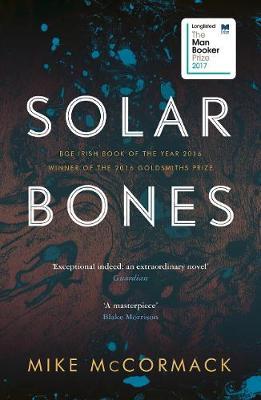 Solar Bones
Once a year, on All Souls' Day, it is said in Ireland that the dead may return. Solar Bones is the story of one such visit. Marcus Conway, a middle-aged engineer, turns up one afternoon at his kitchen table and considers the events that took him away and then brought him home again.
Funny and strange, McCormack's ambitious and other-worldly novel plays with form and defies convention. This profound new work is by one of Ireland's most important contemporary novelists. A beautiful and haunting elegy, this story of order and chaos, love and loss captures how minor decisions ripple into waves and test our integrity every day....
About the Contributor
Anastasia Hadjidemetri is the former editor of The Booktopian and star of Booktopia's weekly YouTube show, Booked with Anastasia. A big reader and lover of books, Anastasia relishes the opportunity to bring you all the latest news from the world of books.