Kaira Rouda is a USA TODAY bestselling, multiple-award-winning author of contemporary women's fiction including The Goodbye Year, Here, Home, Hope, All the Difference and In the Mirror. Her latest novel, Best Day Ever, is a gripping, tautly suspenseful tale of deception and betrayal dark enough to destroy a marriage…or a life. Read an extract of it here.
Kaira now answers the Booktopia Book Guru's Ten Terrifying Questions.
1. To begin with why don't you tell us a little bit about yourself – where were you born? Raised? Schooled?
I was born in Chicago, Illinois, and raised all over the United States. My father was a professor so we moved around quite a bit: California, Texas, Massachusetts, Ohio. I went to college in Tennessee. We lived in Ohio when my kids were young and now I'm living on a beach in California. Moving often as a child gives you a different perspective. I'm not sure if it's good, or bad. Just different.
2. What did you want to be when you were twelve, eighteen and thirty? And why?
I wanted to be an author for as long as I can remember but didn't go for that dream until age forty when my first book was published. So, at twelve, I wanted to stay in Massachusetts instead of moving and also be an author. At 18 I wanted to get into a good college an study writing and literature so I could become an author, and at thirty, I was happy to become a mom. I'm glad the dream never died, it just waited for a bit.
3. What strongly held belief did you have at eighteen that you do not have now?

I had strongly held beliefs about equality and feminism, about democracy and what's right and wrong back then and now. I don't think my beliefs have changed much through the years, just grown stronger.
4. What were three big events – in the family circle or on the world stage or in your reading life, for example – you can now say, had a great effect on you and influenced you in your career path?
Too  many to mention specifically, but as a literature major, certainly the classics. I minored in modernism, something I created that allowed me to study the great works of art in all disciplines created from the 1920s to the 1960s. A fascinating time of artistic expression.
5. Considering the innumerable electronic media avenues open to you – blogs, online newspapers, TV, radio, etc – why have you chosen to write a book?
It chose me, a long time ago.
6. Please tell us about your latest book…
Best Day Ever is the story of Paul Strom, a successful husband and father, who promises his wife that the first day of their romantic weekend together will be the best day. As they drive to their lakeside cottage, you may realize that Paul may not be what he seems.
7. If your work could change one thing in this world – what would it be?
I hope readers like the story and that they would like to read another one of my stories.
8. Whom do you most admire and why?
I most admire authors who support other authors and build each other up. This is a solitary pursuit so the support of the writing community is so valuable.
9. Many people set themselves very ambitious goals. What are yours?
I'm living my dream right now. Every day I feel like pinching myself. I have four wonderful young adult children, a husband I've been married to for 27 years, and we live at the beach. One of my novels is being published in Australia! What could be better? If life could only stay this blessed.
10. What advice do you give aspiring writers?
Write. Don't stop writing. If you don't give up on your dreams, they can come true.
Thank you, Kaira!

You may also be interested in:
Read an extract of Best Day Ever.
Guest Post: What happens when an unreliable character pops into your head?
Read Kaira's response.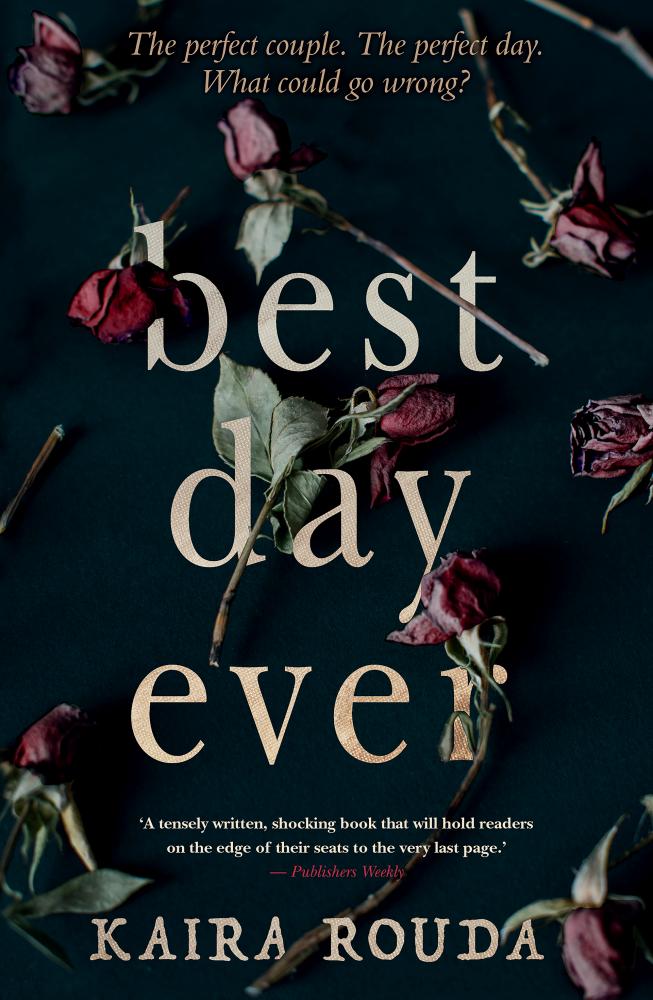 Best Day Ever
Paul Strom has the perfect life: a glittering career as an advertising executive, a beautiful wife, two healthy boys and a big house in a wealthy suburb. And he's the perfect husband: breadwinner, protector, provider. That's why he's planned a romantic weekend for his wife, Mia, at their lake house, just the two of them. And he's promised today will be the best day ever.
But as Paul and Mia drive out of the city and towards the countryside, a spike of tension begins to wedge itself between them and doubts start to arise....
About the Contributor
Anastasia Hadjidemetri is the former editor of The Booktopian and star of Booktopia's weekly YouTube show, Booked with Anastasia. A big reader and lover of books, Anastasia relishes the opportunity to bring you all the latest news from the world of books.