Cressida Cowell, the author of the bestselling How To Train Your Dragon series, will be releasing a new and exciting high-adventure series full of full of wizards, warriors, giants and sprites! Expect The Wizards of Once in September 19,  2017.
Set in an ancient, magical time, The Wizards of Once tells the story of a young boy Wizard and a young girl Warrior and what happens when their two worlds collide.
The film rights have already been acquired by DreamWorks Animation, the company behind the film franchise for Cressida's How to Train Your Dragon series.
Scottish actor David Tennant (Dr Who, Broadchurch, Jessica Jones), who read the audio version of all twelve How to Train Your Dragon books, has been signed on to read the audio book.
Cressida Cowell says: "I've been immensely lucky to have David Tennant interpreting my books for over a decade, and I'm absolutely thrilled that he's going to be reading The Wizards of Once. Having your story brought to life by an actor of his skill and genius is a special kind of magic. David's incredible talent has introduced thousands of families to How to Train Your Dragon."
The Wizards of Once
Review by Tracey Mills
Cressida Cowell, author of the How To Train Your Dragon series, returns with an utterly engrossing new adventure full of wizards and warriors, giants and werewolves, sprites and magical spoons!
Adults and children alike fell completely in love with the How To Train Your Dragon series. Millions of books were published, the books were adapted in two separate TV series, and several short films and video games were created to tie-in with the books. Two blockbuster movies were also made, with the third instalment coming in 2019, so it would be hard to find a child who doesn't know the series.
After so much success, I was a little sceptical picking up The Wizards of Once. Could Cressida Cowell possibly give us another series as good as How To Train Your Dragon? I had to find out. And guess what? I actually liked The Wizards of Once even more!
In this world, warriors and wizards are mortal enemies, witches have (possibly) been exterminated, and magical creatures are hunted by the warriors. The story opens with Wish, a warrior princess who is the opposite of your traditional princess, and Bodkin, her bodyguard who has the rather unfortunate habit of falling asleep in the face of danger. They embark on a forbidden adventure through the dark forest with a magical iron sword and spoon.
In the dark forest Wish and Bodkin encounter Xar, son of the King Enchanter, whose magic has not yet manifested. Xar and his band of magical creatures are on a mission to capture a witch so that Xar can take the witch's magic for himself. As you would expect, nothing quite goes to plan and Wish and Xar find themselves having to work together to save both warriors and wizards alike!
Beautifully illustrated and utterly engrossing, The Wizards of Once is chock-full of adventure, magic, humour and a storyline that will have you hooked until the very last page.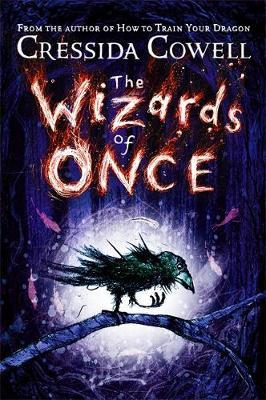 he Wizards of Once
This is the story of a young boy Wizard and a young girl Warrior who have been taught since birth to hate each other like poison; and the thrilling tale of what happens when their two worlds collide. Perfect for boys and girls who love fantasy adventure...
Xar is a Wizard boy who has no Magic, and will do anything to get it. Wish is a Warrior girl, but she owns a banned Magical Object, and she will do anything to conceal it...
About the Contributor
Anastasia Hadjidemetri is the former editor of The Booktopian and star of Booktopia's weekly YouTube show, Booked with Anastasia. A big reader and lover of books, Anastasia relishes the opportunity to bring you all the latest news from the world of books.