Blood, Sweat & Beers
By Murray Engleheart
Review by That Metal Man
"No way, get f*****d, f**k off!"
If these words strike meaning for you, then Blood, Sweat & Beers will not part your hands until you flip the final beer-sodden page. Blood, Sweat & Beers is part nostalgic journey, part historical journal for all who frequented this country's seediest RSL clubs, pubs and nightclubs throughout the 60s, 70s and 80s. On stages across Melbourne, Sydney, Adelaide and beyond, bands comprised of hardened men drank their way to excess and fame while creating ear-shattering walls of deafening music, music that often sent punters running outside in sheer terror. (Rose Tattoo were the kings of clearing rooms.) If you lived that subculture, you'd remember that the dangerously loud sound levels were very real, with Billy Thorpe and The Aztecs, and years later Rose Tattoo and The Angels, building back lines of amplifiers that would put the likes of sound-decibel legends, Deep Purple, to shame. As someone who was there front and centre from the early 80s, I have the lack of hearing to prove it…
Blood, Sweat & Beers is a book of heroics, of bands battling their way to the top of the heap, some sustaining their dominance over pop charts around the world or closer to home, while others such as punk underground icons, X, collapsed into self-destruction and terrible personal tragedy.
The power of Blood, Sweat & Beers is that it's extraordinarily well researched, with frank and often hilarious interviews interspersed with the author, Murray Engleheart's own accounts of what it was like to witness, and survive, those formative years inside Australia's seediest drinking establishments. (Remember the infamous Bondi Lifesaver, Chequers, or Mansel Room? You do? You're in for a treat!)
If you're at all fascinated by the The Aztecs (a band I knew nothing about beyond their existence until I read Blood, Sweat & Beers), The Angels or Rose Tattoo, then you're in for the rollercoaster read of your life. If you care for none of those acts, prepare to be shocked by the countless offstage tales and the endless blood-soaked onstage hysterics! The everyday accounts of these bands feature prominently, with painfully candid interviews with band members including, but not limited to, the late Billy Thorpe, the iconic Brewster brothers from The Angels, Angry Anderson, and members of all these bands, past and present. What's most interesting, though, is how these bands came to be, and how their lives did (or didn't) change for the better (or for the worse), and the offshoot bands borne from the smoking embers of their mainstays.
Then there's tales of blood, lots of it; stories from "the road" are both hilarious and terribly tragic. Take for example the infamous new year's eve concert in 1979 performed in front of the steps of the Sydney Opera House, where Chris Bailey and Doc Neeson of The Angels were king-hit and knocked out cold with magnum champagne bottles thrown towards them from the drunken crowd. It was all captured on live TV and described in the book in excruciating detail from the band members who stood performing on stage that evening, the lucky ones dodging lethal missiles. (By the way, the whole incident can be viewed on YouTube.)
But the best accounts come from Australia's own tattooed 'Little General', Angry Anderson. Murray Engleheart deserves kudos for the way in which he extracted almost child-like passion from Anderson, with the Angry explaining in excruciating and literally blood-soaked detail, how Rose Tattoo "worked their assess off" to become Australia's biggest-ever failed export, a result of poor timing on many fronts that, had the band taken slightly different paths throughout their career, may very well have ended up being as big, if not bigger, than AC/DC. (And who's going to argue with Angry Anderson?)
Of AC/DC, there are recounts from the (famous East Sydney studio) Alberts camp also, and how Alberts shaped the careers of The Angels, The Choirboys and Rose Tattoo, not to mention how ABC's Sunday evening music institution, Countdown, almost single-handedly muted Rose Tattoo from the Australian public, killing off the band's momentum in the early 80s after Angry Anderson tongue-kissed the Tatt's guitarist Mick Cocks on live Sunday night TV. (The moment fuelled by 6 hours of non-stop drinking backstage at the ABC studios before the 'Tats performed.) Oh, the memories.
But Blood Sweat & Beers is not just another rehashed chronicle of Oz rock history. No siree, this is a 150-decibel, beer chugging, iron bar first-hand account of Australia's 'wild, wild west' pub rock frontier that was unique to Australia and unlikely ever to be repeated again. (Even London's punk scene of the 70s didn't come close.)
Anyone can write a rock band biography, but only Murray Engleheart, Australia's premier rock journo, can tell it how it really was – because he was there, front stage and centre (and backstage, naturally), to witness the whole bloody mess – and the players he roped-in via interviews stood there before him, delivering their craft as only the hardened men of those days knew how.
Blood Sweat & Beers is hands down the best rockin' read Australia has to offer. If your record collection brims with Oz rock classics from the 70s and 80s, Blood Sweat & Beers is the vehicle to whip you back into those hungover days of cranked guitars, blood, sweat and (way, way too many) beers.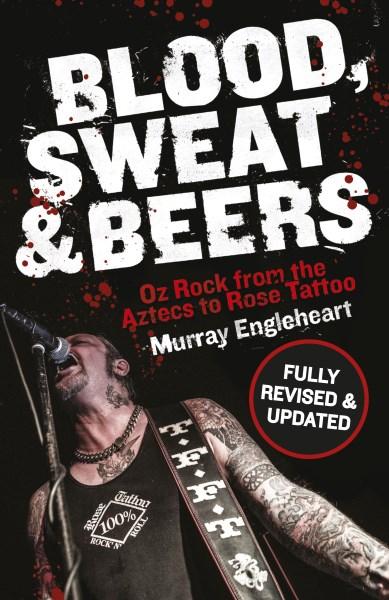 Blood, Sweat and Beers
It all began in the late 1960s when Lobby Loyde was blowing up amplifiers on such a regular basis that equipment had to be specially constructed. King of the Sunbury festivals, former child star Billy thorpe then took massive amplification to another level, making history along the way when his band the Aztecs pulled as many as 300,000 people to the Myer Music Bowl in Melbourne. Rose tattoo somehow cranked everything up even higher and became the loudest, most threatening band to ever stalk the earth.
Banned from tV show Countdown, they often played in prisons and occasionally had to fight, microphone stands in hand, to get out of the very venues they'd performed in...
About the Contributor