There are some books that must be smashed through in a single sitting, while others are best savoured over weeks or even months. I tend to smash more often than savour, and yet it took me over a month to finish Ken Follet's latest epic, A Column of Fire.
If this sounds like a criticism, let me be clear … I loved stretching this book out over the past month, returning to the 16th Century again and again, enjoying the luxury of a slow, absorbing read. If I could have made this book last longer, I would have done it. I really didn't want it to end and now that it's over I'm honestly feeling a bit bereft.
Column of Fire is the third book in the Kingsbridge series. The first book, The Pillars of the Earth, introduced us to the fictional city of Kingsbridge in 12th century England, during the time of The Anarchy. It's been over ten years since I read it, and it remains one of my favourite historical fictional novels of all time.
In the sequel, World Without End, we revisited Kingsbridge in the 14th Century during the time of the Black Death and The Hundred Years War. And now, with A Column of Fire, we're back again! This time we return to Kingsbridge in the 16th Century, during the time of The Reformation.
Kingsbridge Cathedral is still standing and the people of Kingsbridge are living lives full of hardship and turbulence. Europe is in a state of upheaval with deep tension and hatred between Protestants and Catholics. When Elizabeth Tudor is crowned Queen, she must face constant threats and challenges to keep her throne – not the least of which is the danger posed by Mary Queen of Scots. Elizabeth must build a loyal network of trusted spies in order to protect herself.
Of course, amidst all this turmoil and religious strife, we have a pair of unlucky lovers whose story seems to perfectly mirror the struggles of the age. The romance between Ned Willard and Margery Fitzgerald is every bit as ill-fated, star-crossed and wonderfully angst-ridden as that of Jack and Aliena (The Pillars of the Earth) and Caris and Merthin (World Without End). Readers will suffer through heartache and anguish alongside Ned and Margrey, even as they find themselves caught up in a sweeping tale of European politics, international espionage, court intrigue and religious conflict.
The Kingsbridge series is epic in scope. Ken Follet combines meticulous historical research with vivid imagery and dramatic irony. The result is a highly emotive story that weaves together real historical figures with fictional characters and truly captures the spirit of an age.  It is such a pleasure to sink into these books; you feel as though you have been transported to a brightly-painted and vividly detailed version of the past. A Column of Fire gives us a chapter of history, lit up in glorious detail and full of characters so vibrant they seem to leap off the page and into reality.
At 750 pages, A Column of Fire is a decadent feast of a book. I'm sure many readers will be tempted to gorge themselves, however, speaking as someone who tends to smash through books as quickly as possible – this one really is best savoured. A Column of Fire has reminded me how great it is to stop and smell the (fictional) roses. And now that I've finished it, I'm looking forward to a nice, leisurely re-read of the first two novels in the series.
Pillars of the Earth is being turned into a video game! Learn more in Episode 23 of BOOKED with Anastasia.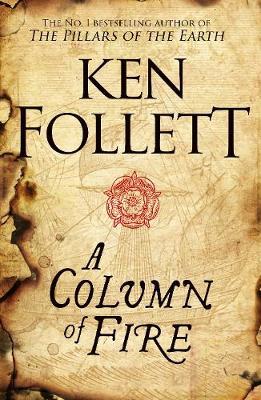 A Column of Fire
Christmas 1558, and young Ned Willard returns home to Kingsbridge to find his world has changed. Europe is in turmoil and Ned soon finds himself on the opposite side from the girl he longs to marry, Margery Fitzgerald.
When Elizabeth Tudor becomes queen, all of Europe turns against England. The young monarch sets up the country's first secret service to give her early warning of assassination plots, rebellions and invasion plans. She knows that alluring, headstrong Mary Queen of Scots lies in wait in Paris. Mary was proclaimed the rightful ruler of England and her own supporters are scheming to get rid of Elizabeth...
About the Contributor
Sarah is the Editor of The Booktopian Blog and Senior Content Producer at Booktopia, where she enjoys unleashing the full capacity of her bookish obsession. She enjoys sword-fighting, time-travel, rare jewel collecting and competitive yodeling. She also leads a very rich fantasy life. An avid reader and book reviewer, Sarah is filled with boundless enthusiasm for the written word! She also has a slight tendency to overuse exclamation points!!!!!
Follow Sarah: Twitter