August is an amazing month for Young Adult Fiction! Our book of the month, Because of You by Pip Harry utterly stole my heart and definitely made me cry happy tears. We also have some exciting new releases, including dazzling debuts from new authors Gregory Scott Katsoulis and Amanda Foody. Enjoy our reviews below.
---
Reviews by Sarah McDuling

---
What happens when a girl who feels like she has nothing meets a girl who seems to have everything?
Because of You is a deeply touching and very poignant novel about an unlikely friendship between two girls in very different circumstances.
Tiny is trapped in a spiral of self-blame and feelings of isolation and hopelessness. She has been living on the streets for a year when she is offered a place at a homeless shelter. Meanwhile, Nola is doing community service at the same homeless shelter. She doesn't have to worry about things like where to sleep or how to get her next meal, but that doesn't mean her life is simple. She knows what it's like to feel trapped and isolated.
When Tiny and Nola first cross paths, it seems impossible they could ever be friends. And yet, despite the prejudice and hostility that initially sets them apart, they soon form a friendship that will change both their lives.
Because of You is truly heartbreaking at times. Pip Harry confronts the issues of homelessness and life on the streets head on. She tells a story that is dark, gritty and painful, yet ultimately full of beauty and hope. This is a powerful book that stole my heart and brought tears of sorrow and joy to my eyes. Learn more.
---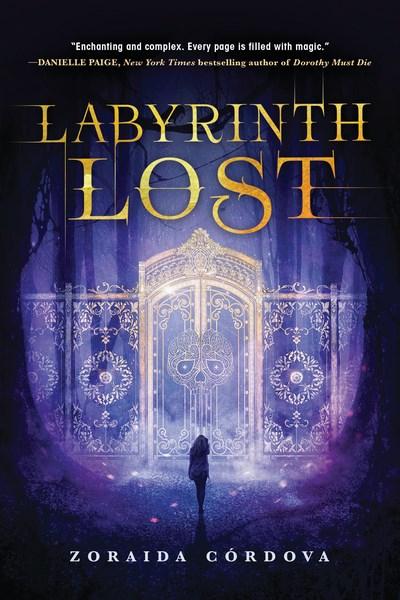 Labyrinth Lost
by Zoraida Cordova

This book is drenched in the most deliciously creepy atmosphere. Full of eerie mystery and dazzling horror, it thrums with a unique brand of strange magic. I just love it!
Alex comes from a long line of brujas but has always denied her own magical gift. In a misguided effort to rid herself of magic, she accidentally casts her family into a dangerous Limbo realm called Los Lagos. (Try to image a version of Wonderland crossed with Pan's Labyrinth, with a dash of The Upside Down from Stranger Things, and you will have a pretty good idea of the phantasmagorically creepy nightmare that is Los Lagos.)
Determined to save her family, Alex embarks on a rescue mission accompanied by a mysterious (possibly evil?) boy called Nova. A glorious boatload of magical adventure ensues!
The world building in Labyrinth Lost is absolutely fantastic. For those who skipped Spanish class, the word "bruja" means witch/sorceress and author Zoraida Córdova has drawn inspiration from Latin American culture and mythology in creating this darkly enchanting tale of magic.
This book has everything. Magic, suspense, adventure, action, intrigue and horror. There are strong themes of family, sisterhood and identity. There is also an intriguing bisexual love triangle that does not really get off the ground in this first book – but I look forward to seeing it play out in future instalments.
Perfect for fans of The Raven Cycle series by Maggie Stiefvater, and the Daughter of Smoke and Bone trilogy by Laini Taylor. Learn more.
---
Reviews by Tanaya Lowden

---
All Rights Reserved
by Gregory Scott Katsoulis

This is one of the most original YA books I've read in a long time. Everything from the world, to the plot, to the characters, felt refreshing. I feel as if it has been quite some time since there has been such a stand out YA dystopian, and quite honestly, I think this could be one of my favourite YA books of 2017.
The world that author Gregory Scott Katsoulis has created is so incredibly fascinating. Every word and gesture is copyrighted, patented or trademarked, meaning that to communicate, characters have to pay for the privilege. For example, the word 'sorry' is a flat ten dollars and requires a legal admission of guilt. Ads are everywhere, tailored to specific individuals, and there are scary historical laws that mean you could pay the price for someone in your family illegally downloading content from decades before. Everything about this world, albeit terrifying, is just so cool and interesting and I had a lot of fun reading about it.
The main character, Speth, decides to take a vow of silence rather than pay to communicate, an unexpected and defiant decision that creates tension in her society. You can feel her frustration with not being able to communicate properly, and you can appreciate her determination to stick to her commitment to silence, even when at times it causes her a lot of pain.
I think my favourite thing about this book was just how surprising it was. Every time I thought the book was going down a path of YA cliches it would turn around and go in a completely different direction. I loved it.
All Rights Reserved is the best YA dystopian in years – a must read for any YA fan! Learn more.
---
Daughter of the Burning City
by Amanda Foody

It's becoming quite common that YA books are part of series – duologies, trilogies, sagas. That's why it's always nice to come across a riveting and outstanding standalone. Daughter of the Burning City is exactly that and much, much more.
Part murder mystery, part magical fantasy, Daughter of the Burning City is the perfect hybrid of crime and fantasy. It's dark, it's gritty, it's whimsical, and it's incredibly imaginative.
Set in a travelling carnival, the book follows Sorina, a girl with no eyes with the rare talent of being an illusion worker. Her creations are incredibly realistic – they can be seen, touched, felt, and have their own distinct personalities. Each one has become her family. When one illusion is murdered, Sorina sets out to protect the rest of her family whilst hunting for an impossible killer.
I absolutely adored this book. Sorina was daring and strong, but also incredibly insecure and worrisome at times; she felt like a real person as opposed to a character on a page. I also adored Luca, Sorina's love interest, and thought the development of their relationship was slow and sweet like anyone experiencing love for the first time.
Like any good murder mystery, this book will have you desperately trying to solve the crime, and what I particularly liked about Daughter of the Burning City is that I was surprised with the outcome. Although I picked up on a few clues throughout the book, none of them were exactly what I had been thinking!
Daughter of the Burning City is a stunning debut. Amanda Foody is going to be an author to watch out for, especially if her future novels are as compelling as this one. Learn more.
---
Review by Lara Summerville

---
That Stubborn Seed of Hope
by Brian Falkner

Occasionally a new book will cross our paths that is capable of shattering any illusions we may have about life, capable of inducing some wonderful and scary self-reflection. That Stubborn Seed of Hope is one of these rare gems. One of the most harrowing aspects of life, and most avoided, is the element of fear and our interaction with it. Across 10 vastly different scenarios, the collection of short stories in That Stubborn Seed of Hope explore fear, loneliness and death, among other complex emotions, inducing an existential curiosity within the reader.
From the teenage boy who is torn between doing what is right, and doing what's right by his friends, to the girl who encounters an almost post-apocalyptic world where society is nothing like our own, each tale confronts fear on both a large and small scale. At a point in every story you will be forced to think on subjects that are better left ignored. Your own mortality, the meaning of life, and social expectations are all topics we'd rather not dwell on, but this book allows you no such luxury. However, the most wonderful aspect of this book is that it progressively provides you with the tools to be able to overcome the tightness in your chest. The title is startlingly accurate; Faulkner plants stubborn seeds of hope within the minds of his readers which is a gift both within the context of his stories, and in life.
For what seems to be a controversial theme for a young adult text, That Stubborn Seed of Hope proves itself to be the opposite. It is a weirdly wonderful, unique and inspired text that tackles very complex and real issues that trigger important self-reflection and inspire hope. Learn more.
About the Contributor
Sarah is the Editor of The Booktopian Blog and Senior Content Producer at Booktopia, where she enjoys unleashing the full capacity of her bookish obsession. She enjoys sword-fighting, time-travel, rare jewel collecting and competitive yodeling. She also leads a very rich fantasy life. An avid reader and book reviewer, Sarah is filled with boundless enthusiasm for the written word! She also has a slight tendency to overuse exclamation points!!!!!
Follow Sarah: Twitter