Aquarius Films, the Australian production company that brought us Lion, Berlin Syndrome, and the forthcoming TV series The Other Guys, has optioned the film and TV rights to Hannah Kent's The Good People.
Aquarius producers Angie Felder, Polly Staniford and Cecilia Ritchie said they are 'absolutely thrilled to be adapting Hannah Kent's brilliant second novel into a film'. 'Hannah's writing is incredibly evocative and cinematic, and we can't wait to bring this story to life on the big screen.'
Kent recently visited Booktopia to chat about The Good People. Listen to the podcast here.

The Good People is Kent's second book. Her debut, Burial Rites was shortlisted for a slew of literary awards including the 2014 Stella Prize and the 2014 Baileys Women's Prize for Fiction. It won multiple awards including the 2014 Victorian Premier's Literary Award People's Choice Award.
Below: Kent discusses Burial Rites with John Purcell at the 2014 Sydney Writers Festival.
About The Good People:
Nóra Leahy has lost her daughter and her husband in the same year, and is now burdened with the care of her four-year-old grandson, Micheál. The boy cannot walk, or speak, and Nora, mistrustful of the tongues of gossips, has kept the child hidden from those who might see in his deformity evidence of otherworldly interference.
Unable to care for the child alone, Nóra hires a fourteen-year-old servant girl, Mary, who soon hears the whispers in the valley about the blasted creature causing grief to fall upon the widow's house.
Alone, hedged in by rumour, Mary and her mistress seek out the only person in the valley who might be able to help Micheál. For although her neighbours are wary of her, it is said that old Nance Roche has the knowledge. That she consorts with Them, the Good People. And that only she can return those whom they have taken…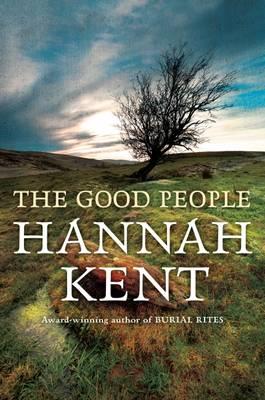 The Good People
The fires on the hills smouldered orange as the women left, pockets charged with ashes to guard them from the night. Watching them fade into the grey fall of snow, Nance thought she could hear Maggie's voice. A whisper in the dark.
"Some folk are born different, Nance. They are born on the outside of things, with a skin a little thinner, eyes a little keener to what goes unnoticed by most. Their hearts swallow more blood than ordinary hearts; the river runs differently for them."...
About the Contributor
Anastasia Hadjidemetri is the former editor of The Booktopian and star of Booktopia's weekly YouTube show, Booked with Anastasia. A big reader and lover of books, Anastasia relishes the opportunity to bring you all the latest news from the world of books.