Guest post by Mark Abernethy.
'You can't make this stuff up!'
From the first pitches I showed to Pan Macmillan publisher Angus Fontaine in 2016, to the industry feedback on pre-sale copies, The Contractor has been generating the kind of interest you get when you recognise someone as being from your suburb, while also living on another planet.
For those who haven't read The Contractor, this is the set-up: Mike Daly is an Aussie tradie. He's a carpenter who does renovations and new house builds, and you can see him around your suburb in his hi-viz shirt and ute, yakking with other tradies at McDonalds. But when his phone rings, and a client wants a different kind of contractor, he immerses back into what he calls The World: private intelligence contracting – a world of gigs, crews, briefings and infiltrations. In this world the tradie ute is swapped for a corporate jet and the team consists of people who previously worked in intelligence agencies and special forces units. It turns out that governments and corporations might commission the work, but the intel and operations are carried out by private contractors, like Mike. They drift in and out of countries, doing their gigs – collecting information, executing operations and retrieving 'product' – before going back to their daily lives.
The Contractor reveals this hidden world for the first time. The book features six stories about Mike Daly and some of his operations – they are true stories with key references altered, so Mike can keep working. The detail is rich and these stories are as close as most readers will ever get to actual intelligence operations.
The question of how I came to write this book goes back more than a decade to 2006 when I was writing a series of spy thriller novels such as Golden Serpent and Second Strike. These books starred an Aussie SIS operator named Alan McQueen and people from the intelligence and special forces worlds would sometimes talk to me, give me ideas and help me along.



Through some writing projects I got close to a clan of special forces operators who were rotating in and out of Afghanistan, and because of a very strong endorsement from one of them, the rest spoke freely with me. One night at a function for a soldier, I found myself standing in front of a large man: Mike.
He operated in military circles and knew the soldiers because of the close network of tradecraft they all moved in. I noticed that when I tried to cross-reference Mike with the soldiers, they declined to comment. Anyway, I attended another military function the next day and that evening I had photos in my inbox: of me talking to soldiers at that function. Surveillance pictures – very high quality.
The email was from Mike: he'd been moving around the room with a DSLR camera, and I'd barely noticed. He was intrigued about how a ghost-writer operates, and I was intrigued about his world. So we started talking and I quickly ascertained a highly-intelligent, very funny and expertly-trained person who was quite prepared to have people underestimate him. The tradie act wasn't an act, but it allowed him to glide through situations without being noticed.
But I had no real idea of this becoming a book: how could it be? 'Mike' would never be identified, and I didn't think I could do it justice with a third-person reportage book. One day Mike was geeing me up about my next book (I was between ghost-writing contracts), and I said I could write a book about his life, but thinking out loud I said, 'it would have to be a novelised treatment of a non-fiction book, written in the first person, but with me writing as you.'
Mike is not fazed by 'bridge too far' solutions – that's his life. And having heard my somewhat ridiculous approach, he said, 'so do it – what are you waiting for?'
I wrote a synopsis and three sample chapters in this hybrid novelised non-fiction voice, and by the time I sent them off to Pan Macmillan, I'd captured the 'voice' of Mike and seemed to have a lot of energy on the page. Good starting points when you're reading your own chapters. Angus at Pan Mac liked it too and thus started the painstaking process of telling a collection of true stories – of intelligence work, tradecraft and imminent danger – while placing Mike as a tradie and obfuscating key identities and employers.
The question everyone asks me? Why would Mike agree to this book?
Mike uses his own three-letter phrase, 'GNE', which stands for GOOD NOT EVIL. There is a network of people, around the world, who live and operate by this maxim: they work in intelligence, military, law enforcement, border protection and in emergency services such as fire departments, ambulance and the emergency systems of major hospitals. They also work in infrastructure security, protecting power grids, water systems and air traffic control etc. We don't know their names and they don't appear on the front page of newspapers. But they cooperate – formally and informally, government and contractor – to help keep us safe.
Mike told me he wanted the people of this world recognised; he also wanted the general community, with the ever-increasing threat facing innocent people, to be aware of their surroundings and report strange or unusual behaviour. And if, by some chance, a terror cell was discouraged from going forward with their plans because they heard about The Contractor and concluded they are probably being watched, then it would be worth it.
For now, I hope readers will enjoy The Contractor because it's a great story and a genuine character who could be our neighbour: part tradie, part intelligence contractor, 110 per cent Aussie.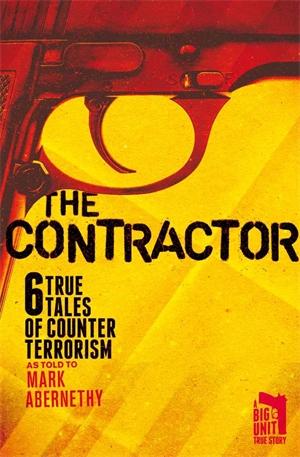 The Contractor
'I fix things. I can build you a house or remodel your bathroom. I can also make bad situations - and bad people - disappear.'
Meet Mike. Runs a building site, drives a ute, likes a beer, loves his nail-gun. But Mike is hiding in plain sight. When the Pentagon call him in as 'Big Unit', he's another kind of contractor - one as handy with a Colt M4 as he is with a Skilsaw, a man as accustomed to danger, death, and pain as he is to a hammer and nails. In six action-packed true stories we follow a man who left foreign intelligence for a life 'on the tools', only to discover there's too many dangerous scenarios and terrible people still out there. The good guys need a James Bond in Blundstones. They need The Contractor...
About the Contributor