Sam Wood is one of Australia's top health and fitness experts and the man behind the hugely successful online training, nutrition and mindfulness platform 28 by Sam Wood. He is the owner of 'The Woodshed', Australia's largest personal training studio in Brighton, Victoria and in 2007 founded Gecko Sports, Australia's first sport and fitness gym just for kids. For over 16 years, Sam's methods and training techniques have achieved incredible results with thousands of people.
Below he shares how we can slip in more exercise, especially on those days we're time poor. There's also a recipe at the very bottom for his Peanut Butter Brownies!
By Sam Wood: Guess what? Doing four 5-minute bouts of incidental activity has the same benefit as one 20-minute effort! So here are a few simple ways to get moving in smaller efforts, remembering it all adds up:
1. Take The Stairs
Make a promise to yourself. No more escalators and elevators for a week. We burn a little over 2 calories per flight of stairs and it all adds up. 5 minutes of solid stair walking will be close to 100 calories.
2. Park It and Walk
I always laugh when clients of my training studio get frustrated that they had to park a 2-minute walk away, or people that drive miles to run on a treadmill. Our feet are made for walking and the more we get moving the better. 5 minutes of brisk walking will burn approximately 30 calories and jogging 50.
3. Count Your Steps
Taking my previous point further is to count your daily steps. There are many great fitness tracking gadgets on the market today that give you immediate and accurate figures. Our daily recommended steps are 10,000. Sadly, only 1 in 5 Aussies achieves this figure.
4. Ad Break Shape Up
Get some blood flow and work that core in the ad breaks of your favorite TV shows. Try this 3-minute circuit every break:

– 30 Star Jumps: Keep these nice and relaxed and make sure you are light on your feet.
– 20 Squats: Push your butt back and your knees out. Go back as deep as you can and keep your heels glued to the floor.
– 30 Crunches: Great for your upper abdominals! Remember to breathe out as you curl your body up.
– 20 Leg Lowers: Keep these slow and controlled to really focus on your lower abs.
– Plank until your show comes back: Stay compacted and ensure you are flat from your head to your heels.
Want to try Sam's Peanut Butter Brownies? He shares his recipe with us here.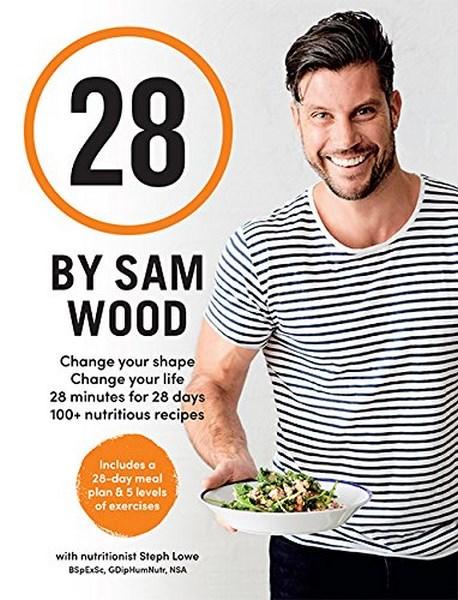 28 by Sam Wood
28 By Sam Wood combines quick, simple, delicious meals with a daily 28 minute exercise program. In just a year of the program, personal trainer and The Bachelor favourite Sam Wood and his team have transformed more than 100,000 people's lives.
Now, for the first time, the best of 28 by Sam Wood has been brought together in a book. Including 100 of Sam and nutritionist Steph Lowe's popular recipes for breakfast...
About the Contributor
Anastasia Hadjidemetri is the former editor of The Booktopian and star of Booktopia's weekly YouTube show, Booked with Anastasia. A big reader and lover of books, Anastasia relishes the opportunity to bring you all the latest news from the world of books.