Siobhan Curham is an award-winning novelist and life coach. She has written books for adults, young adults and children, including Shipwrecked and Dear Dylan. She was also editorial consultant for Zoe Sugg on her Girl Online novel. When she isn't playing with words she can usually be found contorted on a yoga mat, listening to crackly music on vinyl or living out her Kids from Fame fantasies, training to become a dance teacher.
She now chats about The Moonlight Dreamers and Tell It To The Moon, books 1 and 2 in The Moonlight Dreamers series.
1. Where did the inspiration for Moonlight Dreamers and Tell it to the Moon come from?
I feel really passionately about encouraging other people to dare to believe in themselves and their dreams – especially young people. I know all too well how hard it can be to pursue a dream and how easy it can be to give up. I gave up on my writing dream when I was twenty and dropped out of university. Coming from a poor background, I didn't think I had what it took to make it in the middle class world of writing and publishing. I ended up in the worst job ever, working for the complaints department of a frozen food company – where all I got to write were grovelling letters of apology! Thankfully, I managed to overcome my self-doubt and fear and make it as a writer in the end. I wrote The Moonlight Dreamers and Tell it to the Moon to try and encourage the reader to chase their own dreams and not give up, like I did. It's so lovely when I receive emails from readers telling me that it's worked and reading about the Moonlight Dreamers and their adventures has given them the confidence to dare to dream.
2. Did you always dream of becoming a writer?
Pretty much – and it's all down to my evil parents! When I was little my mum and dad had the crazy notion that TV was bad for a kid's imagination so my siblings and I weren't allowed to watch any TV – we didn't even have a television in the house, and this was back in the day before the internet and mobile phones. So I had a choice – I could either learn to love to read, or die of boredom. So, I learned to love to read and out of that came a love for writing. I dreamed of one day having a shelf full of books that I had written. I'm grateful every day that that dream finally came true.
3. What were the first steps you took to pursue becoming a writer?
Well, first I went to university to study English Literature and script-writing but sadly I dropped out after my second year. When I started pursuing my dream again a few years later, I decided to approach it like any other business and start small. So I started writing short stories and articles, which felt a lot less intimidating than writing an entire novel. Once I'd had a few of them published it gave me the confidence to go after the bigger dream of writing a book.



4. What was it like working with Zoe Sugg?
It was great. I love helping other people with their books – celebrities and non-celebrities.
5. How has working as a motivational speaker and life coach influenced your writing?
It's influenced it greatly as pretty much every book I write has the same theme as the work I do as a speaker and coach i.e.; overcoming fear or adversity and creating a life based around the pursuit of your dreams. I feel very lucky to do this work as it's so rewarding to help other people achieve their goals.
6. What do you think are the main challenges that teenage girls face?
Oh, where to begin? I think there are so many challenges facing teenage girls today, way more than when I was a teenager. I think a lot of this is down to the internet – there's a pressure for teens to attain perfection, both in their lives and physically that's far greater today. And I think this is combined with the current obsession with celebrity – and their perfectly edited lives. The saddest thing about it is that most of the time the 'perfection' teen girls are encouraged to achieve isn't even possible. The images and celebrity lifestyles are all airbrushed, photo-shopped and highly edited, as are most people's social media accounts. I think there's way too much pressure at school too – a topic that I highlight in Tell it to the Moon and Sky's poem Free to Be. Young adults just aren't free to be their true selves and I think this is a tragedy.
7. How important are strong friendships in help over these issues?
I think strong friendships are very important as they can help to counteract the pressure. There's nothing better than having a friend who loves and accepts you for who you are; someone you can be completely authentic with. This is what I try to celebrate in The Moonlight Dreamers and Tell it to the Moon – the empowering nature of female friendship and creating a sisterhood of your own.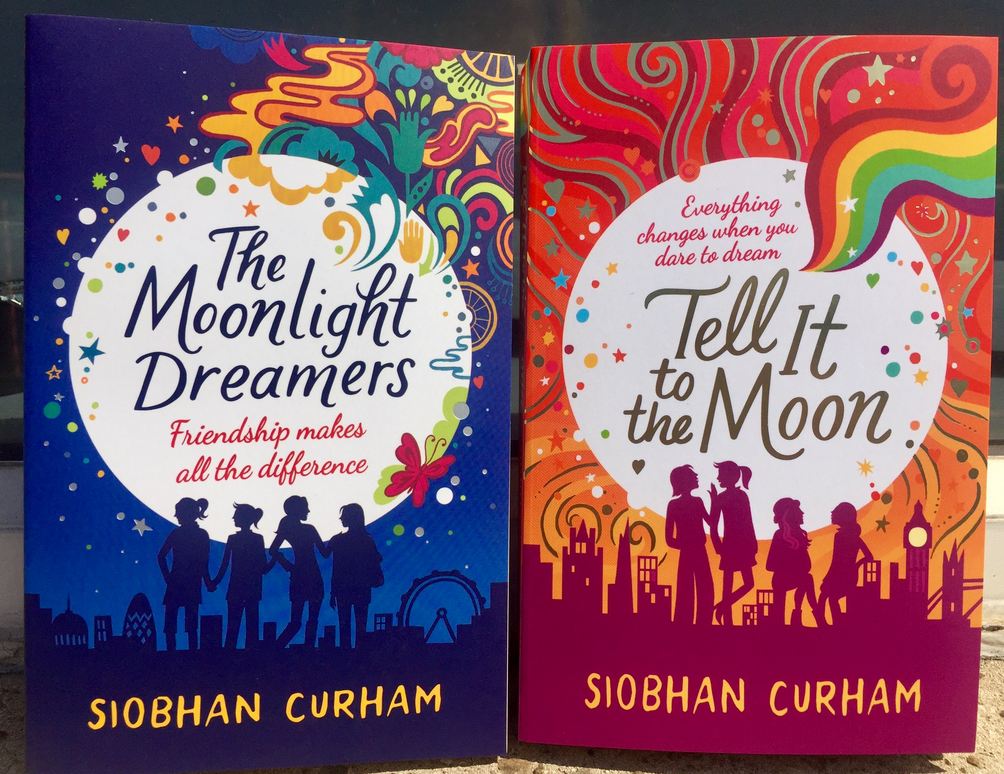 8. Do you think social media is making things like bullying and body image issues worse?
Yes, most definitely, because there's no escape from it. Bullying has always happened and people have always had body image issues but it's magnified by social media and this can be so toxic. What is encouraging is that there seems to be a growing trend towards going on an internet detox – taking yourself offline for certain days of the week or hours of the day. I think this can really help, mental health wise. It's so healthy to take a break from it all.
9. Did you have a friendship group like the Moonlight Dreamer when you were growing up?
I didn't have such a close-knit group when I was growing up but I did have a very best friend, who I met when I was eight and we're still best friends to this day. We've been through thick and thin together – growing up on a council estate, dating trials and tribulations, career hiccups, marriages, divorces and single-parenthood – and she's like a sister to me. I'm lucky to have many very close female friends now. I call them my soul sisters, and they mean everything to me.
10. Tell us about your best friends.
My life-long best friend is called Tina. She's the person I can tell anything to and she gives the best advice – even if I don't always want to hear it! Another amazing friend of mine is called Sara – I also think of her as my writing guardian angel. She was my editor for my very first book deal and she's been my main cheer-leader ever since. Writing can be a tough business with a lot of ups and downs and she's always been there for me. My other best friend is my dad. He's been my rock throughout my life, always encouraging me to chase my dreams and providing me with his own unique brand of gruff, Irish wisdom.
11. What is your favourite book?
The Sky is Everywhere by Jandy Nelson. She writes so beautifully. It's like one long poem in novel form and the characters are so colourful and likeable too. She made me want to live in the world of the book.
12. What authors have influenced your writing?
When I was starting out, and basically teaching myself to write, I was inspired by a writer called Lisa Jewell. I loved the way she made her characters so real – and the settings for her books. They were so rich it was almost as if the location was a character in its own right. This is definitely something I've tried to emulate, especially with the settings for The Moonlight Dreamers and Tell it to the Moon. I really wanted the reader to feel as if they were in London or Paris.



13. Which Moonlight Dreamer is most similar to you? 
I think I'm probably a mash-up of Sky and Maali. I'm a writer and a bit of a hippy like Sky, and a hopeless romantic just like Maali! Writing some of her tongue-tied scenes with Ash was like therapy!
14. Are any of your characters based on real people?
Not really. It's more like I take interesting elements of real people and mix them up with some fictional traits to create a unique character.
15. Will there be more books in The Moonlight Dreamers series?
I hope so. I'd love to do one more. But before that, I have another book coming out with Walker next year called Friends Like Us, which tells the story of music-loving teenage carer, Grace, and talented footballer and Syrian refugee, Hafiz. The refugee crisis is something I feel passionately about, ditto the number of young people who are having to care for members of their family. It felt great writing a book which throws a spotlight on these issues – and celebrates the power of friendship, this time between a teen boy and girl.
Tell It to the Moon
Moonlight Dreamers Series: Book 2
To make a dream come true, tell it to the moon! Tell It to the Moon continues the story of Moonlight Dreamers Amber, Maali, Sky and Rose, who are not like everyone else and don't want to be: becoming friends gives them the courage to be themselves.
After failing to find her surrogate mother, Amber is left unsure of who she is and what she wants to do; Maali's spiritual faith is tested when her father becomes ill; Sky, previously home-schooled, struggles to adapt to the pressures of the school system; and after having found the courage to come out, Rose begins to pursue her dream of becoming a patissier. Once again the four girls band...
About the Contributor
Anastasia Hadjidemetri is the former editor of The Booktopian and star of Booktopia's weekly YouTube show, Booked with Anastasia. A big reader and lover of books, Anastasia relishes the opportunity to bring you all the latest news from the world of books.