Sam Wood is one of Australia's top health and fitness experts and the man behind the hugely successful online training, nutrition and mindfulness platform 28 by Sam Wood. He is the owner of 'The Woodshed', Australia's largest personal training studio in Brighton, Victoria and in 2007 founded Gecko Sports, Australia's first sport and fitness gym just for kids. For over 16 years, Sam's methods and training techniques have achieved incredible results with thousands of people. Below he shares one of his favourite recipes from his new book, 28 by Sam Wood.
By Sam Wood: I'm very fortunate to be able to say that 28 by Sam Wood is my lifelong dream brought to life. Over the last 16 years, I have developed my own method of training that achieves incredible results and has allowed me to make my passion my career. I am truly excited that my life's work has now been brought together in my new book 28 by Sam Wood.
Inside the book you will find an explanation of the ideas behind my 28-day training program, over 100 delicious and easy recipes that can be on the table in less than half an hour, tips on mindfulness and wellbeing as well as an introduction to my easy to achieve 5-level exercise regime.
Food is the focus in this book, and there are actually people who follow the 28 by Sam Wood program only for the recipes. They love them so much! We pride ourselves on creating delicious and wholesome meals that are quick to get on the table and created with easy to find ingredients.
Our motto at 28 is 'progress not perfection' and we definitely allow room for the occasional treat – restricting yourself will inevitably lead to failure. One of my favourite recipes from the book are these delicious Peanut butter sweet potato brownies. One bite and you'll be hooked!
Peanut Butter Sweet Potato Brownies
Makes 12 | Preparation time: 30 minutes | Cooking time: 50 minutes
1 sweet potato, cut into 1 cm (½ in) cubes
55 g (2 oz/½ cup) ground almonds
35 g (1¼ oz/¼ cup) buckwheat flour (or wholemeal flour if you can tolerate grains)
125 g (4½ oz/½ cup) peanut butter
40 g (1½ oz/1⁄3 cup) cacao powder
3 tablespoons coconut oil, melted
2 tablespoons honey
3 eggs
1 teaspoon vanilla extract
1 teaspoon gluten-free baking powder
1. Preheat the oven to 180°C (350°F). Grease a 20 cm x 20 cm (8 in x 8 in) baking tin with a little melted coconut oil.
2. Arrange the sweet potato pieces on a baking tray in an even layer. Roast for 20 minutes, or until soft when pricked with a fork. Allow the sweet potato to cool for 10 minutes, then measure out 250 g (9 oz/1 cup).
3. Transfer the measured sweet potato to a large mixing bowl with all the remaining ingredients and mix together to form a batter. Pour the batter into the prepared tin and bake for 20 minutes, or until a cake skewer inserted into the centre of the tin comes out clean.
4. Remove from the oven and leave to cool in the tin before cutting into squares. The brownies will keep for up to 5 days in the fridge in an airtight container, or up to 2 months in the freezer.
Enjoy!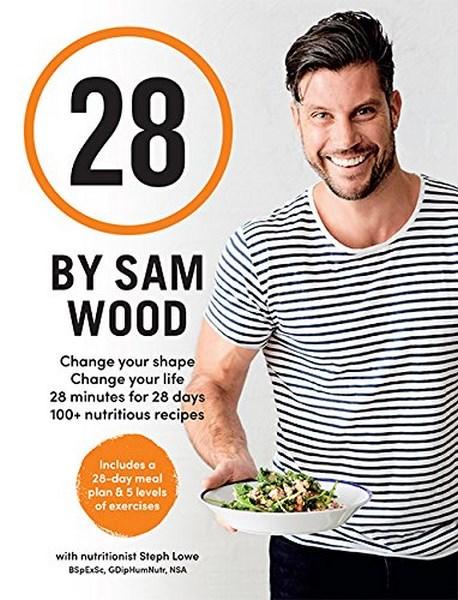 28 by Sam Wood
28 By Sam Wood combines quick, simple, delicious meals with a daily 28 minute exercise program. In just a year of the program, personal trainer and The Bachelor favourite Sam Wood and his team have transformed more than 100,000 people's lives.
Now, for the first time, the best of 28 by Sam Wood has been brought together in a book. Including 100 of Sam and nutritionist Steph Lowe's...
About the Contributor
Anastasia Hadjidemetri is the former editor of The Booktopian and star of Booktopia's weekly YouTube show, Booked with Anastasia. A big reader and lover of books, Anastasia relishes the opportunity to bring you all the latest news from the world of books.