Congratulations to Kaye Dobbie who is a finalist in the 2017 RUBY Awards, nominated for Mackenzie Crossing! We chat with her about her nominated book, how she reacted when she found out she was a finalist, and her advice for aspiring authors.
Congratulations, you're a finalist in the 2017 RUBY Awards! How did you react when you found out you were a finalist?
I sat down at my computer early in the morning, ready to start work, and realised I had an email from RWA. When I read it I was thrilled, but at that stage there was no one to tell apart from the cat!
Please tell us about the story you've been nominated for. Did you have a secret alternative title while you were writing it?
I am nominated in the mainstream book with Romantic Elements section. My book, Mackenzie Crossing, tells two stories. In 1997 Skye is searching for her grandfather, Neville, a photographer who vanished in the Victorian Alps during the Black Friday bushfires. In 1939 Neville is looking for the perfect photo. Neville was once a British WW1 soldier, and because of his experiences, no longer feels comfortable in everyday life. In the isolated mountains he finds Georgie, a young woman also hiding from her past. Skye and Neville's stories interconnect despite a gap of 60 years.
I didn't have a secret alternative title, apart from very early on, when it was Next Book. It sounds boring and practical, but all of my books are Next Book to begin with.
Do you write romance books in secret, or are you loud and proud?
Most books have relationships of some kind in them, and mine are no different. My stories, with their past-present timelines, show how love can blossom no matter what the circumstances, and how that often changes the course of the characters' lives. So yes, loud and proud.
Headless washboard abs, a torrid embrace, the sprawling homestead, an elegantly dressed décolletage, or a vaguely kinky object against a dark background – what's your favourite type of romance cover and why?
My covers reflect the stories I am telling, which are not strictly romances. That said, I do read many romances and I prefer subtle, but it's purely a matter of choice.
What is the secret life of a romance writer? What goes on between you and your keyboard (or quill) behind closed doors?
The secret life of a writer is probably far less exciting than you might think. When I am on a deadline, it can mean late nights and early mornings at the keyboard and not much else. When I am not writing I like to catch up on all the television and books I've been denying myself while I work.
Do you remember the first romance you read, the one that inspired you to continue reading and writing in this genre?
I don't know if they are strictly romances, but certainly there is romance in them. Daphne du Maurier's Rebecca, Frenchman's Creek and Jamaica Inn, Mary Stewart, Diana Norman, Georgette Heyer…all favourites. I love to escape into history.



Do you hide any secrets in your plot line that only a few people will find?
I do like to tease my readers a little. The trick is to know just how much to reveal and how much to hold back, without spoiling the story.
How you differentiate between romance fiction, erotica and porn. Are romance readers getting naughtier?
In my opinion romantic fiction is a book that focuses on the central characters and their relationships with each other. Happy endings are obligatory. Erotica is more to do with the physical side of their relationship, and porn possibly needs no relationship. I think readers of romance are many and varied, and these days the barriers are certainly coming down.
More women read romance than men, but some men do. What do you know of your male audience? And why do they read you?
I have quite a few male readers. They enjoy the Australian settings of my books and the historical detail. I'm sure they also enjoy the relationships within the stories – what would life be without love, after all?



Browse Kaye Dobbies books and eBooks.
What advice would you give aspiring romance writers?
To be a successful writer you need to practice. Keep writing, even when you think what you're writing is of poor quality. Write and write and you will get better. Read too. Read the books you want to write (I doubt anyone can write a book if they're not invested in the story). So read and write what you love. Keep trying. Those who don't give up must eventually succeed.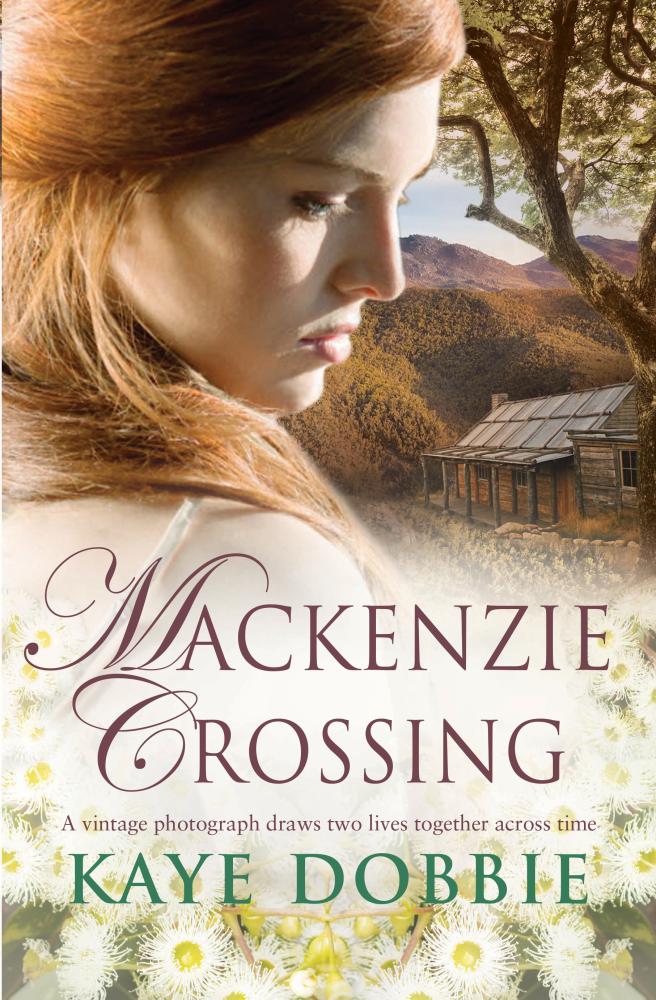 Mackenzie Crossing
A passion for photography draws two stories together across time to Mackenzie Crossing. Neville 'Pom' Darling, is on the hunt for the perfect photograph. Skye Stewart, is searching for her long lost grandfather.
It's 1939, and Neville, escaping an unhappy marriage and his memories of the Great War, finds himself in Mackenzie Crossing on the day of the terrible Black Friday bushfires. He meets the beautiful Georgie Mackenzie and in an instant knows that she is the subject he has been looking for. As the heat intensifies, Georgie and Pom begin to wonder if they have a future together; but first, they must survive the blaze...
About the Contributor