Melanie Joosten is a Melbourne based writer. Her first novel, Berlin Syndrome (2011) saw her named as a Sydney Morning Herald Best Young Novelist and awarded the Kathleen Mitchell Award for Young Writers. Berlin Syndrome is currently being turned into a film.
Melanie holds a Bachelor of Creative Arts (Honours), a Master of Arts (Editing) and a Master of Social Work. She has had work published in Best Australian Stories 2014, Meanjin, Kill Your Darlings and Sleepers Almanac.
Gravity Well is her latest book. She now answers the Booktopia Book Guru's Ten Terrifying Questions.
1. To begin with why don't you tell us a little bit about yourself – where were you born? Raised? Schooled?
I was born in Ballarat in country Victoria, where I grew up with my parents and my five siblings. I left at 18 to go to university in Melbourne, which is where I've lived ever since apart from short stints in Edinburgh and Adelaide.
2. What did you want to be when you were twelve, eighteen and thirty? And why?
At 12 I wanted to be a librarian because people kept laughing at me when I told them I wanted to be a plumber. At 18 I thought I might be a journalist or environmental engineer. At 30 I wanted to be a social worker, so that's what I became.
3. What strongly held belief did you have at eighteen that you do not have now?
That Australia was a backwater in terms of cultural creativity.
4. What were three works of art – book or painting or piece of music, etc. – you can now say, had a great effect on you and influenced your own development as a writer?
The album The Crane Wife by The Decemberists. It has everything – narrative, emotion, joy, despair, confidence. Perfect music to write to.
Ali Smith's novel The Accidental showed me how you could play with language and structure on the page, and that a novel isn't just about plot or character but it has a form that can be twisted and bent and challenged. The London Train by Tessa Hadley gave me similar inspiration in terms of the fluidity of structure.
The Smile off Your Face by Belgian theatre company Ontroerend Goed reminded me how much a show depends on the interaction of the audience – and I think the same can be said for any art form: the reader or audience member is never passive.
5. Considering the innumerable artistic avenues open to you, why did you choose to write a novel?
There were no other avenues, I don't see myself as particularly creative. When I was at university I studied photography but while technically passable, my images were staid and composed – I think I'm too inhibited to find my confidence in visual art.
I wrote a novel because I read so many of them. At some point I thought the only way to really understand how they worked was to create one myself. The thing I'm most interested in with writing novels is what can be done with the form to enhance the reader's experience. Books don't exist without readers and reading isn't a passive act – it requires a lot of thought and openness, and I try to reward that.
6. Please tell us about your latest novel…
Gravity Well is the story of the friendship of two women in the wake of an unimaginable event. It's also about astronomy and the magnitude of the universe, which most of us rarely take into consideration. And how a single life or loss here on earth will always be more devastating than the death of a star much larger than our sun.
I was also interested in the idea that you can never really know another person, and that you are only ever privy to your interpretation of them, which might be vastly different to their own or someone else's. The person we're perceived to be can be in conflict with the person we believe ourselves to be and Gravity Well explores this with a small cast of characters.
7. What do you hope people take away with them after reading your work?
That novels that explore moments of stillness and restraint can still be riveting and have narrative momentum.
8. Whom do you most admire in the realm of writing and why?
Sarah Hall (The Wolf Border, The Beautiful Indifference, and others) and Sarah Moss (The Tidal Zone, Bodies of Light, and others) are both intelligent and elegant writers who produce work of a quiet and sure tone that I greatly admire. Also Zadie Smith's work is so sharp and funny – I wish I could write humour the way she does.
9. Many artists set themselves very ambitious goals. What are yours?
To write another novel. Gravity Well was very difficult to write and along the way I lost any sense of joy in the process. My goal at the moment is to find it again, which at this stage seems very ambitious.
10. What advice do you give aspiring writers?
Writing is a long game. It requires time and perseverance and at some point you have to realise the process and what you take from it is the payback. Also, the only person you ever have to prove anything to is yourself.
Thank you, Melanie!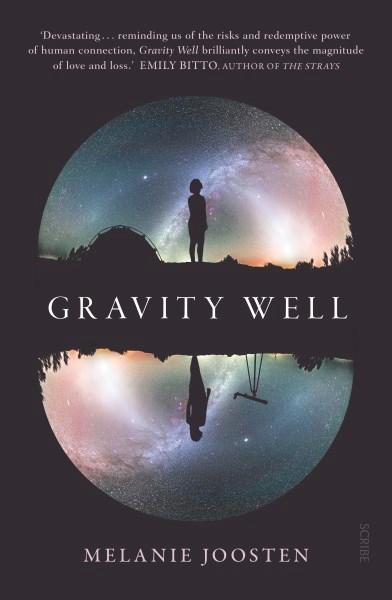 Gravity Well
Lotte is an astronomer who spends her nights peering into deep space rather than looking too closely at herself. When she returns to her hometown after years in South America, reeling from a devastating diagnosis, she finds that much has changed.
Lotte's father has remarried, and she feels like an outsider in the house she grew up in. She's estranged from her former best friend, Eve, who is busy with her own life, and unsure of how to recover the closeness they once shared. Initially, Lotte's return causes disharmony, but then it is the catalyst for a much more devastating event - an event that will change Lotte and Eve's lives forever. If families are...
About the Contributor
Anastasia Hadjidemetri is the former editor of The Booktopian and star of Booktopia's weekly YouTube show, Booked with Anastasia. A big reader and lover of books, Anastasia relishes the opportunity to bring you all the latest news from the world of books.