Iain Ryan is an Australian author who predominantly writes in the hardboiled/noir genre. Four Days, his first novel, was shortlisted for the Australian Crime Writing Association's Ned Kelly Award (Best Debut Fiction). He has subsequently self-published three novels (Drainland, Harsh Recovery and Civil Twilight). His fourth novel is titled The Student.
Iain now answers the Booktopia Book Guru's Ten Terrifying Questions.
1. To begin with why don't you tell us a little bit about yourself – where were you born? Raised? Schooled?
I grew up in the suburbs in Brisbane. In my teens, my family moved to a semi-rural area about an hour south of Brisbane so my father could work on an orchid farm. It was a beautiful place to live but also painfully boring. I moved to Gatton, where The Student is set, when I was seventeen.
2. What did you want to be when you were twelve, eighteen and thirty? And why?
I have no idea what I wanted to be when I was twelve. Probably Han Solo. I turned eighteen in the '90s – at the height of grunge – so I wanted to be a rock musician. At thirty, having become a rock musician – and having seen some of the downsides of that career choice – I wanted to become an academic. By then, I'd successfully enrolled in a PhD, despite having no real interest in it. I just wanted the scholarship stipend so I could work on music. And it's probably the single luckiest break of my life because it ended up being a really good day job.
3. What strongly held belief did you have at eighteen that you do not have now?

I thought the most important aspect of an artist's life was their authenticity. That's a very teenage approach to the world but it wasn't helped by 90s grunge, which was deeply invested in the punk ideal. Now I think the most important aspect of an artist's life is their work.
4. What were three big events – in the family circle or on the world stage or in your reading life, for example – you can now say, had a great effect on you and influenced you in your career path?
1. The Black Dahlia by James Ellroy. I've been reading and re-reading Ellroy since my teens and he's the godfather of all my writing. He looms so large in my work that it's hard to pin down exactly where he finishes and I start.
2. Presumed Innocent (Film). For some reason my vigilant parents let me go see this at the cinema with a neighbour. I was eleven. All the sex and death and mayhem kind of blew my adolescent mind. This is absolutely where my interest in the crime genre begins.
3. Theory of Machines by Ben Frost. Frost was born here in Melbourne but he lives in Iceland these days. I listened to his second album Theory of Machines non-stop while I wrote my early (unpublished) novels. Years and years of writing to just that one record. There's something really noir about his music; it's cold music but like noir, there's a melodrama to it as well and I find that combination really helpful/inspiring. These days I write in silence but when it's not going well, I put on one of Ben Frost's albums and it never fails to realign my thinking. It's literally the soundtrack of my work.
5. Considering the innumerable electronic media avenues open to you – blogs, online newspapers, TV, radio, etc – why have you chosen to write a book?
It's nice to be writing a novel. I like the day-to-day of it and the structure it adds to my life.
6. Please tell us about your latest book…

The Student is a crime noir novel set in a small university town. Nate Byrne, a business student and drug dealer, is looking for his weed supplier Jesse, who has recently disappeared. As Nate begins to uncover Jesse's life, he becomes embroiled in the town's seedy underbelly, a place of spiralling drug addiction, unsolved murder and amateur pornography. Growing increasingly frantic, Nate is forced to confront the darker elements around him, with dire consequences, obviously.
7. If your work could change one thing in this world – what would it be?
At heart, the book is entertainment. It's a fast-moving mystery story. But under the hood, I think The Student is a story about culpability. It's about how the transition to adulthood is often a transition into feelings of regret, suspicion and dark foreboding.
8. Whom do you most admire and why?
Aside of James Ellroy, I greatly admire Donna Tartt. I love The Secret History. I'm one of those people. She's a vastly different writer to me, almost the polar opposite in many regards, but all of her books have stayed with me over the years. I think about them often. I never feel like I can quite unlock them completely. Lately I'm super interested in Gillian Flynn. Her books are huge commercial blockbusters but they're so violent and uncomfortable. I love them. She's fearless.



9. Many people set themselves very ambitious goals. What are yours?
I'm not one of those artists. I love being around ambitious people – and have spent long periods of my life working alongside insanely ambitious people – but my own goals are always pretty vague.
10. What advice do you give aspiring writers?
Try to stay hydrated.
Thank you, Ian!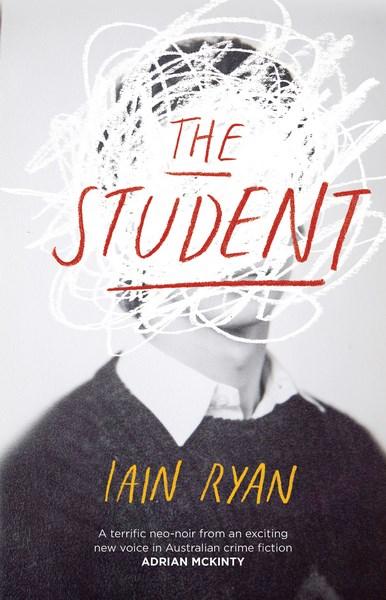 The Student
A high-paced, hardboiled regional noir: fresh, gritty, unnerving, with a stark and lonely beauty.
Do bad people look like good people, like friends and brothers and boyfriends and students, until they have their hands around your throat? All of these men standing around me, drinks in hand, backs to this screen… smiling, laughing, flirting, and they look harmless. But any one of them could be something else now: rapist, murdered, spree shooter, torturer, paedophile. I try to picture them sprayed with blood and gore and it's easy. I can do it, mentally. All of these guys could be him because all of these guys were just like him, right up until he…
About the Contributor
Anastasia Hadjidemetri is the former editor of The Booktopian and star of Booktopia's weekly YouTube show, Booked with Anastasia. A big reader and lover of books, Anastasia relishes the opportunity to bring you all the latest news from the world of books.