Congratulations to Natasha Lester who is a finalist in the 2017 RUBY Awards, nominated for A Kiss from Mr Fitzgerald! Below, we chat with her about the first romance she read, what her male readers think of her books, and her advice for aspiring authors.
Congratulations, you're a finalist in the 2017 RUBY Awards! How did you react when you found out you were a finalist?
I was stunned! I almost didn't enter the awards, because I thought I had no chance, but my publisher convinced me to give it a go. I'm very glad I did!
Please tell us about the story you've been nominated for. Did you have a secret alternative title while you were writing it?
A Kiss from Mr Fitzgerald begins in New York in 1922. It's about Evie, whose mother wants her to marry the boy next door. But Evie wants to become a doctor – an obstetrician, in fact – which is a hugely scandalous thing for a woman to do at that time. Her family cast her off so, in order to put herself through medical school, Evie becomes a chorus girl at the infamous Ziegfeld Follies. The book is about Evie's battle to prove to the very patriarchal medical fraternity that a woman can be an obstetrician, and it's also about her desire to find a man who might love her in spite of her shocking profession.
Do you write romance books in secret, or are you loud and proud?
I don't write anything in secret, as you can see by the amount of stuff I share about my writing on social media! It's never occurred to me to hide what I write; I find that readers enjoy hearing about my research (especially my research trips to Paris and New York!), and about my writing progress, and all the ups and downs along the way. And I love the way readers ask me questions about the books I'm working on; it makes the book feel more like a dialogue than a monologue.
Headless washboard abs, a torrid embrace, the sprawling homestead, an elegantly dressed décolletage, or a vaguely kinky object against a dark background – what's your favourite type of romance cover and why?
None of the above! I love the covers that my publisher Hachette designs for me. I think they're beautiful and perhaps I'm extremely biased but they're my favourite.
What is the secret life of a romance writer? What goes on between you and your keyboard (or quill) behind closed doors?
Well, I drink a lot of tea and my keyboard gets to drink a fair amount too as I'm so good at spilling my tea on it. It's really a very dull and unromantic life in some ways; I sit down in the chair at my desk every day and scramble to write as many words as I possibly can before I have to go and pick the kids up from school. I always go for a walk or to yoga as I often get my best ideas when I'm away from my desk.
I do a fair amount of daydreaming and that's what I love most about the job – because I write historical fiction, I spend each day in a time and place I would never otherwise be able to visit, and I conjure up and have imaginary conversations with brave and extraordinary people. Doesn't get much better than that!
Do you remember the first romance you read, the one that inspired you to continue reading and writing in this genre?
Jane Eyre was the first time I understood I was reading a romance. I spent a lot of time at the library when I was young and I read anything and everything I could get my hands on. I read Jane Eyre when I was about ten years old and I still remember closing the book and thinking to myself, wow, that's what passion is. It was a word I'd heard but never really understood until I read Jane and Rochester's story. The book made such a huge impression on me that I always joke it's the reason why all my heroes have dark hair, just like Rochester!
Do you hide any secrets in your plot line that only a few people will find?
I have enough trouble working the actual major secrets into the plot line so I can't even imagine working in secret secrets too! One thing I am doing with my books is bringing back a character from the previous novel in a cameo role. So Lil, Evie's best friend in A Kiss from Mr Fitzgerald, makes an appearance in Her Mother's Secret, my book that came out a few weeks ago. Likewise, next year's book features a character from Her Mother's Secret. So if readers have read the previous book, they might recognise the character and be pleased to see her again.



Discover Natasha Lester's books
How do you differentiate between romance fiction, erotica and porn. Are romance readers getting naughtier?
To be honest, I've never really thought about it. For me, character always comes first when I'm writing. A Kiss from Mr Fitzgerald is a book about Evie. It's about her struggle to achieve her dream, and it's also the story of how she meets a man who supports her in pursuing that dream. Everything that happens in the book happens because it is true to Evie's character. So, where sex is depicted in the book, it's done in a way that fits with who she is. And it's the same for every other book that I write, which means each book will deal with sex differently because each story and main character are different.
More women read romance than men, but some men do. What do you know of your male audience? And why do they read you?
Because I teach quite a lot of writing courses, I tend to get a few male readers from people who've attended one of my courses. I especially love it when they tell me that they bought the book and read it themselves, rather than saying that they bought it for their wife. I think they initially read the book because they've met me in my capacity as a teacher but then hopefully they enjoy it for the story!
What advice would you give aspiring romance writers?
Never give up. You never know what's just around the corner. I vividly remember, the whole time I was writing A Kiss from Mr Fitzgerald, that I had a very noisy voice of doubt in my head telling me the book would never be published because it was so very different to my first two books. But, not only was it published, now it's been shortlisted for a Ruby Award! So write in spite of the self-doubt, write in spite of rejection, write in spite of every obstacle. Those who stick with it are usually the ones who find some success.
Thank you for answering our questions, Natasha!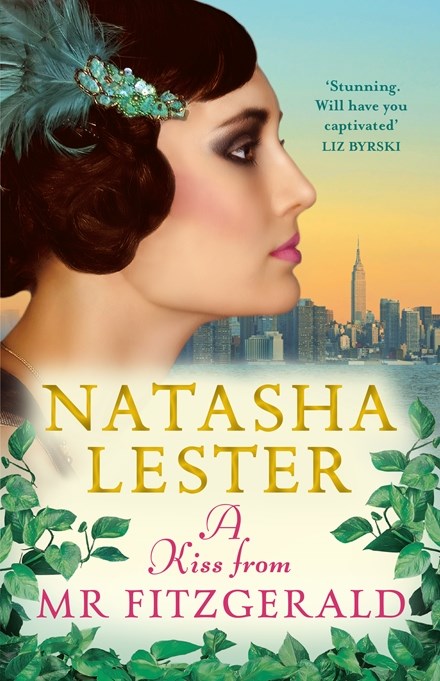 A Kiss From Mr Fitzgerald
It's the roaring twenties in the Manhattan of gin, jazz and prosperity.
Women wear makeup and hitched hemlines and enjoy a new freedom to vote and work. Not so for Evelyn Lockhart, who is forbidden from pursuing her passion to become one of the first female doctors. Chasing her dream will mean turning her back on her family: her competitive sister, Viola; her conservative parents; and the childhood best friend she is expected to marry, Charlie.
In a desperate attempt to support herself through Columbia University's medical school, Evie...
About the Contributor