Mel Campbell is a Melbourne-based freelance journalist, critic, copywriter and editor. Her first book was Out of Shape: Debunking Myths about Fashion and Fit. She is currently a columnist at Overland magazine, and a co-host of The Rereaders fortnightly literary and culture podcast.
Anthony Morris is a freelance film writer and editor. Since 2005 he has been DVD editor at The Big Issue, a magazine he first began writing for in 1997. He has been the film editor for Forte magazine since 1992, and is currently a regular contributor to media outlets including Empire, Junkee, Broadsheet, SBS Online and The Wheeler Centre.
The Hot Guy is their new book, a funny, warm, savvy, and genuine romantic comedy. Mel and Anthony now answer the Booktopia Book Guru's Ten Terrifying Questions.
 1. To begin with why don't you tell us a little bit about yourself – where were you born? Raised? Schooled?
Mel: I've lived in Melbourne my whole life – was born at the Royal Women's Hospital in Carlton and I live in the same suburb now. I grew up in the eastern suburbs – the heart of Volvo and golden retriever country.
Anthony: I was born in Werribee, and have lived in Geelong – a few stays in Melbourne aside – my whole life. It's a colourful town, that's for sure.
2. What did you want to be when you were twelve, eighteen and thirty? And why?
Mel: I've always wanted to be a novelist, but by age twelve I was fantasising about being a journalist. (I published my own risqué and definitely defamatory gossip zine in grade six called Girlfriend: The Magazine for the Men.) By eighteen I wasn't sure if I wanted to be a jazz singer or an advertising copywriter, but I chose to study copywriting. At thirty I was happy working as a journalist and had already discarded previous career paths of being a cabaret comedian and a cultural studies academic.
Anthony: Twelve – a pilot. Eighteen – a writer, because I found out flying involved a lot of math. Thirty – still a writer. Clearly I lack imagination.
3. What strongly held belief did you have at eighteen that you do not have now?
Anthony: I don't think I had any deeply held beliefs at eighteen! And the few I did were mostly to do with how important love is, which I still believe.
Mel: That I would find love someday.
4. What were three works of art – book or painting or piece of music, etc. – you can now say, had a great effect on you and influenced your own development as a writer?
Anthony: Joe Bob Goes to the Drive-In by Joe Bob Briggs – the only book of laugh-out-loud funny film criticism I've ever read. This Is Spinal Tap – I'm still finding new things to laugh at with it after thirty years. The Explainers by Jules Feiffer – his cartoons about relationships taught me you could be funny about real people without mocking their feelings.
Mel: The Tale of Two Bad Mice – Beatrix Potter is so richly satirical. Her books are like Jane Austen for kids. I am laughing now at my favourite line, "Then there was no end to the rage and disappointment of Tom Thumb and Hunca Munca." Lloyd Alexander's Chronicles of Prydain YA novels – everyone else I knew seemed to be into Lord of the Rings so I felt I was special for discovering this world, and I identified so much with its themes of heroism, friendship and self-knowledge. And the TV show The Goodies, which I found achingly hilarious as a kid. I liked that the jokes were so silly and the sets and effects were so cheap and crappy.



5. Considering the innumerable artistic avenues open to you, why did you choose to write a novel?
Mel: A novel gives you the luxury of creating and inhabiting your own world. You get to spend time in it, and befriend its characters.
Anthony: Because nothing's more fun than writing a novel – you get to control everything that happens from start to finish. Well, actually writing a novel can be a slog, but creatively you can't beat it.
6. Please tell us about your novel, The Hot Guy.
Anthony: It's about a guy. He's called The Hot Guy. He's really hot.
Mel: He's actually a real sweetheart and a bit of a fussy over-thinker, who dreams of being a famous film director. It just doesn't occur to him that his looks have been helping him cruise through life. And then he falls for a girl who uses humour as her main way to navigate life. Everyone around them is trying to break them up, saying he's too hot for her, but they're missing the point, which is that temperamentally, these two are perfectly suited. She helps him be more playful, and he helps her be taken more seriously.
7. What do you hope people take away with them after reading your work?
Mel: I really want people to laugh out loud on public transport while reading it. I do want people to care for our protagonists – I certainly do! – but The Hot Guy is also meant to be silly and over-the-top, and we're lampooning the romantic comedy genre even as we're telling a romcom story.
Anthony: Hopefully they have a fun time with it! We just really wanted to write something that would make people laugh.
8. Whom do you most admire in the realm of writing and why?
Anthony: Anyone who can make a go of it! A number of my friends have written books over the years – Rochelle Siemienowicz, Jo Case, Lee Zachariah, Myke Bartlett, Meg Mundell, and of course my co-author Mel Campbell – and I'm constantly impressed at the hard work and effort required to turn a pile of words into a finished book.
Mel: Oh, so many! Obviously I admire Anthony Morris for being so grimly hilarious and for his disciplined approach to writing, which I envy. I admire the curious eye and gorgeous prose of nature writers Helen Macdonald and Robert Macfarlane and the endless feminist imagination of Ursula Le Guin and Margaret Atwood. I admire Hilary Mantel's and Sarah Waters' lucid yet visceral approach to historical fiction. Kerry Greenwood, Alison Croggon and Isobelle Carmody, three Australian authors who've spent years building wonderful fictional worlds I love to revisit. I love the warmth and empathy of Rainbow Rowell, who gets pop culture without getting all twee and manic-pixie like John Green. Embarrassing story: I ran into Rowell doing her makeup in the green-room loos at last year's Melbourne Writers' Festival, and I wanted to tell her how much I like her writing, but all I could manage was to compliment her shoes! (They were great shoes.)



9. Many artists set themselves very ambitious goals. What are yours?
Mel: To write something that people take to their hearts, that they find meaningful. Failing that, just to have people laugh at my jokes.
Anthony: Making people laugh is pretty ambitious I'd say, considering how many people out there try and fail at it.
10. What advice do you give aspiring writers?
Mel: Get in the habit of writing something every day. There's no point dreaming about writing – just do it. Notice the world around you, and be curious about what's hidden. And read broadly, noticing how other writers use language.
Anthony: Have a plan. Writing odds and ends can be fun and easy, but you need to produce finished work to move forward, and unless you're someone who can just sit down and have a story tumble out, you need to come up with a plan. If nothing else that way you know when you're finished.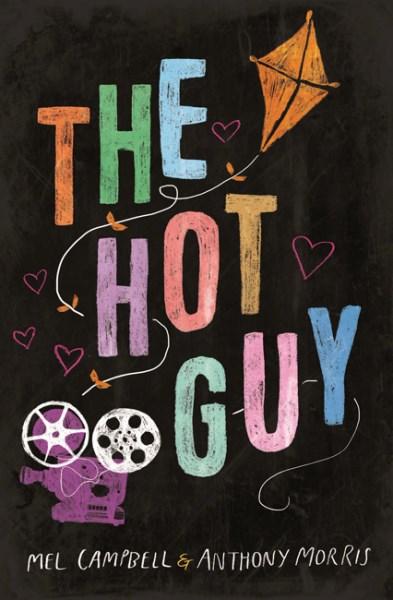 The Hot Guy
Adam, a serious cinema nerd, has no idea that he is the Hot Guy ? a man so ridiculously attractive there?s a Facebook group dedicated to seducing him. Cate, a sports publicist who loves to crack a joke, is feeling down about her newly single status when her friends suggest the perfect pick-me-up: a night with the Hot Guy. But that one night leaves both Cate and Adam wanting?
Is a genuine connection possible with a guy this phenomenally smokin??
Written by film critic duo Mel Campbell and Anthony Morris, and packed with movie-related humour...
About the Contributor
Before entering the exciting world of books, Bronwyn served in the Royal Australian Air Force, travelled extensively and worked (still does!) as a barista on the weekends. Books are her true passion. Bronwyn's debut fantasy novel Relic is coming out in 2019 with indie publishing house Talem Press. They are to publish her entire trilogy called The Relic Trilogy. In her spare time, Bronwyn writes, reads and enjoys keeping fit (which she undoes by eating loads of chocolate) with Martial Arts and personal training. She can't answer what her favourite book is but she has a soft spot for Peter Pan (J.M Barrie), Outlander (Diana Gabaldon), Stardust (Neil Gaiman), The Illuminae Files (Jay Kristoff and Amie Kaufman) and Six of Crows (Leigh Bardugo). Fantasy, sci-fi and YA make up the majority of her bookshelves.