2017 marks 20 years since J.K. Rowling's Harry Potter and the Philosopher's Stone first hit our shelves, and 20 years since an orphan boy called Harry Potter was freed from the cupboard under the stairs.
To commemorate this momentous anniversary, Bloomsbury commissioned Levi Pinfold, Kate Greenaway Medal winner, to illustrate the front covers of the 20th anniversary editions of this first book in the series.
When Pinfold first found out he'd landed this job, he told Pottermore:
'Life was a surreal wonderland for an hour or two, then I realised I had to actually do the work! Harry Potter means a lot to so many people, so it comes with a responsibility… I could tell my family were thinking, 'What, you?  The kid that wouldn't wipe his nose and was scared of mud?'
And Pinfold's favourite house? Hufflepuff, because 'It's got all the best animals in it,' he says, despite technically being a Ravenclaw, according to the Pottermore sorting experience.
20th Anniversary Editions

The books will be available in both hardback and paperback; each will be available in 4 different covers, each representing a different Hogwarts house – Gryffindor, Slytherin, Hufflepuff, Ravenclaw.
Both editions will contain fascinating facts about the houses of Hogwarts, and three specially commissioned house illustrations from Levi Pinfold per book.
The hardbacks (below) will be black with the house crest in a house colour and striped sprayed edges.
The paperbacks (below) will reverse the house colour theme and have single colour sprayed edges.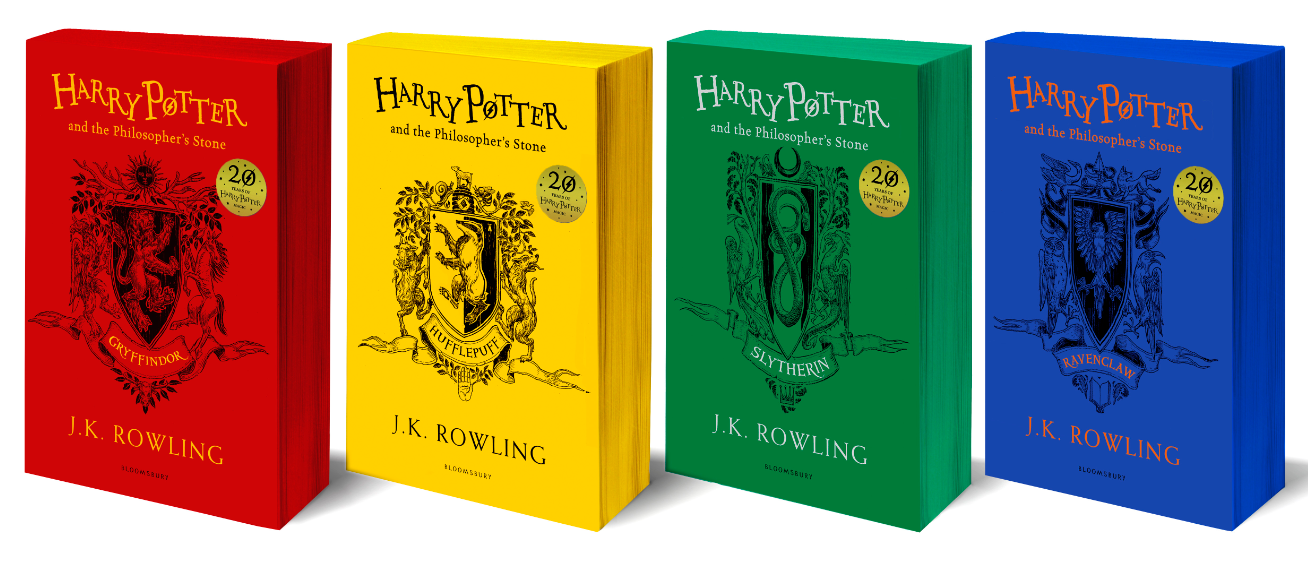 Both editions tell an interesting tale about each house's legacy, with each crest adorned with individual nuances.
As we discover on Pottermore's website, the Gryffindor red on the covers is meant to signify military strength, a unicorn is for purity and courage, and the antlers are for strength and agility.
In the Hufflepuff crest, there are beech leaves to symbolize tolerance and a little lamb to show gentleness. In heraldry, gold or yellow is seen to represent generosity.
The crescent in the Slytherin crest represents glory and honour, and has been used in several coats of arms throughout history. Slytherin green is for endurance and the dragon-like cockatrice suggests Slytherins are fierce warriors.
Lastly, the Ravenclaw crest gets a parchment scroll to symbolise academic achievement, an owl for wisdom, a spearhead for sharpness of wit and a book for knowledge.
Harry Potter and the Philosopher's Stone has sold over 90 million copies worldwide. The Harry Potter series as a collective has sold approximately 450 million copies worldwide and has been translated into 79 languages.
These highly collectable editions will be available from 1st June. Pre-order your PAPERBACK EDITION or HARDBACK EDITION now!
About the Contributor
Anastasia Hadjidemetri is the former editor of The Booktopian and star of Booktopia's weekly YouTube show, Booked with Anastasia. A big reader and lover of books, Anastasia relishes the opportunity to bring you all the latest news from the world of books.