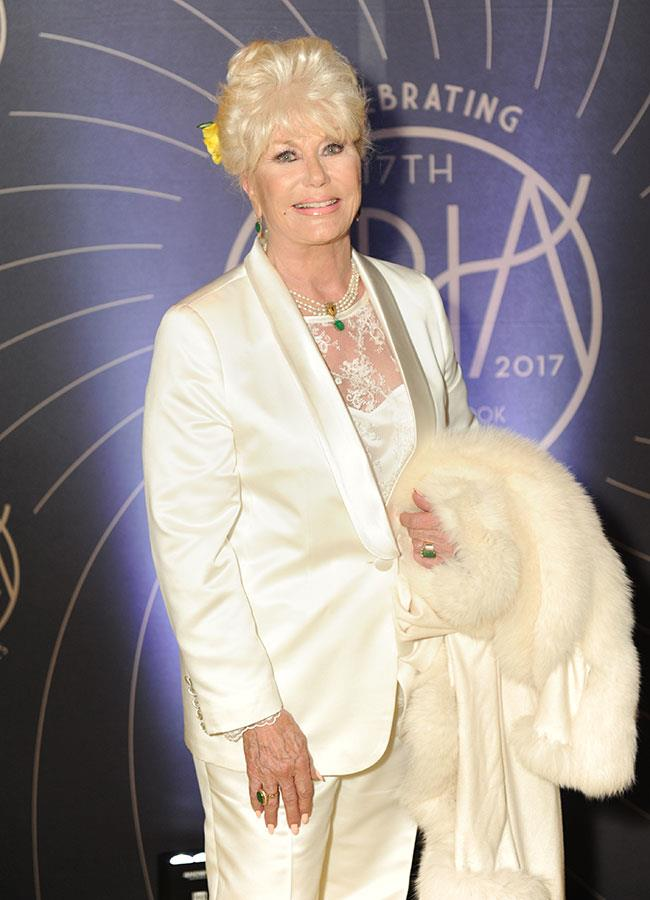 Winners of the 2017 ABIAs were announced in a star-studded ceremony at the Art Gallery of NSW last night, awards that celebrate the very best in Australia's book industry.
Di Morrissey – bestselling Australian author of twenty-four novels and numerous children's books – was inducted into the ABIA Hall of Fame with the Lloyd O'Neil Award by former neighbour and long-time friend, Tom Keneally.
One of the highlights of the evening was the heartfelt tribute Tom paid to Di, and Di's heart-warming speech to the room and her fans. Below you'll find the speeches of both.
Tom Keneally's Speech:
This is a great honour, Di, to be asked to present the Lloyd O'Neill to you.
We no longer live next door to each other as in days past, so I can't easily visit you and see Lloyd O'Niell's literary magpie on your shelf. But I have always admired the energy with which you have remade yourself in the face of great shifts in your life. In that spirit you made yourself one of the major figures in Australian publishing.
In nigh on thirty years you have published twenty-four novels and a number of children's books. Your first novel, Heart of the Dreaming, appeared in 1989, and the latest, A Distant Journey, in 2016. Your subjects are place, including the holy places of the Songmaster, your 1997 bestseller, and politics, history, the environment, love. Your 2012 book on Myanmar, The Golden Land, led to a typical Di Morrissey resolve to build a school outside Mandalay.
As well as a very demanding writing schedule you somehow have time to edit a glossy local newspaper named The Manning Community News, the most literate local newspaper in the country.
Your success has made it possible for your publishers to undertake more Australian titles than they otherwise could. You have become an essential element in the ecology of publishing. The readers, booksellers and publishers love you, and this award confirms that. Unqualified congratulations, Di.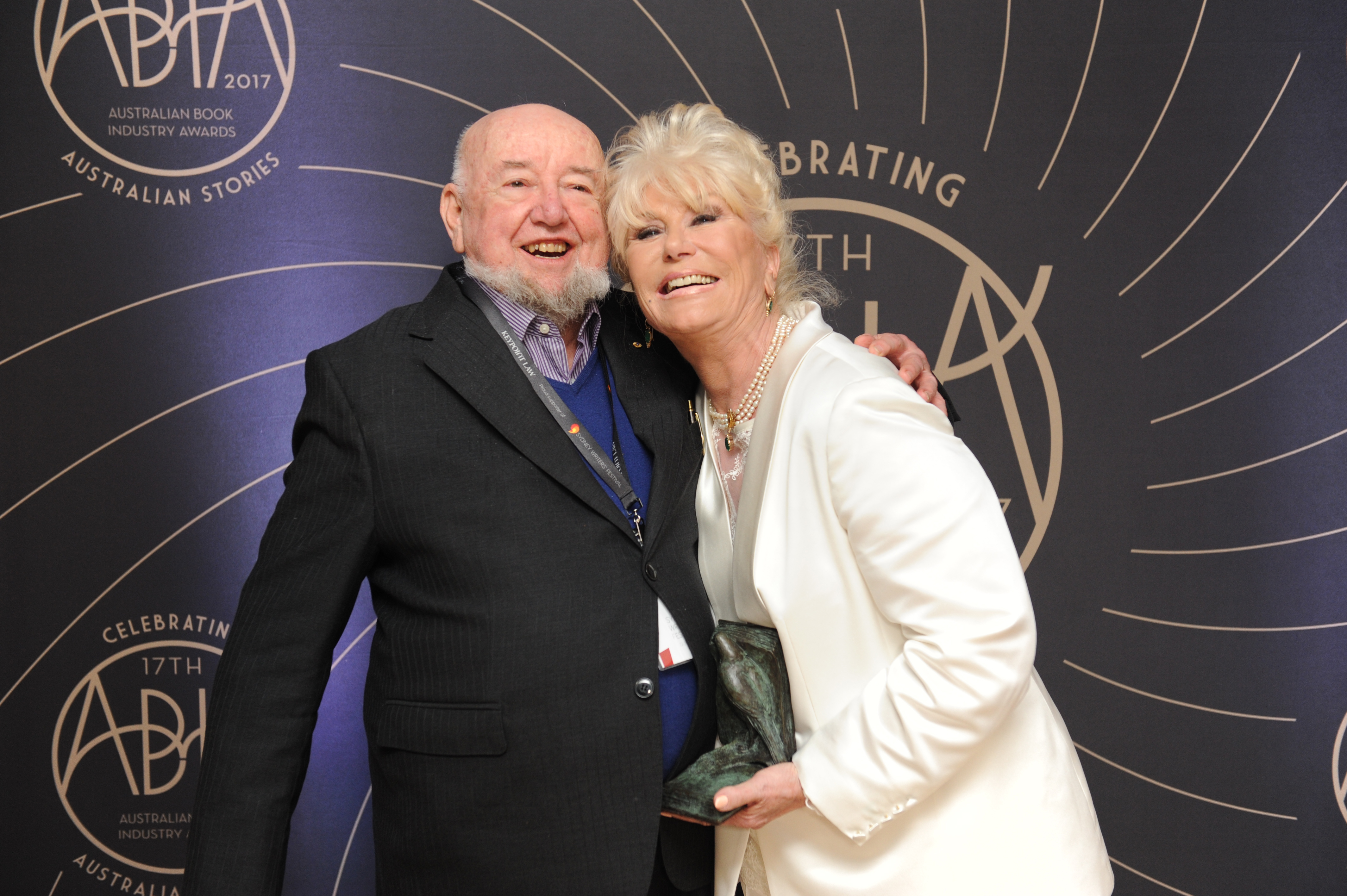 Di Morrissey's Speech
Thank you, Tom, this is such an honour, I'm still stunned. I never expected to ever be given any kind of accolade, so I'm very grateful to ABIA and of course Lloyd O'Neil, who, over his lifetime, championed popular mass-market fiction, which is after all the lifeblood for publishers.
I am especially touched to receive this from my dear friend Tom. Tom and Judy have been wonderful friends through some good and sad times. I have trudged beside Tom through snow and sand and the streets of '70s London, when he talked of the great and wonderful curse of wanting to write.
Tom, my next-door neighbour at the time, was the first person I told when I received the publishing contract for my debut novel, Heart of the Dreaming. He shook me by the shoulders … it's scary when Tom gets serious … and said, "You don't know what you've been given and what a journey it'll be." How right he was.
From age 7 when I knew I wanted to tell stories and put them in a book, to the day I held my first published book in my hands, and still, 25 books later, the awe and staggering amazement that it has come to pass, that I am a published writer, never leaves me.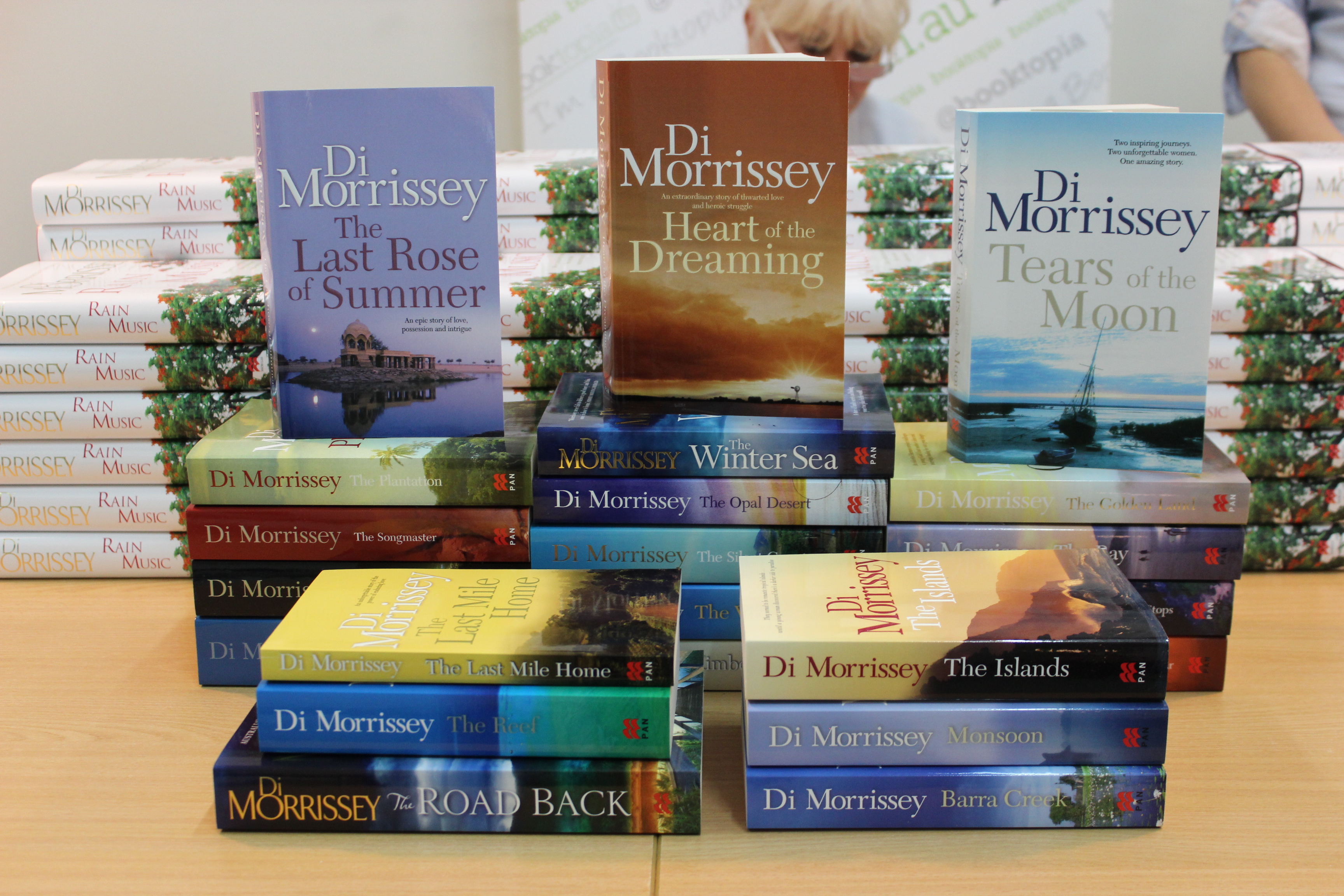 A writer writes … no matter what … but without the support of our extraordinary publishing industry our industrious scribblings would never see the light of day. They are edited, designed, printed, promoted and publicised by teams of outstanding professionals, and then pushed by wonderful booksellers.
So there are many people to thank … everyone at Pan Macmillan, of course. We have been married for 26 years now … and like all marriages we have had our interesting moments, but here we are today, and at our table are some dear Pan Mac friends who were there on day one.
I'm sorry Ross Gibb, our chairman, can't be here, but we've spoken. James Fraser, my publisher from book one to the day he retired a few years ago, is in Kenya. Thank you, James. In the rather boy's club culture of the time, Jimbo was my champion and I love him dearly for that.
Thanks to Liz Adams, my editor, friend and sparring partner of many years. Thank you, too, to then bookseller, Selwa Anthony, who in 1986 read 30 pages I'd written and held onto them until she became a literary agent and took them to James Fraser. In 1988 James recognised that it was time we not only published, but promoted and talked up, our Australian stories and authors.
Having lived a long time overseas I had returned to discover, and fallen in love with, my own country. It was serendipitous as readers were ready for local stories too.
I want to acknowledge my late uncle, Jim Revitt, an inspiring foreign correspondent for the ABC, who was a wonderful mentor to me, as he was to Stan Grant and so many others.
Thank you, David Gonski, for your time, your advice and for introducing me to Ian Robertson.
Thank you, Robbo, for taking me to the next level as you promised. And more recently, thanks to Garry Evans from Harbour Publishing for taking on my children's books. And thank you Jane Novak for your friendship and being the best ever book-tour traveling companion. I hope you never write a book! But you're too busy now being a super agent!
But most of all I want to thank those who are the reason we're all here … the readers. They tell me how my books have taken them away from pain and loss, inspired them, and given them the courage to step outside their comfort zone. We have all found wisdom, comfort and escape in the pages of a book. Books will always be with us, I am convinced of that. I've found that with age one becomes brave, or reckless. This was especially the case when I decided to write and publish a monthly newspaper two years ago, which continues to stir a few hornets' nests!



But as an author the insecurity never leaves you. We continue to open our heart and veins upon the page. And when published, part of the deal is to step up onto the stage when many of us would prefer to scribble away in obscurity. The exposure to the sunlight of scrutiny by those who judge… the giving of yourself as a writer, makes you vulnerable, fragile and questioning.
Quite recently, it was Tom, our Tom, who reminded me that there is only one recourse to avenge the writer's curse, and that is, to keep writing … to keep going forward, even when it sometimes seems I am moving at a glacial pace. But there are times on the mountain when the sun shines the wind stops and you feel a moment of elation that the words on the page have worked.
I have always clung to the notion I will get there. So this wonderful recognition has made that hard climb up the mountain vastly worthwhile. So, to the members of ABIA, my colleagues, friends and my biggest fans – darling Boris and my wonderful, extraordinary children, Gabrielle and Nick, and to you –  thank you.
VIDEO: Watch Di Morrissey chat about The Golden Land
VIDEO: Watch Di Morrissey chat about The Road Back
PODCAST: Listen to Di Morrissey chat about A Distant Journey
PODCAST: Listen to Di Morrissey chat about Rain Music

About the Contributor
Anastasia Hadjidemetri is the former editor of The Booktopian and star of Booktopia's weekly YouTube show, Booked with Anastasia. A big reader and lover of books, Anastasia relishes the opportunity to bring you all the latest news from the world of books.