Oliver Jeffers, the world-renowned illustrator of The Day the Crayons Quit and A Child of Books has announced he's written and illustrated another picture book! This one's called Here We Are: Notes For Living on Planet Earth. 
What we know is that Here We Are was inspired by the birth of Jeffers' son, Harland, having told Entertainment Weekly:
"It started without me knowing what it [the book] was. I took my son home from the hospital [after he was born], and as we walked into the apartment, I kind of started giving the tour of a classic New York one-bedroom apartment, jokingly. Like, "Well, here we are. This is where you live." I brought him into the kitchen and said, "This is the kitchen. This is where we prepare the food. Yeah, you haven't really eaten anything ever before, so food is what fuels you and it goes into your stomach… we'll get there…
And as we were walking around the neighborhood over the next couple weeks and months, I was just explaining things to him. The explaining was as much for my benefit as it was for his, because obviously, he didn't understand a word I said."
Australian-born, NY-based Jeffers was also inspired by political changes, having told The Bookseller, "As the world started to change – because the past two years have been very politically interesting and there's been a lot of negativity that's been used as fuel – it became more than just a set of guidelines for new parents; it became a set of reminders about the extremely basic things that make us human."
Here We Are  is a moving and thought-provoking book in which Jeffers takes the reader on a journey through a series of heartfelt notes introducing planet Earth. From land and sky, to people and time, the notes explore what makes the world and how we live in it, all told in Oliver's inimitable style and accompanied by his stunning illustration.
Expect Here We Are on 1 December 2017.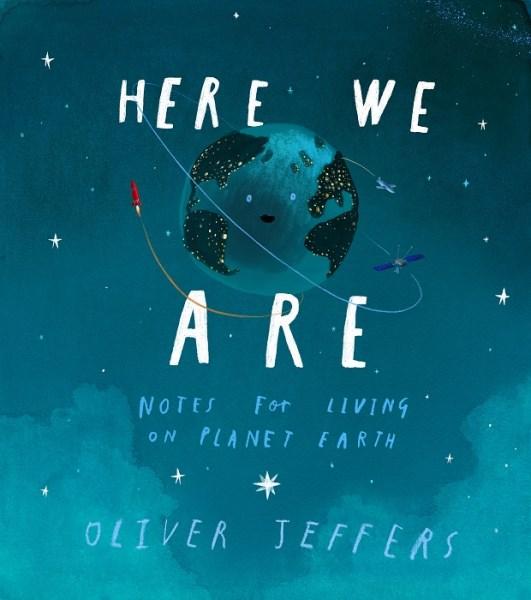 Here We Are
Well, hello. And welcome to this Planet. We call it Earth.
Our world can be a bewildering place, especially if you've only just got here. Your head will be filled with questions, so let's explore what makes our planet and how we live on it.
From land and sky, to people and time, these notes can be your guide and start you on your journey. And you'll figure lots of things out for yourself. Just remember to leave notes for everyone else... Some things about our planet are pretty complicated, but things can be simple, too: you've just got to be kind....
About the Contributor
Anastasia Hadjidemetri is the former editor of The Booktopian and star of Booktopia's weekly YouTube show, Booked with Anastasia. A big reader and lover of books, Anastasia relishes the opportunity to bring you all the latest news from the world of books.