Starring Gillian Anderson and Hugh Bonneville, Viceroy's House tells the true story of the final months of British rule in India. Inspired by the bestselling book, Freedom at Midnight, the film is both epic and intimate, with an inspirational message that celebrates tolerance.
To celebrate the film's release, Booktopia has partnered with Transmission Films to offer you a little something special. Order this edition of Freedom at Midnight (the book that inspired the film), and you'll automatically receive a double pass to see the film, released May 18th! Stock is limited, so order now to avoid disappointment.
The Film: Viceroy's House in Delhi was the home of the British rulers of India. After 300 years, that rule was coming to an end. For 6 months in 1947, Lord Mountbatten, great grandson of Queen Victoria, assumed the post of the last Viceroy, charged with handing India back to its people.
The film's story unfolds within that great House. Upstairs lived Mountbatten together with his wife and daughter; downstairs lived their 500 Hindu, Muslim and Sikh servants. As the political elite – Nehru, Jinnah and Gandhi – converged on the House to wrangle over the birth of independent India, conflict erupted. A decision was taken to divide the country and create a new Muslim homeland: Pakistan. It was a decision whose consequences reverberate to this day.
It is a story that is deeply personal to the film's director Gurinder Chadha, whose own family was caught up in the tragic events that unfolded as the Raj came to an end.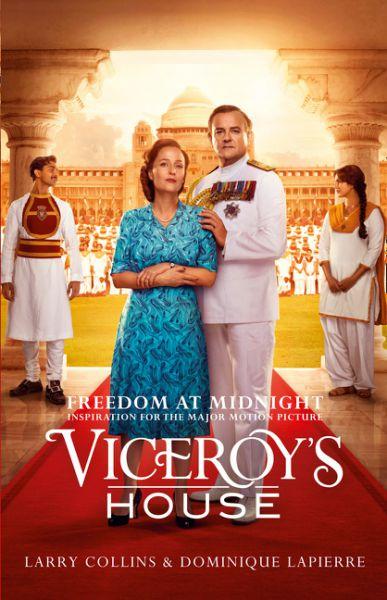 Freedom at Midnight
The electrifying story of India's struggle for independence, told in this classic account by two fine journalists who conducted hundreds of interviews with nearly all the surviving participants; from Mountbatten to the assassins of Mahatma Gandhi.
On 14 August 1947 one-fifth of humanity claimed their independence from the greatest empire history has ever seen. But 400 million people were to find that the immediate price of freedom was partition and war, riot and murder. In this superb reconstruction, Collins and Lapierre recount the eclipse of the fabled British Raj and examine the roles enacted by, among others, Mahatma Gandhi and Lord Mountbatten in its violent transformation into the new India and Pakistan...
About the Contributor