This is how Mia Freedman, co-founder of Mamamia, started the foreword to Elizabeth Sloane's book The Gift of Sleep. The proud author of her own book, Work Strife Balance, Mia contributed a funny, topical and honest foreword to Sloane's baby bible that explains how parents can teach their baby to sleep in three nights.
"At 3 a.m., no one can hear you scream.
That's precisely how it feels when you're up in the middle of the night with a baby who doesn't sleep. I could hear my baby screaming clearly enough. Several times every night. But my own screams? My screams of exhaustion, despair, frustration and loneliness? They were confined to the inside of my head.
For the first few weeks after my daughter was born, I ran on a heady mix of hormones and adrenaline, with a generous splash of gratitude that my longed-for baby had arrived safely.
Night feeds were almost a novelty. I felt womanly and invincible, filled with love for my little girl and the world. I willingly slept on a crappy mattress on the floor of her room so my beloved husband could sleep undisturbed in our giant bed. I was so grateful to him for helping create this beautiful creature that it was the least I could do. I was a happy martyr. And hey, since I was breastfeeding and he didn't have breasts, what was the point of him getting up at 2 a.m.? Let alone 3, 4 and 5 a.m.
But after more than a month of waking several times every night to feed and soothe my tiny daughter back to sleep, I began to lose my sense of humour." (Mia Freeman)

"After particularly bad nights, when one of us would be in the depths of despair, emergency gourmet-food supplies would be left silently at the front door. Meal preparation is one of the first domestic casualties of sleep deprivation and new motherhood. This food was a godsend. The support, even more so.
It was from one of these friends that I first heard about Elizabeth Sloane. She had magical powers to make babies sleep through the night, or so it seemed. My friend had used this sleep whisperer a few years ago with her first baby and Elizabeth had also worked miracles for other mums we knew." (Mia Freedman)
Elizabeth Sloane's The Gift of Sleep is for any parent trying to get their baby into a regular and healthy sleep pattern. 
Elizabeth has been giving babies from six months the gift of sleep for over 20 years. With a three-night program designed to lovingly correct any unhealthy sleep habits, Elizabeth's methods have helped break the cycles of sleeplessness, emotional exhaustion and frustration for thousands of babies and their parents, giving them a truly life-changing experience – and proven to work in just three nights. Her program offers a calm, committed and consistent approach to sleep training for all families in need of the Gift of Sleep. 
This book contains a step-by-step guide to the Gift of Sleep program, plus modified programs tailored for different age groups, worksheets, meal guides, case studies and FAQs – in short, everything parents need to get their baby to learn to self-settle and sleep all night, every night.
Order The Gift of Sleep, or any book from the Mother's Day Gift Guide by May 3rd, and you'll go into the draw to win a $1000 book pack!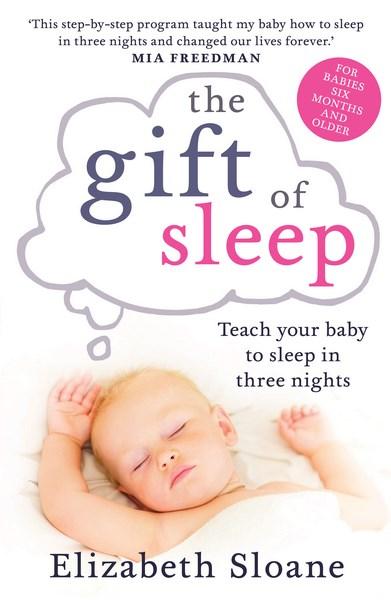 The Gift of Sleep
Teach your baby to sleep in three nights
he new bible for any parent trying to get their baby into a regular and healthy sleep pattern. Based on the hugely successful 3-day sleep school program which teaches babies (from six months old) how to self-settle.
Getting a baby to sleep through the night is the dream of every parent, but unsettled, broken nights are more often the reality.
Elizabeth Sloane has been giving babies aged six months and over the gift of sleep for over 20 years. With a three-night program designed to lovingly correct any unhealthy sleep habits your child may have developed, Elizabeth's methods have ...
About the Contributor
Before entering the exciting world of books, Bronwyn served in the Royal Australian Air Force, travelled extensively and worked (still does!) as a barista on the weekends. Books are her true passion. Bronwyn's debut fantasy novel Relic is coming out in 2019 with indie publishing house Talem Press. They are to publish her entire trilogy called The Relic Trilogy. In her spare time, Bronwyn writes, reads and enjoys keeping fit (which she undoes by eating loads of chocolate) with Martial Arts and personal training. She can't answer what her favourite book is but she has a soft spot for Peter Pan (J.M Barrie), Outlander (Diana Gabaldon), Stardust (Neil Gaiman), The Illuminae Files (Jay Kristoff and Amie Kaufman) and Six of Crows (Leigh Bardugo). Fantasy, sci-fi and YA make up the majority of her bookshelves.