Michael McCullers, the screenwriter for The Boss Baby is adapting Garth Nix's fantasy adventure Frogkisser! into an animation for Fox Animation and Blue Sky Studios. The Hollywood Reporter has reported it will be a CG-animated hybrid starring a live-action lead.
McCullers previously wrote and directed the Amy Poehler-Tina Fey comedy Baby Mama and wrote the screenplays for two Austin Powers films. His upcoming projects include scripts for Hotel Transylvania 3 and Shrek 5.
Sarah McDuling's review of Frogkisser!
There are few things in this world that I like more than books inspired by fairytales. One of those things is definitely Garth Nix and all of his works! When I heard that one of my absolute favourite authors had written a fairytale adventure, I completely freaked out.
Frogkisser! is a pure delight to read and definitely my new favourite fractured fairytale. Absolutely hilarious, wildly imaginative and packed full of quirky charm, I could not get enough of this book. If you can imagine a cross between The Princess Bride and Shrek, with a dash of every fairytale ever written, you will begin to get a feel for what Frogkisser! is all about.
And yet, while it may be inspired by familiar stories and folk tales, Frogkisser! is also refreshingly original and full of deliciously absurd little details that had me chuckling away in spellbound glee.
In case I'm not making myself clear… I really enjoyed this book.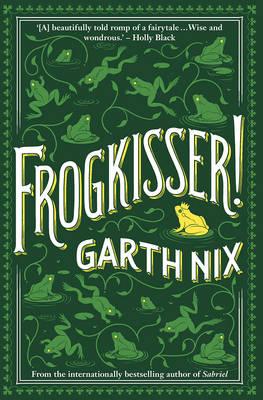 Frogkisser!
A rollicking fantasy-adventure by the master of children's speculative fiction.
Talking dogs. Mischievous wizards. An evil stepstepfather. Loads and loads of toads. Such is the life of a Frogkisser.
Princess Anya needs to see a wizard about a frog. It's not her frog, it's her sister's. And it's not a frog, it's actually a prince. A prince who was once in love with Anya's sister, but has now been turned into a frog by their evil stepstepfather. And Anya has made a 'sister promise' that she will find a way to return Prince Denholm to human form...
About the Contributor
Anastasia Hadjidemetri is the former editor of The Booktopian and star of Booktopia's weekly YouTube show, Booked with Anastasia. A big reader and lover of books, Anastasia relishes the opportunity to bring you all the latest news from the world of books.