Sharon Sala is an award-winning author with over 50 books in print. A Piece of my Heart is her latest book, the next in her Blessings, Georgia series.
Sharon now answers the Booktopia Book Guru's Nine Naughty Questions.
1. Headless washboard abs, a torrid embrace, the sprawling homestead, an elegantly dressed décolletage, or the vaguely kinky object against a dark background – what's your favourite type of romance cover and why?
The sprawling homestead because my first love will always be a ranch and a cowboy.
2. What is the secret life of a romance writer? What goes on between you and your keyboard (or quill) behind closed doors?
It's definitely not exciting. Almost always working until midnight…because the phone quits ringing after 10:00 p.m., not eating properly, forgetting to run errands, forgetting appointments when I'm on a deadline, and being lonesome for the characters and their world after I turn in the manuscript.
3. At the heart of a romantic story is the way in which the main characters reveal their true natures to each other. How much of yourself do you put into your characters, and have their stories been affected by your personal experiences?
I expect most of my stories have some of me in them, or aspects of people I know.
I don't have any patience for overbearing heroes or women who can't fend for themselves, so that also colours the way my characters evolve. Nothing makes me crazier than two grown people unable to voice their troubles outright and it gets dragged on for chapters and chapters – when all it turned out to be was a misunderstanding.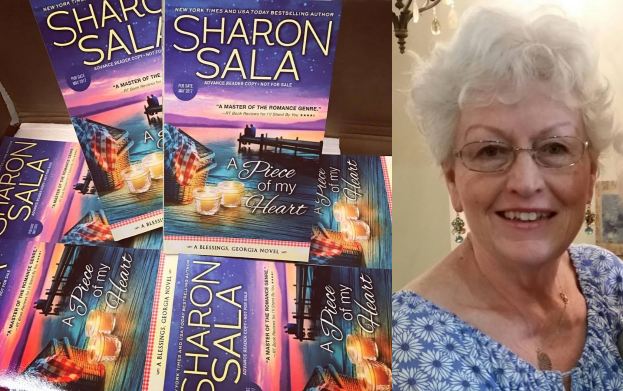 4. I'm interested in how you differentiate between romance fiction, erotica and porn. Are romance readers getting naughtier?
I can't really comment upon that because I don't write erotica or porn and I don't read it either, so I have no idea what those readers like or want.
5. Please tell us about your latest novel. Did you have a secret alternative title while you were writing it?
My latest novel is A Piece of My Heart. I don't begin a book until the title is firmly set. Not even one word on a page. It's just my process. And if it turns out upon reading the synopsis that my editor wants a different title, I pretty much freak out because the whole book in my head revolves around that title. So if someone wants another title, they're also going to get a different book.

6. What's the most memorable reaction you've received after a friend or family member read one of your books?
My very first book came out in 1991 and my Great-Aunt Gladys bought it and read it. Why? Because she wanted to see what really went on in my house and marriage. After I quit laughing, I told her nothing in that book was remotely like my life, but it WAS wishful thinking.
7. Romance writers are sometimes denigrated and asked when they'll write 'real' books – what do you tell the haters?
That used to freak me out. But after 26 years and well over 100 published titles, I say nothing. I just stand there and look at them as if waiting for a question, and after a long uncomfortable silence, I still say nothing, because that's rude and I don't respond to snide comments.
8. Romance readers love discovering new authors. Please tell us about five books you recently read and loved to bits.
I don't have much reading time, and right now I'm judging RITA entries and can't divulge titles or authors. When I do read, it's usually out of my genre. Of course favourite romance writers for me always include, among others, Kay Hooper, Linda Howard, Nora Roberts, and Allison Brennan.
9. Please tell us your favourite scene from your latest book, and why it's particularly delicious!
It's a re-united scene between the hero and heroine, where they accidentally run into each other after one crazy night of making love years before, where they didn't even know each other's names. This is in A Piece of My Heart.
Thank you for playing, Sharon!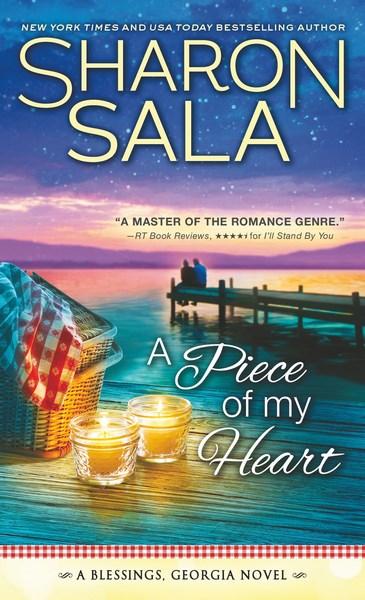 A Piece of My Heart
Blessings, Georgia Series : Book 4
Small town life isn't as simple as it seems in beautiful Blessings, Georgia
Mercy Dane has always been on her own. But when the blood donor registry calls, hoping that Mercy and her rare blood type can save a car accident victim in Blessings, she races to the rescue. She's shocked to discover that the accident victim is her long lost sister.
Chief Police Lon Pittman first saw Mercy when he pulled her over for speeding. When...
About the Contributor