This would have been a very difficult book to write. At times, I must admit, it was a difficult read, too.
Nikki Gemmell started writing this book from the moment of her mother's death, jotting down her initial reactions on hearing the news. On hearing the news that her mother had ended her own life. On discovering that no note was left. On not knowing if this was her mother's last act of independence, or a desperate cry for help. This is an extraordinary thing to do as a person, to jot down one's raw thoughts, however as a writer myself, I understand this urge to do so. Sometimes the only way writers know how they feel is to try and express it.
Death and dying has become a subject more and more writers are attempting to make sense of. This is a bold and honest look at the choice Nikki's mother makes, but also at the relationship Nikki had with her. A relationship that was often difficult, although which changed over time.
We need books like this. We will all face death at some point, face it in our own way, and reading books like After starts us thinking about something we'd prefer to push aside. I firmly believe this is something we all need to do.
Nikki Gemmell chats with John Purcell about After: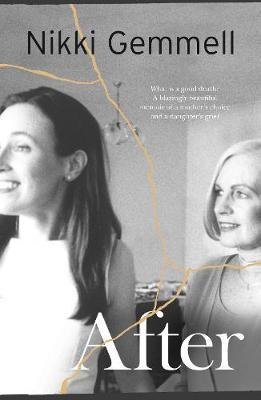 After
What is a good death? A blazingly beautiful memoir of a mother's choice and a daughter's grief.
Australia's bravest and most honest writer explores the devastating aftermath of her elderly mother's decision to end her own life.
Nikki Gemmell's world changed forever in October 2015 when the body of her elderly mother was found and it became clear she had decided to end her own life. After the immediate shock and devastation came the guilt and the horror, for Nikki, her family, relatives and friends. No note was left, so the questions that Elayn's death raised were endless...
About the Contributor
While still in his twenties, John Purcell opened a second-hand bookshop in Mosman, Sydney, in which he sat for ten years reading, ranting and writing. Since then he has written, under a pseudonym, a series of very successful novels, interviewed hundreds of writers about their work, appeared at writers' festivals, on TV (most bizarrely in comedian Luke McGregor's documentary Luke Warm Sex) and has been featured in prominent newspapers and magazines. ​Now, as the Director of Books at booktopia.com.au, Australia's largest online bookseller, he supports Australian writing in all its forms. He lives in Sydney with his wife, two children, three dogs, five cats, unnumbered gold fish and his overlarge book collection. His novel, The Girl on the Page, will be published by HarperCollins Australia in October, 2018.