After discovering Georgette Heyer in junior high school, Jane Ashford became entranced by the glittering world and witty language of Regency England, so much so that she herself now has a string of bestselling regency romances. That delight was part of what led her to study English literature and travel widely in Britain and Europe.
Nothing Like A Duke is Jane's fourth book in The Duke's Sons series. Jane now answers the Booktopia Book Guru's Nine Naughty Questions.
Headless washboard abs, a torrid embrace, the sprawling homestead, an elegantly dressed décolletage, or the vaguely kinky object against a dark background – what's your favourite type of romance cover and why?
I love the dresses. Sweeping skirts and cloaks and frothy cloth. The cover of Nothing Like A Duke is a perfect example. I think I'm wistful that we rarely get to wear outfits like that in the current day. I do have a cloak, though. Two, actually.
What is the secret life of a romance writer? What goes on between you and your keyboard (or quill) behind closed doors?
My secret life is very boring, I'm afraid. Just me sitting down every morning and searching for the words to put on the page. I may be describing a gala ballroom or a steamy embrace, but I'm all alone, probably wearing old clothes and sneakers. Drinking tea from a slightly stained cup and making odd faces. All the glamour goes into the story.
At the heart of a romantic story is the way in which the main characters reveal their true natures to each other. How much of yourself do you put into your characters, and have their stories been affected by your personal experiences?
They probably have, but I'm not sure exactly how. I don't use real events or people in my writing. My books do reflect my belief in kindness, and conviction that true love is a process in which people reveal their real characters through action.
I'm interested in how you differentiate between romance fiction, erotica and porn. Are romance readers getting naughtier?
So many terms to define here! Is sex naughty? I haven't read much erotica, and really any porn, I think. Maybe I'm too old skool to answer this question.
Please tell us about your latest novel. Did you have a secret alternative title while you were writing it?
Nothing Like a Duke is the fourth volume in The Duke's Sons series. It started out just being called Lord Robert's story. He's been involved in a long-running flirtation with Flora Jennings, which comes to a head at a country house party. Lord Robert has to learn a difficult lesson – that sometimes you have to stand back and let your love rescue herself.
What's the most memorable reaction you've received after a friend or family member read one of your books?
One or two have commented on the high quality of the writing, as if they hadn't expected it to be so good.
Romance writers are sometimes denigrated and asked when they'll write 'real' books – what do you tell the haters?
Really, if that's what a person thinks, I just don't have time for it.
Romance readers love discovering new authors. Please tell us about five books you recently read and loved to bits.
I really enjoyed The Murder of Mary Russell and Mary Russell's War, the last couple of volumes in Laurie King's series about the young woman who married Sherlock Holmes. Stirling's Emberverse series is another favourite of mine; I just finished Prince of Outcasts. And then there's Ben Aaronovitch's PC Grant series, most lately The Hanging Tree. Peter Grant is a really engaging character. And Mary Balogh's Only Beloved was great.
Please tell us your favourite scene from your latest book, and why it's particularly delicious!
Here's a good one. My heroine Flora stalks into a "wilderness" part of the garden at the country house where the book takes place. She's quite distracted, and she accidently plunges right into a bramble thicket, becoming hopelessly entangled in a mass of thorns. Our hero finds her and comes to the rescue. He has to be very careful, and move very slowly, to get those thorns out of the most delicate places – one by one.
Thank you for playing, Jane Ashford!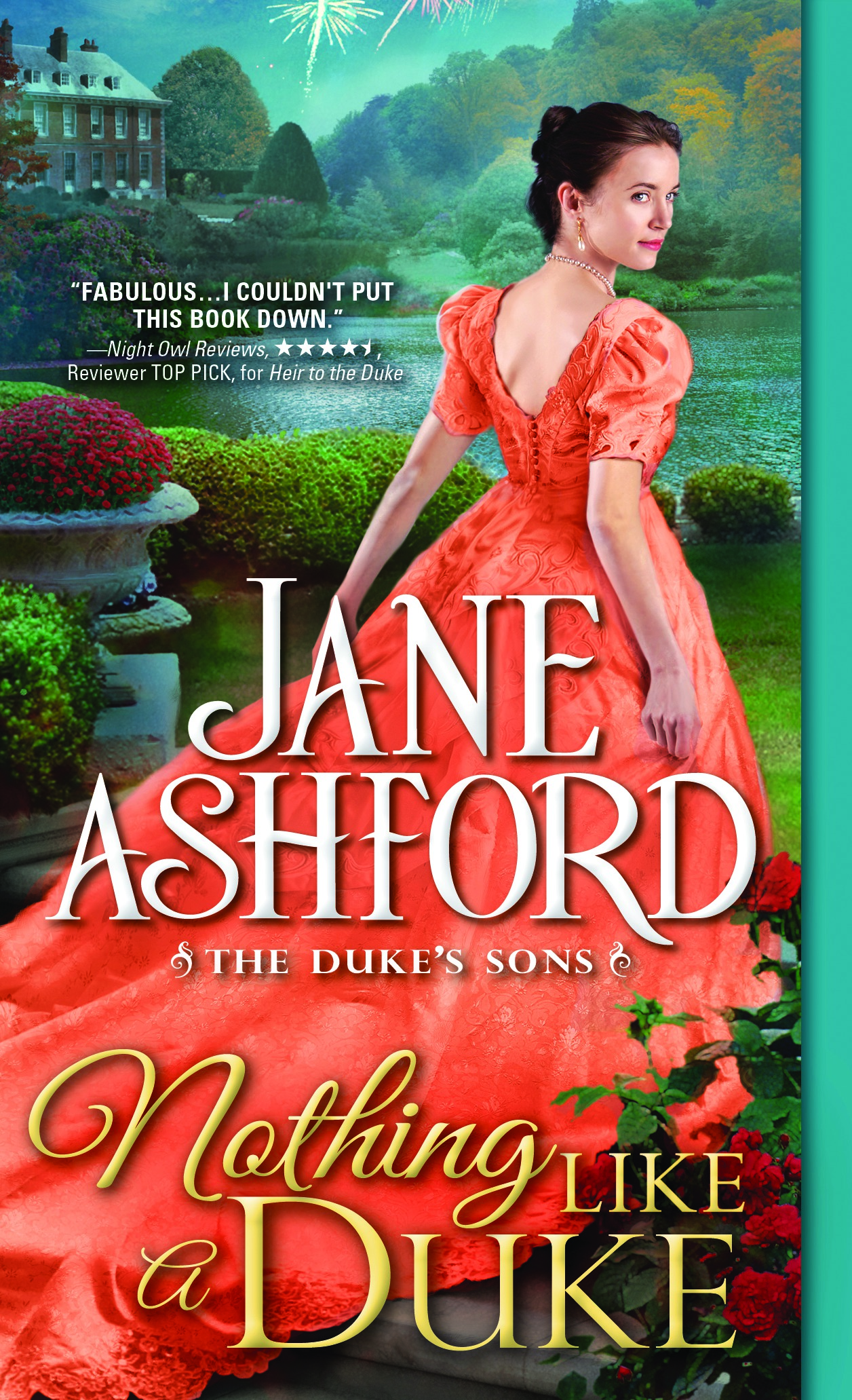 Nothing Like a Duke
The Duke's Sons Series : Book 4
A Georgette Heyer-esque tale of high society in the glittering Regency
Lord Robert Gresham has given up all hope that the beautiful Flora Jennings will ever take him seriously. He heads to an exclusive country house party to forget about Flora, but his plans are thwarted when she suddenly arrives. Their attraction flares, but their romance becomes complicated when the...
About the Contributor