See What I Have Done by Sarah Schmidt
Review + Podcast

See What I Have Done by debut author Sarah Schmidt is a lyrical and richly imagined novel about the infamous (alleged) axe murderer Lizzie Borden.
For anyone unfamiliar with the case, in 1892 Lizzie Borden was tried and later acquitted of the double homicide of her father and stepmother, who were found brutally hacked to death in their home in Fall River, Massachusetts. Though the jury found Lizzie innocent of the crimes, she was widely believed guilty and the murders remain unsolved to this day. The case was so notorious that it inspired a macabre nursery rhyme …
Lizzie Borden took an axe,
And gave her mother forty whacks.
When she saw what she had done,
She gave her father forty-one.
Scared yet? (You should be.)

See What I Have Done is both utterly absorbing and incredibly unsettling – not to mention super-duper creepy! There is a suffocating, almost claustrophobic atmosphere in the way Schmidt writes about the Borden household. This is a horrific tale about a highly dysfunctional family in which close familial bonds have become warped and strangling.
The descriptions of sounds and smells are so evocative that the Borden house is truly brought to life. The story is largely centred around the day before, and the day of the murders – told through alternating perspectives. We have Lizzie's fractured and unreliable narration, as well as the perspective of her devoted older sister Emma, the beleaguered maid Bridget, and the hired brute, Benjamin.
Reading this book is like entering a wild, feverish nightmare. In fact, it made such a deep impression on me that as soon as I finished it I was compelled to hit Google with a vengeance, determined to find out everything I could about Lizzie Borden.
See What I Have Done is incredibly enthralling, overwhelmingly intense and eerie as hell. Readers beware, this book will haunt you!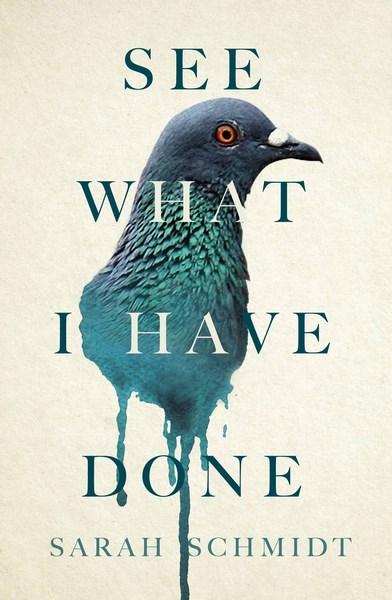 See What I Have Done
A deeply atmospheric novel by a startling new Aussie talent; an incredibly unique look inside the mind of Lizzie Borden, famously accused of murdering her father and stepmother in 1892.
'He was still bleeding. I yelled, "Someone's killed Father." I breathed in kerosene air, licked the thickness from my teeth. The clock on the mantel ticked ticked. I looked at Father, the way hands clutched to thighs, the way the little gold ring on his pinky finger sat like a sun. I gave him that ring for his birthday when I no longer wanted it. "Daddy," I had said. "I'm giving this to you because I love you." He had smiled and kissed my forehead...
About the Contributor
Sarah is the Editor of The Booktopian Blog and Senior Content Producer at Booktopia, where she enjoys unleashing the full capacity of her bookish obsession. She enjoys sword-fighting, time-travel, rare jewel collecting and competitive yodeling. She also leads a very rich fantasy life. An avid reader and book reviewer, Sarah is filled with boundless enthusiasm for the written word! She also has a slight tendency to overuse exclamation points!!!!!
Follow Sarah: Twitter