1. Headless washboard abs, a torrid embrace, the sprawling homestead, an elegantly dressed décolletage, or the vaguely kinky object against a dark background – what's your favourite type of romance cover and why?
Washboard abs, no contest! A friend and I once fell in love with a headless mannequin in the window of Valentino. But I do like a good homestead, too. My books are about falling for a place as well as a man, so it's nice to get a sense of that on the cover.
2. What is the secret life of a romance writer? What goes on between you and your keyboard (or quill) behind closed doors?
All my best scenes are written with a gorgeous six-foot-nine hunk of muscle reclining beside me. Our wolfhound, Spike, likes to go to sleep with his head between the wheels of my office chair. He's quite literally what keeps me at my desk.
3. At the heart of a romantic story is the way in which the main characters reveal their true natures to each other. How much of yourself do you put into your characters, and have their stories been affected by your personal experiences?

Luckily I'm capable of imagining people far more interesting than me! I think all writing comes out of personal experience in some way, though not always the way you might expect. As a writer, I'm always on the lookout for a good story, and I'm not above mining the lives of friends and acquaintances for plot, but I'm careful never to base a major character on anyone I know. I suspect that would be a pretty fast way to lose friends. And possibly husbands.
4. I'm interested in how you differentiate between romance fiction, erotica and porn. Are romance readers getting naughtier?
I'd like to say that romance readers are getting naughtier! But I think as a society we're much better informed than we used to be about the mechanics of good sex (which is a great thing for everybody), we're more comfortable talking about it, and as a result we're more curious about the specifics of our love scenes.
In terms of differentiation, I would describe porn as – how shall I put this? – the 'blunt' end of erotica, which of course has been around since writing was invented. Erotica doesn't need a plot or any meaningful engagement with (or between) its characters to work, whereas romantic fiction absolutely lives or dies on those two elements. I believe a romance has to have some degree of erotic charge between the two main characters, even if we never see them lay a hand on each other – and in some of the best stories, we don't. But to me, romantic fiction that combines a cracking plot and great characters with really good erotica is going to be a winner.
I believe a romance has to have some degree of erotic charge between the two main characters, even if we never see them lay a hand on each other.
5. Please tell us about your latest novel. Did you have a secret alternative title while you were writing it?
The Last McAdam is about the very determined, driven and normally level-headed farm manager Tess Drummond, who, having hooked up with a stranger at her ex-boyfriend's wedding, turns up at her next job to discover she's his new boss. In as much as she's thought about him at all, Tess has already dismissed Nate McAdam as an overconfident, womanising pretty-boy, but now the two of them have to find a way to work together and get to know each other for real, with plenty of sparks and some pretty high adventure along the way.
My working title was The Troubleshooter, because that's Tess's job – her company have sent her in to turn Nate's struggling station around. And also because Tess isn't above giving Nate both barrels on occasion!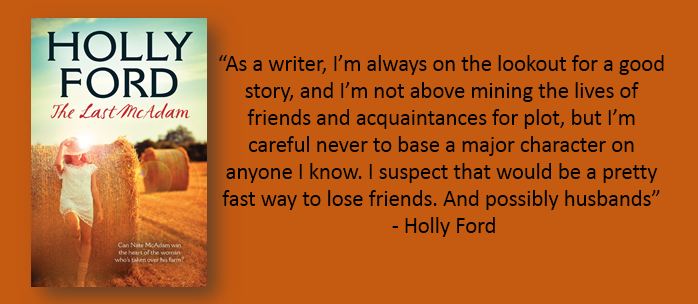 6. What's the most memorable reaction you've received after a friend or family member read one of your books?
My brother once texted me to say that the woman he'd invited over to his place for drinks had found one of my books on the coffee table and wouldn't put it down. Apparently the only word he'd been able to get out of her for the previous hour was a request for more wine.
7. Romance writers are sometimes denigrated and asked when they'll write 'real' books – what do you tell the haters?
Escape is very important. Our bodies and brains are fitted with all sorts of mechanisms to save us from experiencing too much stress, and as far I'm concerned reading romance is one of them. There are times when we need to take a serious look at life and ask ourselves the hard questions, but there are other times when we need to step out for a bit, take a break and recharge our batteries. If my books can help somebody forget about a bad day for an hour or two, that's something I'd be incredibly proud of.
And then, of course, there's also the small matter that writing romance is a rush that never gets old! What's more compelling than the everyday miracle of two people falling in love? I wrote books that touched on some pretty 'serious' subjects prior to and between publishing romantic fiction – some of them might even be called 'real' – but in the end, it was the characters in my romances who stole my heart.
Romantic fiction that combines a cracking plot and great characters with really good erotica is going to be a winner.
8. Romance readers love discovering new authors. Please tell us about five books you recently read and loved to bits.
Kalimantaan by C.S. Godshalk, a brilliant historical novel about Sarawak, an island off the coast of Borneo, which also features an unusual and very beautiful love story. And I've just rediscovered and finished binge-reading Edith Pargeter's The Brothers of Gwynedd quartet, Sunrise In The West, The Dragon At Noonday, The Hounds of Sunset and Afterglow and Nightfall. They tell the story of Pargeter's thirteenth century 'heart throb' Llewelyn the Great – now there was a leading man!
9. Please tell us your favourite scene from your latest book, and why it's particularly delicious!
There's a scene towards the middle of the book where the mischievous Nate is 'helping' Tess prepare for a date with another man by giving her a master class in flirting, and we're not too sure what he's really up to. By this stage the physical chemistry between the two of them is threatening to blow the homestead roof off, Tess is completely determined not to act on it, and she's tying herself up in all kinds of knots trying to play along with the 'lesson' and be a good sport.
Nate is teasing her dreadfully, but it isn't clear whether he's just taking the proverbial out of her or flirting for real. He announces he's going to teach her to slow dance, Tess can't figure out where it's safe to put her hands, her head is pretty much about to explode and then – well, I couldn't possibly tell you, could I?
Thank you for playing, Holly!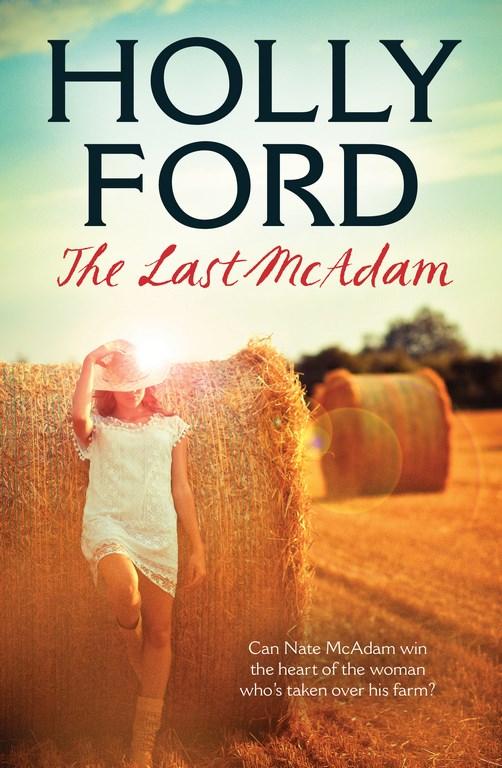 The Last McAdam
This romantic, irresistibly entertaining novel tells the story of Tess Drummond, who's been sent to turn around the fortunes of a remote sheep and cattle station her employer has taken over. What Tess hasn't counted on is coming up against the station's handsome and charismatic head stockman, Nate McAdam, whose family owned the property for generations...
Passed down through the same family for over a century, the remote sheep and cattle station of Broken Creek has recently been taken over by global agribusiness company Carnarvon Holdings. Now Carnarvon has sent its best troubleshooting manager, Tess Drummond, to turn the property's failing fortunes around - fast...
About the Contributor
Anastasia Hadjidemetri is the former editor of The Booktopian and star of Booktopia's weekly YouTube show, Booked with Anastasia. A big reader and lover of books, Anastasia relishes the opportunity to bring you all the latest news from the world of books.