Inside the Chamber of Secrets:


An interview with Jim Kay, illustrator of the illustrated edition of
The Chamber of Secrets by J.K. Rowling.
Words by Helen Boyle.
A whirlwind of critical acclaim and global sales greeted the publication of the illustrated edition of Harry Potter and the Philosopher's Stone, but illustrator Jim Kay was already fully immersed in illustrating the second book, Harry Potter and the Chamber of Secrets.
"Book one was over two years in the making," Jim Kay tells me, "but for book two we had a few months. So I mocked up a little book of the final illustrated version, full of all the things I wanted to see. Time was the limiting factor, so I only had the chance of executing 50% of what I had originally planned. I would say no illustrated book is ever 'finished', you just run out of time."
Kay's approach to illustrating J.K. Rowling's modern classics has been one of intense attention to detail. Finding real people to 'cast' as the characters and draw them as they age has been key to his visualistion of Harry and his friends.
Illustration by Jim Kay © Bloomsbury Publishing 2016
Illustration by Jim Kay © Bloomsbury Publishing 2016
"I try to see the people I've 'cast' as my models once a year," he explains. "Children grow so fast! That's what I find interesting, that people never age the way you'd expect. I have a friend who's quite dishy with a winning smile, and so he was the obvious choice for Lockhart. By a remarkable stroke of luck his partner is perfect for Snape, and I mean perfect, even the voice. I think of all the images I've worked on, painting Snape for Harry Potter and the Prisoner of Azkaban has been my favourite so far."
But some characters are difficult to find a real model for, Dobby the House Elf for instance.
"I had no idea just how popular Dobby was until working on Chamber of Secrets," admits Kay. "From my point of view he has been really challenging. The text describes him very carefully, so I tried to adhere to that as closely as possible, but the problem has been the eyes. They are supposed to be the size of tennis-balls, which can so easily look cartoonish. I made a body out of plasticine, and a variety of Dobby heads containing false-eyes. One of them, with bat-like ears, just seemed to click for me. Like most of my models I recycled him (he's now a hippogryph's bottom), which I now regret. I'd grown fond of the little chap. But now I will need to rebuild him for later books!"
Like Kay's illustrative approach to the first Potter story, this second book contains illustrations in many different mediums; from pencil sketches to gouache and watercolour. And the art historical and natural history references abound: the mandrake page that hints at a Leonardo sketch, the playful references to natural history species guides. All this stems from a love of books and nature for Kay.
"I love books. My bedroom as a small boy contained a bookcase creaking with huge encyclopaedias on natural history, and my life since then has been working around books, from the Tate Archives to the library at the Royal Botanic Gardens, Kew. So for me, it's just a continuation of that really. I think fantasy works when you keep it grounded in reality, and I want to give the creatures that populate Potter the feel of authenticity, by describing them in detail in scientific plates and footnotes."
Illustrating the fantastical can be challenging though. "Yes, this might sound odd," Kay admits, "but when you are working flat-out on an entire book containing a lot of things that don't exist, it's mentally exhausting! You have to design everything from scratch. There are days when you desperately wish you could nip down the garden and find a pixie, just to have something tangible sat on your desk. The phoenix, for example, was based on several birds, in particular the wonderful Hoatzin."
But one place where imagination has taken over for Kay is in the continually extending scene of Diagon Alley.
"Diagon Alley has become something of a diary for me (a bit cheeky, I know, inventing new shops). So after reading about Victorian medicine, I gave the tooth magician the name of 'Mr. Trismus' – trismus being the affliction known as 'lockjaw'. 'Caput Mortuum' (the Articulator of Bones shop) is actually one of the predominant colours used in painting Diagon Alley, but the name is also associated with Alchemy, it means 'dead head' or 'worthless remains'.
"My favourite bird is the Red Kite (Milvus milvus), of which there are many where I live. The idea of the kite shop came to me while working on Diagon Alley, and the familiar squealing of a kite could be heard outside. There was a huge kite reintroduction scheme started in Grizedale, (an area of the Lake District in the UK) and so it made sense to have the kite shop being called 'Milvus Grizedale, Kite Maker'.
"Other names or slogans are little jokes that tickle me; the booth that sells leeches, if you look carefully it says 'We'll bite them on the features' – a pun on Churchill's famous speech. The facade of the Myomancer's shop is based on the Marvellous Mechanical Mouse Organ – I am a huge Bagpuss fan. 'What Larks' is of course from Dickens. Ultimately though, my illustration of the whole street is simply my response to the cartoon I loved the most as a child, Mr. Benn, This is my 'Festive Road'."
This book has some darker scenes, and the stories do get progressively darker, how does Kay feel about that?
"I had to really hold back on the darkness for these first two books, I know in my head exactly what the Deathly Hallows will look like, so I'm trying to build slowly up to that – you need to leave yourself somewhere to go. Also, you don't want to scare young readers from these wonderful stories."
But there are a lot of spiders in this book, not good if you're arachnophobia!
"I love spiders, we have a huge variety in my studio. This week a cellar spider's egg sack hatched, and so we have at least sixty baby spiders. We have spitting spiders on my windowsill, jumping spiders, house spiders, missing-sector spiders, and for the illustration I would bring in the big pregnant garden spiders and drop them on my desk. In the morning you'd come down to a beautiful orb web, usually above my drawing board. Perfect!"
The book is packed with detail and things of personal resonance to Kay. The endpaper images of Professor Sprout's Herbology greenhouse are inspired by London's Kew Gardens. "I miss Kew," Kay tells me. "The herbarium was the most wonderful environment, and walking through the Palm House early morning is a memory I'm extremely lucky to have. The endpaper in this book shows Greenhouse no.1. It was the last illustration I did on Chamber of Secrets, and sadly my dog Leroy passed away the day before I completed the book. This is why he appears on the endpaper. It kills me to look at this picture – I still miss him."
As to favourite illustrations and character in this book, Kay admits "Diagon Alley, just because it's so indulgent! And for characters, Harry is always the most difficult. Hagrid is without doubt my favourite, he has such mass, and so much hair, you can't go wrong really, just keep scribbling till he appears."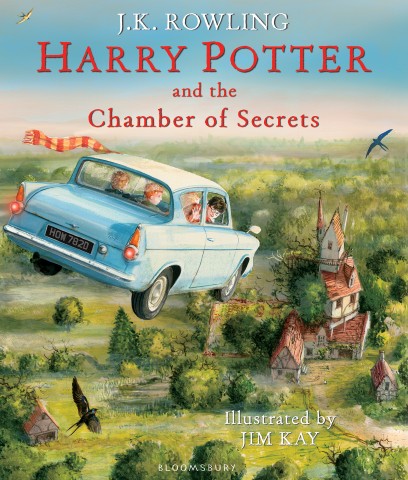 Harry Potter and the Chamber of Secrets
Harry Potter Illustrated Edition: Book 2
Prepare to be spellbound by Jim Kay's dazzling full-colour illustrations in this stunning new edition of J.K. Rowling's Harry Potter and the Chamber of Secrets.
Breathtaking scenes, dark themes and unforgettable characters - including Dobby and Gilderoy Lockhart - await inside this fully illustrated edition. With paint, pencil and pixels, award-winning illustrator Jim Kay conjures the wizarding world as we have never seen it before.
About the Contributor