Knowing Caroline, I was prepared for something good. I did not expect this, however. Caroline's memoir has surpassed my expectations and has left me a little in awe of her. Only is utterly brilliant. Sophisticated, honest, enlightening, entertaining and beautifully written. This is the kind of memoir I have been waiting for. It is reminiscent of the early twentieth century writing I so enjoy.
Caroline's family history is interesting – populated with extraordinary characters tossed hither and thither by war, love, changing political circumstances and the vagaries of business. But it is the relationship between Caroline and her parents which dominates this book. Her depiction of them is both honest and, I think, respectful. She gives us a portrait which rings true – sharing the good and the bad – allowing them to come forth as the complicated individuals I believe they must be.
Memoirs shouldn't exist to satisfy our urge to pry into the lives of others, they should really exist to help us understand our own lives better, to instruct or enlighten. Only does this. Caroline's honesty about her own foibles, as well as those of her parents, binds us to her. When she faces the turmoil of her father's illness we go through it with her. These chapters are as raw as anything from Karl Ove Knausgaard. And because she is able to share her feelings so openly, we learn from her experience.
I picked the book up because I know Caroline Baum personally. I put it down realising I actually know nothing about her. Well… I do now.
In short, on very many levels, Only is a thoroughly satisfying read.
Praise for Only.
'A rich and rollicking tale that deepens into the tenderest of daughterly tributes.' HELEN GARNER, author of This House of Grief
'A conflicted love letter to her European origins and the uncrushable spirit of her glamorous, at times difficult parents, this lyrical page turner made me laugh and made me weep.' MAGDA SZUBANSKI, author of Reckoning
'An unflinchingly honest exploration of what it takes to be a good daughter, with a heart-melting scoop of ice cream.' ELIZABETH GILBERT, author of Eat, Pray, Love
'A vivid and moving account of life as an only child: there's glamour in this world but terrors aplenty.' RICHARD GLOVER, author of Flesh Wounds
'Only is a wild and deeply felt tale. With her unflinching gaze, Caroline Baum explores the inheritance of being an "only", contrasting an exotic cast of the glamorous and the famous with her unconventional, often solitary childhood.' AILSA PIPER, author of Sinning Across Spain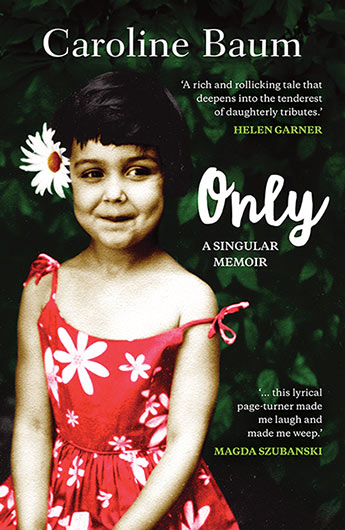 Only
Three barely felt like a family. It felt like it did not count. Like we were unfinished. Incomplete. There was always a gap at the table, room to set places for others. Visitors were few and far between. Mostly, there was only me.
...Only is a painfully honest and entertaining story of an unconventional childhood. It reveals what it feels like to be an only child and the focal point of two people damaged by trauma and tragedy, and the courage it takes to break free from the past and the pull of its secrets...
Caroline Baum's poignant and gripping memoir is for anyone who has felt the pressure of being at the fulcrum of a seesaw, the focus of all eyes and expectations...
About the Contributor
While still in his twenties, John Purcell opened a second-hand bookshop in Mosman, Sydney, in which he sat for ten years reading, ranting and writing. Since then he has written, under a pseudonym, a series of very successful novels, interviewed hundreds of writers about their work, appeared at writers' festivals, on TV (most bizarrely in comedian Luke McGregor's documentary Luke Warm Sex) and has been featured in prominent newspapers and magazines. ​Now, as the Director of Books at booktopia.com.au, Australia's largest online bookseller, he supports Australian writing in all its forms. He lives in Sydney with his wife, two children, three dogs, five cats, unnumbered gold fish and his overlarge book collection. His novel, The Girl on the Page, was published by HarperCollins Australia in October, 2018.