Karly Lane is the best-selling author of nine novels including Second Chance Town, Gemma's Bluff, Bridie's Choice and her latest, Third Time Lucky. Her novels range from romantic suspense to family sagas.  She is passionate about writing stories that embrace rural Australia and the vast communities.
Here she answers the Booktopia Book Guru's Nine Naughty Questions.
1.  Headless washboard abs, a torrid embrace, the sprawling homestead, an elegantly dressed décolletage, or the vaguely kinky object against a dark background – what's your favourite type of romance cover and why?
I love the homestead, or a rural landscape… maybe with a set of abs placed in some strategic position. Why? I guess because that identifies that it's an Australian book… with a hot male character.
2.  What is the secret life of a romance writer? What goes on between you and your keyboard (or quill) behind closed doors?
Well, it's kind of like fight club…
Actually, it's probably a lot less exciting than you think. There's a lot of typing, then back spacing and deleting. Lots of looking up synonyms to find replacements for blissful sighs and heavy breathing. Getting up to let the cat outside. Getting up to let the cat back inside.
3.  At the heart of a romantic story is the way in which the main characters reveal their true natures to each other. How much of yourself do you put into your characters, and have their stories been affected by your personal experiences?
To some extent I think I probably put a bit of myself in the characters – sometimes it's from personal experience, other times it's maybe more of a case of what I'd like to have done or said in a situation. We've probably all replayed things over in our minds at some point and wished we'd said something different or made a different choice now and again.
4.  I'm interested in how you differentiate between romance fiction, erotica and porn. Are romance readers getting naughtier?
I think the genres are beginning to get so diverse now that you can have different branches of genre within a genre. I'm not sure readers are getting so much naughtier, than they're just able to have such a wider choice readily available now. I think sex in books tends to blur the lines, depending on the author. I know a lot of readers will favour certain writers, depending on what heat level they feel comfortable reading.
5.  Please tell us about your latest novel. Did you have a secret alternative title while you were writing it?
Third Time Lucky was once December's Wish. It started off as a Christmas novella a few years ago, but we've re-released it as a full-length novel. Although it's got a distinctive Christmas feel about it, the underlying story is based around a couple who were teenage sweethearts, separated by a tragedy in their youth, and now reunited years later.
December Doyle wants to save her little town of Christmas Creek from becoming a ghost town. It desperately needs a new industry to breathe life back into it. However, Seth Hunter has other plans for the town that shunned him as a kid and gave him nothing but bad memories.
6.  What's the most memorable reaction you've received after a friend or family member read one of your books?
I had someone say they were having trouble looking me in the eye after reading one of my books… although I'm not really sure why, as I don't think my books are that racy! My parents both read my books and I now just tell my Dad what pages to skip, in advance 🙂
7.  Romance writers are sometimes denigrated and asked when they'll write 'real' books – what do you tell the haters?
I can honestly say I have never had anyone say anything like this to me. I can't even imagine anyone being that rude, actually. However, if they did, I'm pretty sure what I would say to them couldn't be written here.
8.  Romance readers love discovering new authors. Please tell us about five books you recently read and loved to bits.
Cathryn Hein's new book, Santa and the Saddler, is brilliant. Loved it. Nicki Edwards from last year, Operation White Christmas, was great and I believe she has a new Christmas one coming out soon called Operation Mistletoe Magic. Rachael Johns, of course, with The Art of Keeping Secrets; Fiona Palmer with The Saddler Boys. Margareta Osborn's Rose River.
9.  Please tell us your favourite scene from your latest book, and why it's particularly delicious!
There's a scene in Third Time Lucky where December and Seth are sharing a meal in his newly renovated house. Until this point there's a great deal of tension between the two, but not much action, so it's something of a turning point in the story.
Who can resist a bad boy…who also cooks?
Thank you for playing, Karly!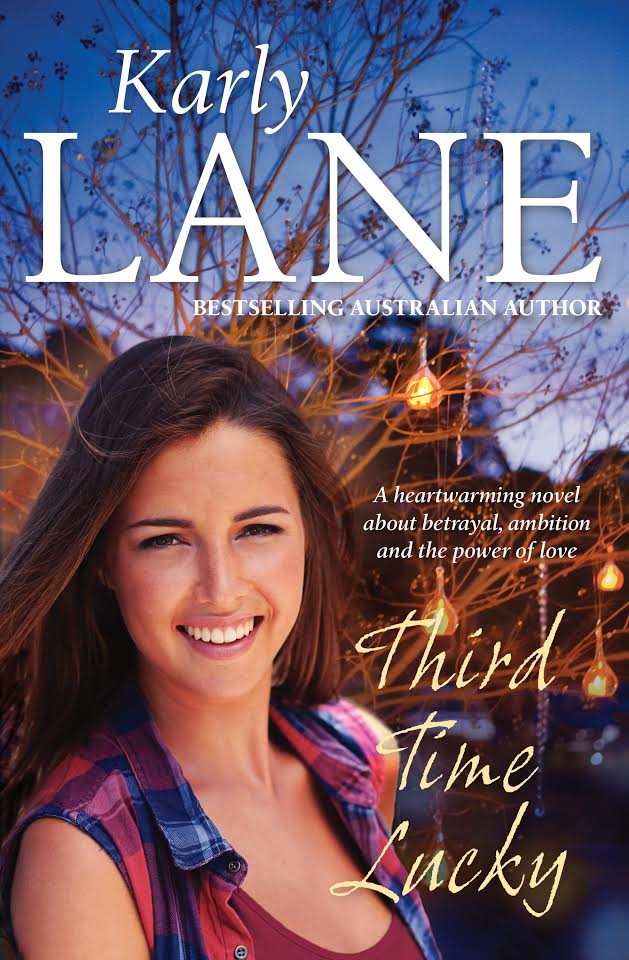 Third Time Lucky
When her marriage ends, December Doyle returns home to Christmas Creek. Will she conquer her fear of heartbreak? A heart-warming novel about betrayal, ambition and the power of love.
After a disastrous marriage, December Doyle has returned to her home town to try to pick up the pieces of her life and start again. She's also intent on helping breathe new life into the Christmas Creek township, so the last thing she needs is trouble. Bad boy Seth Hunter has also returned to Christmas Creek, and trouble is his middle name. Wrongly convicted of a serious crime in his youth, Seth is ...
About the Contributor
Anastasia Hadjidemetri is the former editor of The Booktopian and star of Booktopia's weekly YouTube show, Booked with Anastasia. A big reader and lover of books, Anastasia relishes the opportunity to bring you all the latest news from the world of books.