To celebrate 5 years of eBooks at Booktopia, we're giving you the chance to win an iPad Mini!
Simply order any eBook from the Hachette Biography Showcase by December 9, 2016 and you'll automatically go into the draw to win! One eBook that can be purchased is Miranda Hart's Peggy & Me.
Miranda Hart made her mark appearing in shows including Smack the Pony, Absolutely Fabulous and Not Going Out. But when her sitcom Miranda burst on to our screens in 2009, her popularity rocketed. Miranda has since been crowned the Queen of Comedy at the British Comedy Awards, won Best new TV comedy, as well as winning best actress in 2010 and 2011.
Her book Is It Just Me? was the number one best-selling memoir of 2012. Peggy & Me is Miranda's latest book. Below, Miranda answers the Booktopia Book Guru's Ten Terrifying Questions.
---
Miranda Hart's Ten Terrifying Questions
---
1. To begin with why don't you tell us a little bit about yourself – where were you born? Raised? Schooled?
Hello, my name's Miranda Hart. That's a good place to start. I was born in Torquay in Devon in South West England. It's a bit like Sydney but without the weather, sexy life guards, fabulous food, opera house, botanical gardens, and amazing beaches. Apart from that… I was raised in Petersfield in Hampshire south of London and went to secondary school at a boarding school called Downe House which I loved.
2. What did you want to be when you were twelve, eighteen and thirty? And why?
A comedy actress, a comedy actress and a comedy actress. With a possibility of working with animals if the dream didn't work out.
I have been fascinated by comedy since I can remember and believe in its importance – laughter's the best medicine and all that. So I wanted to try and see if I could make people laugh. Plus, I loved the idea of being a grown up but being able to keep being silly. And I enjoyed day dreaming about acting with and meeting some of my favourite actors. I have always loved the idea of Actors Company and they have rarely let me down. Such open, fun, deep thinking people.

3. What strongly held belief did you have at eighteen that you do not have now?
That I was ugly and no one would ever find me attractive. I am not saying that I now think I am a supermodel. Not at all. But I now try and make do and enjoy what I have, because we are all unique and we have to embrace and love ourselves.
4. What were three big events – in the family circle or on the world stage or in your reading life, for example – you can now say, had a great effect on you and influenced you in your career path?
Fabulous question.
1. My grandmother was a playwright and was never able to fully realise her dreams although she did have a play on in the West End once, so I am following my career for her.
2. A drama school teacher said to me "it's all very well getting cheap laughs in lessons but you will never make a living from it" and I thought to myself "I'll show you".
3. Eric Morecambe my comedy idol. Watching him from a young age influenced me hugely. It was him that made me want to be a comedian.
5. Considering the innumerable electronic media avenues open to you – blogs, online newspapers, TV, radio, etc – why have you chosen to write a book?
I still think the old mediums are the best way to tell a story. To really feel like you are talking to one person. So that's why I love the idea of writing books. I also love television and radio for it's immediacy to the audience, but this story felt right for a book.

6. Please tell us about your latest book…
Peggy & Me is an autobiographical tale of the last 9 years with my dear canine best friend Miss Peggy! Since getting her my life has changed enormously. I have learnt a huge amount from her; she has changed me and we have got into many comedic scrapes together which I unashamedly and happily share with the reader.
7. If your work could change one thing in this world – what would it be?
People's anxious and negative thoughts about themselves, not believing in themselves. I wish people were freer from a younger age to be who they want to be and not fear what others think.
8. Whom do you most admire and why?
Gosh, I don't know if I can pick one person to be honest. I admire people who are strong, positive and kind amongst adversity. People who manage to put their problems behind them and fulfil their purpose despite all.
9. Many people set themselves very ambitious goals. What are yours?
I have decided I want to be an Olympic rower for Team GB in 2020!
10. What advice do you give aspiring writers?
Write! I am not being facetious. It's very easy to keep busy doing anything but, or not believing you have anything to say or fearing you can't do it. So if you want to write, you just need to start. Write 1000 words in the morning, a stream of consciousness. That's a good way to get going.
Thank you for playing, Miranda!
Don't forget, order Peggy & Me or any eBook from the Hachette Biography Showcase by 9 December, 2016 and you'll go into the draw to win an iPad Mini! Or, order the print book before December 16, 2016, for your chance to win $1000 worth of books!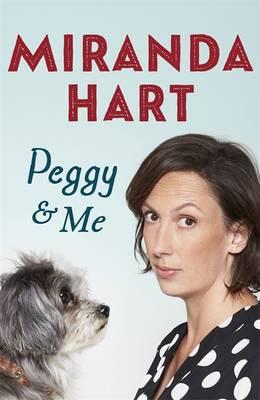 Peggy and Me
Miranda Hart's hilarious account of her life with her best companion - her gorgeous dog Peggy.
For years Miranda viewed dog owners with some suspicion. She was bored by the way that only talked about their pooches, alarmed by their light coating of dog hair and troubled by their apparent comfort around excrement. But that all changed when, nine years ago, Miranda met Peggy, a gorgeous shih tzu - bichon frise cross (Miranda calls the breed A Shitty Frise). She was exceptionally cute (the dog), very smart (again, the dog) and they bonded from their very first meeting. Their love quickly blossomed and they became inseparable...
About the Contributor
Anastasia Hadjidemetri is the former editor of The Booktopian and star of Booktopia's weekly YouTube show, Booked with Anastasia. A big reader and lover of books, Anastasia relishes the opportunity to bring you all the latest news from the world of books.