Stand Out provides you with the tools, tips and strategies to stop the cycle of 'busy' and start getting ahead. Alison Hill explains why this is important. 
Rituals and routines give us an anchor in the modern state of busyness. In our constantly connected, 24/7 lifestyle, we tend to get so busy that the important things get shoved to the bottom of the pile, added to the never-ending to-do list. So when things get crazy within all this busyness — when our lack of true progress and that sense of overwhelm hits us — our routines and rituals give us something to hold on to. They are the anchor in the storm.
When I talk to people and clients, I often hear that they constantly feel like they're being pulled in a million different directions, and this is certainly also true in my own experience. It may be that those different directions are actually all really interesting and we want to sink our teeth into all of them, but the result is we end up flip-flopping between a whole range of different things, making millimetres of progress in a few different directions, but never really getting anywhere with anything in particular.
Get clear on the behaviours you are going to engage in and focus on, and the goals you want to make progress on right now. And then create rituals to keep your intentions well and truly alive.
Use these three actions to turn your ideas into rituals:
Schedule It: We grossly overestimate how much time we have and underestimate how long things will take us. This is why, when we put the stuff that matters to the end of our day or schedule, it never gets done. Flip that notion and put the things that matter into your calendar. Take five minutes on Sunday evening to schedule in the actions that matter for you this week. If it's a morning writing ritual, set yourself a time you can commit to; if it's a yoga class, block the time out; if it's a brainstorming session with the rest of your team, square it away. Once these activities that matter are in the schedule, they become your default, and you no longer have to make a decision. Honour the schedule and notice how your week changes. 
Share It: Find someone who can hold you accountable to this ritual. This is a person you trust who will check in on how it went, without judgement, but with the caring accountability to keep pulling you back to yourself.
Tweak It: Adapt your ritual to still fit in when life changes. For example, what changes with your ritual when you're on holidays? How can you keep it up when you have to travel for work? Tweak it so it doesn't get dropped into the too-hard basket and become a good idea you had once but that never came to anything.
You've got to fight and nudge for these moments in your week. Imagine you're in a mosh pit with a million people, trying to get to the front of the stage. How do you graciously and slowly, but very persistently, elbow your way through the busyness? How do you still stake out your ground and make a claim in that space? By thinking about your intentions and setting your behaviours, and then committing to your rituals, you can gently nudge and elbow your way back to those things that matter to you.
To celebrate Booktoberfest at Booktopia, order Stand Out by October 31st and you'll go into the draw to win a non-fiction prize pack worth $1000! And if you order any book from the Booktoberfest showcase, you'll go into the draw to win a year's supply of books. That's a $50 gift voucher every week – for an entire year!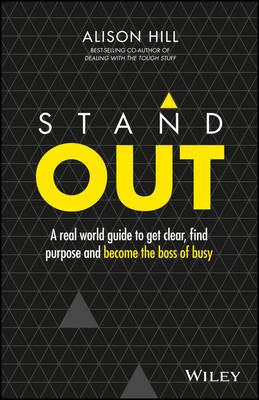 Stand Out
Stand Out shows you how to stop working so much, and start achieving instead. Everyone is busy, but working harder to do more isn't getting us anywhere. We're overwhelmed, distracted and detached, and our greatest fear is that this will never change.
This book is your guide to taking back your life. Through simple models, robust diagnostics and practical suggestions you'll identify where you are now and how to implement real change. Explore how to move on from Check Out (the sense that you are just going through the motions), combat Burn Out (the feeling that you're on a treadmill that is dial.....
About the Contributor