Earlier this year, Peter Moody, racing icon, celebrated for so long, quit the caper that had been his life. The man who took his 'good mare' Black Caviar to an unprecedented 25 straight victories, walked away from racing. Banned for six months by stewards after he was found to have presented a horse on race day with cobalt in its system, the trainer had taken the drastic step of closing down his Caulfield stables altogether.
In Moods: The Peter Moody Saga, journalist and racing writer Helen Thomas traces Moody's extraordinary career, and shines a spotlight on the cobalt scandal that engulfed him.
Guest Post by Helen Thomas
What is it that makes Spring racing in Australia so special, such a compelling experience even for those not fascinated by form guides, or swept up in the centuries-old Romance of the Thoroughbred?
We know, if we're honest, that it's not really the fashion on or off the field, or even the 'celebration' that connects the nation. It's the horses who line-up through mid-October and early November in the iconic races: the Caulfield Cup, the W.S Cox Plate, the Victoria Derby and of course, the Melbourne Cup. What they achieve moves us, and every year we hope for a small miracle of sorts – another horse to steal our hearts.
This year, that could be one of two very different 'girls'. The wonderful mare Winx is now breathing rarefied air indeed, victorious in her second W.S Cox Plate by an extraordinary eight lengths (the greatest margin the history of the race, is rightly being hailed 'champion'. And suddenly we have Jameka too, the rising star of young trainer Ciaron Maher's yard, both staring down history after she skipped away with the Caulfield Cup
Her big day at the track was shadowed only by the passing of Octagonal. A true contemporary giant, the 24 year old stallion was euthanized that morning due to the infirmities of old age; that in itself surprised thousands of Australians, who still saw him as a three year old, braver than most as he duked it out with Bart Cummings' beloved Saintly, as well as Nothin' Leica Dane and Filante.
Racing buffs insist it was the best crop of three-year-olds they have seen, and with Saintly dubbed the Horse from Heaven, Octagonal became the Big O, with fans thronging to cheer him off as he took up a second career at stud. This is what happens to Australia's finest gallopers. They become part of our sporting folklore, some almost part of the family.
Anyone lucky enough to have been at Flemington when Makybe Diva won her third Melbourne Cup will talk about it always, just as racegoers who followed Peter Moody's unvanquished Black Caviar keep safe their racetrack souvenirs; those at Moonee Valley in 1992, when horses fell but eight-year-old Super Impose prevailed in the Cox Plate, still talk about it like it was yesterday, more than two decades later. Older turf veterans treasure memories of Light Fingers too, the little mare with the biggest heart, winning the first of 12 for the Cups King.
Now, more than ever, we are concerned that these gracious, graceful athletes are well cared for through their racing days and into retirement, for what they achieve on the racetrack exemplifies what can be bold and courageous in sport, and life.
So this is where Jameka finds herself in Spring 2016, on the cusp of something remarkable. She will attempt to break the weight-carrying record for a mare of her age in the Melbourne Cup. The first filly to win the VRC Oaks at three, then the Caulfield Cup at four, she's been given a penalty of 1.5 kilograms – which means she will carry 53.5 kilograms on the first Tuesday in November. If she can repel this year's international challengers, as well as the locals, she will surpass the milestone of lioness Light Fingers, who carried 52.5 to victory in 1965.
We didn't know it at the time, but that was the start of Bart's extraordinary Melbourne Cup reign. So who knows where Jameka can take Ciaron Maher if she does win racing's coveted Cups double? Not many have done it, but the exalted honour roll includes Rivette, Rising Fast, Even Stevens, Galilee, Gurner's Lane, Let's Elope, Doriemus, Might and Power and Ethereal.
No new name has been added to this list for 15 years. But with the racing gods again on her side on November 1, Jameka – bred to run fast, yet not to excel over 2400 metres, let alone 3200 – might further rewrite turf lore, as she outruns her pedigree.
And what a new chapter that could turn out to be!
To celebrate Booktoberfest at Booktopia, order Moods by October 31st and you'll go into the draw to win a non-fiction prize pack worth $1000! And if you order any book from the Booktoberfest showcase, you'll go into the draw to win a year's supply of books. That's a $50 gift voucher every week – for an entire year!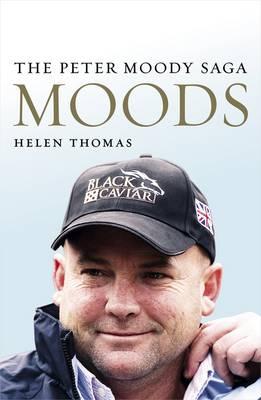 Moods: The Peter Moody Saga
The remarkable story of a champion Aussie horseman.
In March 2016 Peter Moody, the man who took his 'good mare' Black Caviar to an unprecedented 25 straight victories, walked away from racing. Suspended for six months after he was found to have presented a horse on race day with an illegal level of cobalt in its system, the trainer made the drastic decision to close down his Caulfield stables altogether. How had it come to this?
About the Contributor