Gemina, the highly-anticipated second book in the Illuminae Files series, is available today! Pure, unadulterated fun with an action-packed plot full of crazy twists and turns, Gemina is being described as Die Hard meets Aliens… how cool is that? (The answer is very cool.)
Read what 3 Booktopians thought of the book…
Plus, as part of Booktoberfest at Booktopia, if you order Gemina before October 31st, you'll go into the draw to win a year's supply of books. That's a $50 gift voucher every week – for an entire year! And… you'll be put into the draw to win a kids book pack valued at $800!
---
Review by Sarah McDuling

---
Illuminae was definitely one of my favourite books of 2015. So much so that I couldn't wait to get my hands on a copy of Gemina. And now that I have read it, I cannot wait to read it all over again! Gemina not only manages to match the mad genius explosion of space opera awesomeness that was Illuminae – it takes things to a whole new level.
It's so very rare to find a book that is both laugh-out-loud funny, genuinely terrifying, sweetly romantic, utterly devastating and also triumphantly uplifting – but such is the magic of the Illuminae Files series. Amie Kaufman and Jay Kristoff have somehow managed to capture exactly the right blend of action, horror, humour, romance and adventure. Basically, it's a perfect storm of everything amazing.
(And if it sounds like I'm gushing like a rabid fangirl that's only because I AM.)
Gemina has been described as "Die Hard meets Aliens" which is a very apt description. This book has everything from psychic alien worms through to space mafia mobsters. With a story that creatively unfolds through a combination of emails, IMs, transcripts and dossiers (plus illustrations by Marie Lu!), reading this book is truly an immersive experience. Much like its predecessor, Gemina is a wildly addictive and super fun reading experience that will leave you cheering and craving more!
---
Review by Emily Meredith

---
Like Illuminae (if you haven't read it, do that stat!), Gemina is a dossier of sorts – filled with journal entries, chat records, and death counts. It is a very unique format, and it is incredible that such a thrilling story can be told in this way. This book is a rollercoaster ride of emotions.
In Gemina, space station Heimdall is our scene. Our key players are Hannah, the daughter of Heimdall's commander, and Nik, a member of a Mafia-esque crime ring. Hannah is rich and privileged; Nik has gang tattoos showing that he's killed someone. But when an elite BeiTech team storm the station with the intent of wiping it out, Nik and Hannah are the only two with any way of making a difference.
While I did like the main characters, my absolute favourite was Nik's cousin Ella – she is incredibly sarcastic and a mad hacker; I loved her to pieces. It's also a lot of fun when reading the death counts to find names you might know – there are other famous authors, and my fabulous colleague Sarah McDuling also appears!
And then we get to the action! The problem with a book like Gemina is that I risk giving too much away if I say anything at all – that's how intricately everything is tied up! But this book will make you feel things; lots of things. It will shock you to your very core. There's beautiful art by Marie Lu, but I most adore the pictures made from words (literally). This book is not just a fantastically thrilling story, but a piece of art in its own right.
I am still broiling in a pot of emotions (and I read this book about a month ago), so much so that coherent sentences when discussing it are slightly problematic… But this book will not disappoint AT ALL. Amie and Jay have done it again – blown me away completely and utterly. Now the wait is on for The Illuminae Files – Book 3. Any tips on how to make the year go faster???
---
Review by Bronwyn Eley

---
I'd like to say I was prepared for Gemina after reading its predecessor, Illuminae, but alas, I was wrong. I'm not sure what stuck with me more – flirtatious, bad-boy Nik, kick-ass (literally) Hanna, the mind-boggling twists and turns only found in space dramas, or the emails between Nik and his cousin *CAPSCAPSCAPSCAPS*.
Jay Kristoff and Amie Kaufman have a way of making me burst out laughing while shuddering with fear, sternly yelling at the book (NO. NO. NO) and wanting to be a part of the world all at the same time. It's maddening. And I love it.
Read Amie Kaufman and Jay Kristoff's Ten Terrifying Questions!
To celebrate Booktoberfest at Booktopia, order Gemina by October 31st and you'll go into the draw to win a kids prize pack worth $800! And if you order any book from the Booktoberfest showcase, you'll go into the draw to win a year's supply of books. That's a $50 gift voucher every week – for an entire year!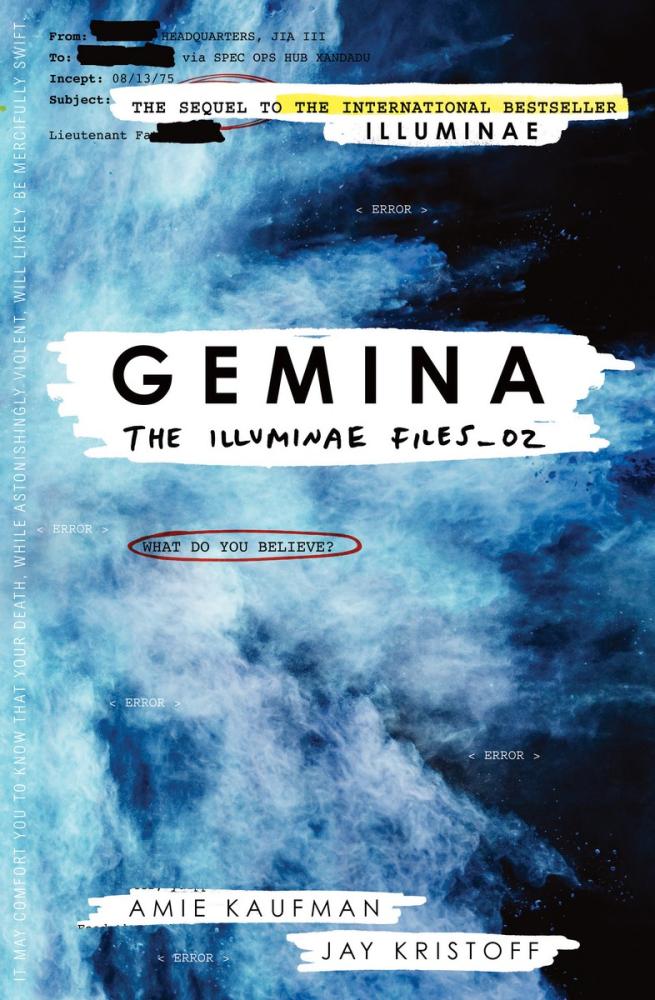 Gemina
The Illuminae Files Series: Book 2
Moving to a space station at the edge of the galaxy was always going to be the death of Hanna's social life. Nobody said it might actually get her killed. The exhilarating sequel to the NYT bestselling Illuminae
The saga that began with breakout bestseller Illuminae continues aboard Jump Station Heimdall, where two new characters will confront the next wave of BeiTech's assault. Hanna is the station commander's pampered daughter, Nik the reluctant member of a notorious crime family. But while the pair are struggling with the realities of life aboard the galaxy's most boring space station...
About the Contributor
Sarah McDuling is Booktopia's Senior Content Producer and Editor of The Booktopian Blog. She has been in the bookselling game for almost a decade and a dedicated booklover since birth (potentially longer). At her happiest when reading a book, Sarah also enjoys talking/writing/tweeting about books. In her spare time, she often likes to buy a lot of books and take photographs of books. You can follow her on Twitter and Instragram @sarahmcduling
Follow Sarah: Twitter