1.  To begin with why don't you tell us a little bit about yourself – where were you born? Raised? Schooled?
I was born in the WA wheatbelt town of Yealering, where I lived a fantastic life on the farm with sheep, dogs, a retired horse named Zorba The Greek and cow named Jeffery, until I went to boarding school in Perth. From there I went to university in Perth, and shortly after left for a year in the UK. (I joked at the time I was going to grow a beard and write the great Australian novel. I was kidding – of course. I knew the novel thing was never going to happen. The beard thing however…)
2.  What did you want to be when you were twelve, eighteen and thirty? And why?
Always a writer.
So at twelve – a writer and owner of a pony – because I am a girl. At eighteen, a writer and a really boring non-musical member of the Rolling Stones – because they are the greatest rock'n'roll band in the world, and they'd be lucky to have me. At thirty, a writer and a radio producer, which I achieved and loved, because radio people are hilarious, mad, fascinating and sometimes borderline alcoholics (and sometimes not so borderline).
3.  What strongly held belief did you have at eighteen that you do not have now?
Kids! No interest in them whatsoever – until I had mine – and they learned to use the coffee machine.
4.  What were three works of art – book or painting or piece of music, etc – had a great effect on you and influenced your own development as a writer?
Star Wars: cheesy perfect genius and the first time I was utterly transported by film (to a galaxy far far away). Great classic storytelling, and Han Solo. Enough said. Don't get cocky kid.
Danae by Klimt: I have the print on the wall even now, more than twenty years after I fell in love with it and bought it on my trip through Europe with my mate Trish. She got rid of hers, but I never will for a couple of reasons: the first being that she is utterly beautiful, erotic and magical; the second being that she reminds me of me back then, awkward and weird, with acne, glasses and poo brown hair, wanting to see life, about to fall in love for the first time. And she reminds me of me now, still the same really – except that a whole lifetime has happened while we've been friends, and I realise I've been dyeing my hair the same colour as hers for the past twenty 23 years.


Weddings Parties Anything: I have to just name the band, because every song of theirs is special to me, and influences me. I have been to every Weddings show in WA, and some further afield, since I discovered them at 19. I'd always go alone, because I couldn't bear the thought of having to explain them to someone who didn't already love them. One song? For A Short Time. It's about a girl the band met, who died shortly afterwards. It is everything that makes a classic – heartfelt, poignant, and utterly singable. It is one of the many Weddings songs that let us, the punters, be the choir – and didn't we sing our bloody hearts out. For A Short Time. What a song. Oh – and Away Away. And Rain In My Heart. I'll stop now. But I still go and see Mick Thomas when he plays at The Oxford, once a year, like going to church. Only fun, and with beer.
5.  Considering the innumerable artistic avenues open to you, why did you choose to write a novel?
There was a choice?
6.  Please tell us about your latest novel…
The Drifter is a rural romance about death. It is about Cate, a party girl who is involved in the death of her best friend Brigit, and who escapes to her aunt's farm, only to find a (hot) drifter, Henry, living in the shed. When her Aunty Ida falls ill and wants to return to her farm to die, Cate and Henry must take responsibility for something huge, and finally stop drifting. But why is Henry there? What has happened to him? And how do you say goodbye to the people you love?
7.  What do you hope people take away with them after reading your work?
I obviously hope that people have a great laugh and enjoy the romance, but what I hope stays with them is the central theme of the novel about death – that you never really lose the people you love – because you can take them with you.



8.  Whom do you most admire in the realm of writing and why?
Too many! I love Kim Wilkins for her magical spookiness and her fab voice; you can tell she's the kind of woman you'd really like – and I did – too much, when I fan-girled her at a radio station and practically got her to sign my face. She also writes under the name Kimberly Freeman, and I love every inch of her. We have a kind of mutual friend who refused to introduce me. Understandable.
I also have all of Stephen Fry's books for the same reason – love his voice, and his tweedy brilliance.
Of all the amazing Australian writers I love (yes – Kim is definitely one) some of my favourites are Fiona McIntosh and Barbara Hannay, for their total class and timeless storytelling, WA girls Fiona Palmer and Rachael Johns for their warm depiction of life in the bush and Kate Morton for her nostalgic and atmospheric mysteries.
And it would be just plain rude if I didn't also mention Jane Austen, the Bronte sisters, Daphne du Maurier and Mary Stewart; we used to hang out all the time when I was a teenager, and I'm pleased to say we still catch up.



9.  Many artists set themselves very ambitious goals. What are yours?
To finish the next book. And to stop using the word weird. Quite so much. It's still good.
10.  What advice do you give aspiring writers?
I think I'm supposed to say – read a lot, write a lot and never give up. Frankly, I've never been asked, but what I'd really probably say is – pay attention. To who people are, what they do, how they look, what they say – and how they feel while they say it.
Thank you for playing, Anthea!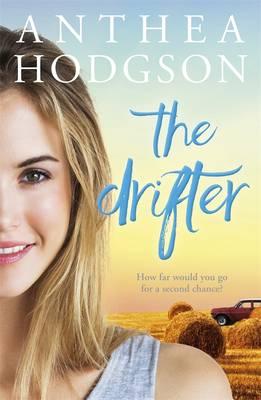 The Drifter
"'Life isn't just the breathing part, dear. It's being here, with you.'
Cate Christie is a drifter, moving restlessly through her carefree youth until tragedy strikes, and her life is changed forever. She flees the city, seeking refuge at her great-aunt Ida's farm in the wheatfields of Western Australia. There she finds Henry, a swagman whose dark eyes and heavy heart hold secrets he's not willing to share. When Ida is no longer able to go on, Cate and Henry are put to the ultimate test. Together they must embrace the true meaning of family, community and love ...
About the Contributor
Anastasia Hadjidemetri is the former editor of The Booktopian and star of Booktopia's weekly YouTube show, Booked with Anastasia. A big reader and lover of books, Anastasia relishes the opportunity to bring you all the latest news from the world of books.