It was in 2013 when Thomas Piketty shot to fame, after his book Capital in the Twenty-First Century hit bestseller lists globally, earning him the title: the rockstar economist.
When Capital in the Twenty-First Century was first released, economists and economic-enthusiasts were surprised at how well the 700 page academic tome about the accumulation and distribution of capital (in particular the increasing inequality of capital distribution) was received. Not surprisingly, this book has gone down as one of the most important popular economics books of recent decades, and will take its place amongst other classics in the field.
The rockstar economist now returns with Chronicles: On Our Troubled Times, a collection of columns he wrote between 2008 – 2015 that mainly focus on the aftermath of the 2007/2008 financial crash. The columns were written mainly in Liberation and, in one column Le Monde, both French newspapers/magazines.
As the columns were written in French, they've been translated into English, with additional and much needed context added for non-European readers regarding politics and economics.
---
PRAISE for Chronicles: On Our Troubled Times
---
If you have been influenced by Piketty's landmark work on inequality, make sure to read this next – Naomi Klein, author of This Changes Everything and The Shock Doctrine.
Coming on the heels of his masterwork, Capital in the 21st Century, one might expect this to be the lesser contribution. In fact, Piketty unleashed on real-time economics is a revelation: he is lucid and persuasive – all the more so for being proved right about most of the events he is responding to, even though the full facts only came out later … For an economist, Piketty draws on a vast and unusual store of honesty and emotional intelligence – Paul Mason, Guardian.
Well-written and accessible. He ranges widely, to Brazil, Hong Kong, South Africa and Japan. His take, as you would expect, is solidly left-wing but he does not bludgeon. Is this a collection worth buying? For those who did not get enough of him in Capital… yes – David Smith, Sunday Times.
Amazing, inspiring, forward-thinking, and pragmatic. There is a pattern forming – Marx, Keynes, Piketty. As our world changes the surest explanations and most practical solutions change in turn – Professor Danny Dorling, University of Oxford.
This small collection shows Piketty's mastery of a much wider repertoire of political and economic topics… Whether you agree with his views or not, you can't deny his ability to argue and persuade and dazzle his readers. It's a must-read –  Sydney Morning Herald.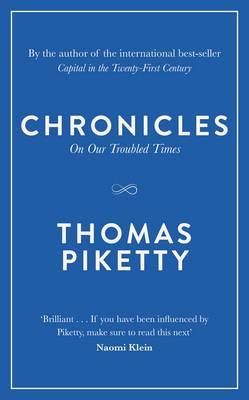 Chronicles: On Our Troubled Times
With Capital in the Twenty-First Century, Thomas Piketty wrote a bestselling book that was widely agreed to be 'extraordinarily important' (Martin Wolf, Financial Times). His powerful, evidence-based analysis and solutions - including progressive wealth taxes to reduce inequality - were praised as much as his wonderful range of reference and panache.
Bringing readers the same expert eye, breadth of thought and practical ideas - but in very short pieces - Chronicles provides Piketty's analysis of the financial crisis, and of subjects and individuals, from productivity in Britain to Barack Obama. Comprising the very best of ...
About the Contributor
Anastasia Hadjidemetri is the former editor of The Booktopian and star of Booktopia's weekly YouTube show, Booked with Anastasia. A big reader and lover of books, Anastasia relishes the opportunity to bring you all the latest news from the world of books.