Arthur Baysting is an award-winning screenwriter, children's television writer, and songwriter hailing from New Zealand. Tom Jellett is a Sydney based artist who has worked for News Limited and is an acclaimed children's book illustrator. Justine Clarke is one of Australia's most accomplished and admired performers: a best-selling children's singer and an acclaimed film, television and stage actress. 
The three have previously collaborated to create the bestselling children's book, The Gobbledygook is Eating a Book. The Gobbledygook and the Scribbledynoodle is their latest creation, sure to be a hit with the kids.
Arthur Baysting answers the Booktopia Book Guru's Five Facetious Questions: 


Every writer spends at least one afternoon going from bookshop to bookshop making sure his or her latest book is facing out and neatly arranged. How far have you gone to draw attention to your own books in a shop?
If I find one of my old books has been discarded and abandoned in a second hand shop I may sign it with a message saying something like 'Dear Reader, please get me out of this place. Steal me if necessary.'
So you're a published author, almost a minor celebrity and for some reason you've been let into a party full of 'A-listers'. What do you do?
At an awards night I found myself seated next to Morris Gleitzman – one of my idols – and we didn't talk about books. Instead we discussed music, including seeing Van Morrison live and what chance Bob Dylan might have of winning the Nobel Prize for Literature.
Some write because they feel compelled to, some are Artists and do it for the Muse, some do it for the cash (one buck twenty a book) and some do it because they think it makes them more attractive to the opposite sex. Why do you do write? (NB: don't say -'cause I can't sing, tap or paint!)
At different times probably all of these. I've worked as a journalist, playwright, scriptwriter, poet and stand-up comedian. I've written short stories, feature films, television series and I also write songs. In truth I don't know why I do it. It hasn't made me rich; all I know is I like doing it.
Have you ever come to the end of writing a particularly fine paragraph, paused momentarily, chuffed with your own genius, only to find you've been sitting at the computer nude or with your dress half-way over your head or shaving cream on your face or toilet paper sticking out the back of your undies or paused to find that you're singing We are the Champions at the top of your voice, having exchanged the words 'we are' for 'I am' and dropping an 's'? No? Well, what's your most embarrassing writing moment?
Sometimes if I've written something particularly moving in a story or a song, I find myself crying. Quite often, a few days later, I read it and wonder why.
Rodin placed his thinker on the loo. Where and/or when do you seem to get your best ideas?
Definitely when I'm skyping with my children's book collaborator Justine Clarke. After about 10 minutes we're in the zone and things start to happen. Same when I'm writing songs with her and my music collaborator Peter Dasent. We live in different countries which is why I think Skype is the best writing tool of the 21st century.
Thank you for playing, Arthur!
To celebrate Booktoberfest at Booktopia, order The Gobbledygook and the Scribbledynoodle by October 31st and you'll go into the draw to win a kids book prize pack worth $1000! And if you order any book from the Booktoberfest showcase, you'll go into the draw to win a year's supply of books. That's a $50 gift voucher every week – for an entire year!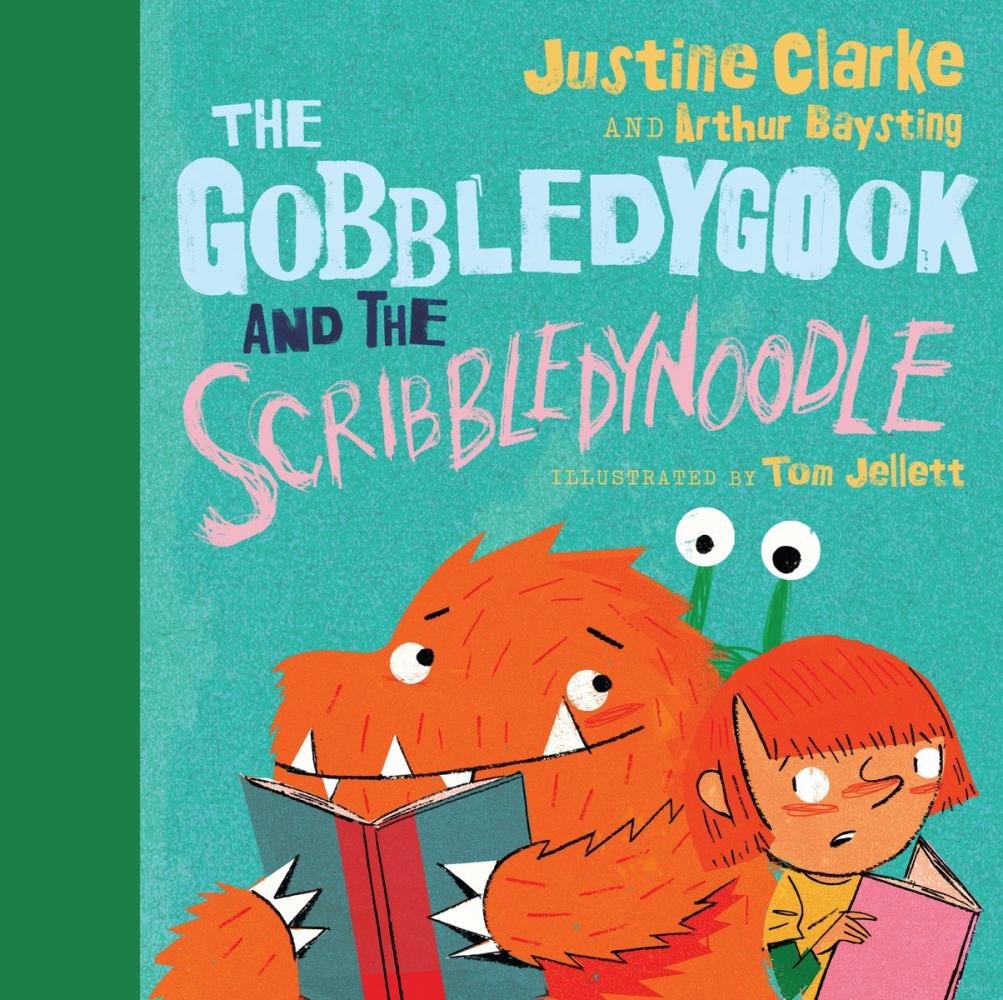 The Gobbledygook and the Scribbledynoodle
A delightful and fun book for preschoolers from the ever-popular singer, actress and children's TV presenter, Justine Clarke, teamed with Arthur Baysting.
About the Contributor
Anastasia Hadjidemetri is the former editor of The Booktopian and star of Booktopia's weekly YouTube show, Booked with Anastasia. A big reader and lover of books, Anastasia relishes the opportunity to bring you all the latest news from the world of books.