Writer and musician Sam Carmody grew up along the central rural coast of Western Australia.
His non-fiction writing has appeared in The Griffith Review and ABC's The Drum, and his short fiction has been published in The Review of Australian Fiction. He is a previous winner of the Mary Grant Bruce National Literary Award. Carmody's debut novel The Windy Season was shortlisted for the 2014 Vogel Award.
He currently lives in Darwin and teaches writing at the Batchelor Institute of Indigenous Higher Education.
1. To begin with why don't you tell us a little bit about yourself – where were you born? Raised? Schooled?
I was born in Perth in Western Australia but moved to the port town of Geraldton before I started school. We lived by the sea, just on the other side of a train line that ran behind the dunes, and when a port train wasn't going by you could hear the sea at night while lying in bed. I was wary of the ocean, but I had an older brother who was keen on it and naturally I followed him wherever he would go. So I grew up always in the water, surfing and spearfishing. A book nerd and land lover that became a lifelong devotee to the ocean out of brotherly loyalty. 
2. What did you want to be when you were twelve, eighteen and thirty? And why?
When I was twelve I wanted to be a musician. I remember an assignment when I was in year seven where we had to write an autobiography. I wrote about two things, my love and fear of sharks, and my desire to be a "professional singer". I guess right now, at thirty, I'm still doing the same things that I was preoccupied by then. I've written a novel inspired, for one thing, by my love and fear of sharks. And I'm still writing music.
And at eighteen? I had no idea what I was doing. Those late-teens – which is the age of my protagonist, Paul – are scary, awkward, listless years.
3. What strongly held belief did you have at eighteen that you do not have now?
At eighteen, then living in the city, I think I believed that I had to be someone else. I remember I had a girlfriend who loved The Strokes, and I thought that maybe if I was a little bit more like Julian Casablancas life would be good. But I looked nothing like Julian Casablancas and instead was stuck with my uncool, hyper-anxious self, who deep down was a country bumpkin and a nerd, and far more introspective and awkward than New York-cool.
These days I don't believe I have to be someone else. A writer understands the importance of honesty, and understands that real art is truthful, as awkward and hyper-anxious as the truth may be. A big part of teaching writing is having people stop pretending, to let go of that feeling that their authentic writing voice isn't the stuff of literature. On the contrary, if literary means anything to me, it means truth.
4. What were three works of art – book or painting or piece of music, etc – had a great effect on you and influenced your own development as a writer?
My grandma was a novelist, and died before I could properly talk to her about writing, when I was fifteen. But her novels have been a big influence on me, such as The Lonely Shore published in 1958. She wrote about the Western Australian coast in a way that appreciated its beauty and its horror, both in terms of its wilderness and its history. When I was small we were good friends, she used to let me write stories on her typewriter and she'd stick them on her fridge. I still think of her as my first writing mentor.
Moby Dick is a novel that has had a profound influence on me, one that captures the horror and awe we experience in the ocean.
Randolph Stow's Merry-Go-Round in the Sea had a great effect on me. When I was growing up in Geraldton, his name was a constant presence. The town's short story award for young writers is named after him. To grow up in a small town in a remote part of the country, but also know that one of the great writers of our nation grew up there too, and even wrote a book about Geraldton, that is an invaluable thing for a young writer growing up in the country. I wonder if I would have had the same confidence without a figure like him.
5. Considering the innumerable artistic avenues open to you, why did you choose to write a novel?
For me, over any other medium, writing is still superior in its ability to capture the inner life of people.
6. Please tell us about your latest novel…
My debut novel The Windy Season is about an awkward, listless seventeen-year-old from Perth, Paul, who goes looking for his missing older brother, Elliot. He ends up in the town where Elliot was last seen, Stark, and works the crayfishing boat Elliot last worked on. Paul is no detective, he's just a young guy. He's not really trying to find his brother, and he doesn't really hold out that much hope. He's really just trying to understand the world his brother lived in, and see if he can still, in a way, feel him there. But even though he isn't actively searching for Elliot, the darker forces that were responsible for his brother's disappearance eventually move in on him. 
7. What do you hope people take away with them after reading your work?
I hope the novel will make people think about the nature of Australian men, the way we bring them up – their duty to silence, stoicism – and the way in which our notions of masculinity can brutalise young men.
8. Whom do you most admire in the realm of writing and why?
Aside from my grandmother, Randolph Stow is my number one writing hero.
9. Many artists set themselves very ambitious goals. What are yours?
I just want to keep writing and keep improving my skills as a writer. I think in any art form you need to play the long game. Becoming a master craftsperson takes decades upon decades, and that's the beauty, and frustration, of being in the arts. I feel that I'm still only at the beginning of that journey as a writer. 
10. What advice do you give aspiring writers?
Number one as always is writing, and reading, then writing some more. There is no perfect time to start. No perfect situation, or readiness of an idea. As Margaret Atwood herself said: if she waited for perfection, she'd never write a word.
Thank you for playing, Sam!
To celebrate Booktoberfest at Booktopia, order The Windy Season by October 31st and you'll go into the draw to win a fiction book prize pack worth $1000! And if you order any book from the Booktoberfest showcase, you'll go into the draw to win a year's supply of books. That's a $50 gift voucher every week – for an entire year!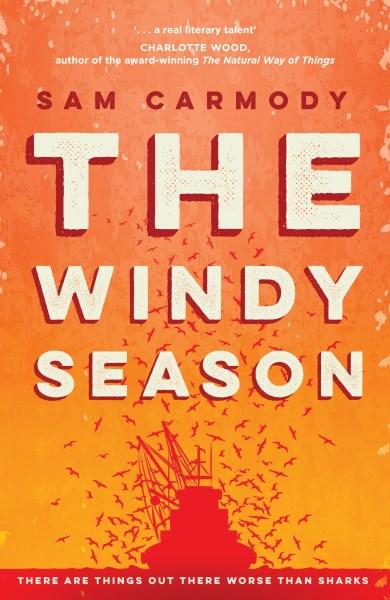 The Windy Season
A young fisherman is missing from the crayfish boats in the West Australian town of Stark. There's no trace at all of Elliot, there hasn't been for some weeks and Paul, his younger brother, is the only one who seems to be active in the search. Taking Elliot's place on the boat skippered by their troubled cousin, Paul soon learns how many opportunities there are to get lost in those many thousands of kilometres of lonely coastline...
About the Contributor
Anastasia Hadjidemetri is the former editor of The Booktopian and star of Booktopia's weekly YouTube show, Booked with Anastasia. A big reader and lover of books, Anastasia relishes the opportunity to bring you all the latest news from the world of books.