When Garth Nix visited Booktopia recently and asked about his Old Kingdom Chronicles – more specifically how he felt about returning to the series with Goldenhand, the fifth instalment – he revealed that he's never stopped thinking about Lirael and the Old Kingdom.
"I was always thinking about the story, I never left it," he reveals. "When I wrote The Creature in the Case, which was in 2005 I think, I actually knew much of the story of Goldenhand, it just took time to fully realise it and sit down and write it."
Since 2005!
Garth also revealed details of his new book, Frogkisser, which is to be released February next year. Anya, a young princess embarks on a quest to find the ingredients of a magic lip balm so to transform her sister's prince back from a frog to a human. Expect mischievous wizards, a talking dog and a boy thief trapped in the body of a newt. Have a listen to Garth's chat with Sarah McDuling and Emily Meredith below for more details about this new book… and of Goldenhand.
Review by Sarah McDuling
Like all fans of Garth Nix's much beloved Old Kingdom series (AKA readers of good sense and excellent taste), I have been looking forward to Goldenhand for ages. I have loved this series for so long, Sabriel, Touchstone, Lirael, Nick and Sam feel like old friends!
Goldehand continues the story of Lirael as she settles into her role as Abhorsen-in-Waiting. It also continues the story of Nicholas Sayre who is determined to return to the Old Kingdom and learn how to control the strange combination magics flowing through his veins.
As well as revisiting familiar characters, Goldenhand introduces readers to some wonderful new characters such as Ferin, a very strong and determined young woman with a mission to fulfil. (Possibly my new favourite Old Kingdom character!)
It is always such a pleasure to return to the Old Kingdom, and with Goldenhand I found myself wishing the book would never end. Full of action, adventure, magic and a heart-melting touch of romance – Goldenhand is a truly wonderful addition to the series.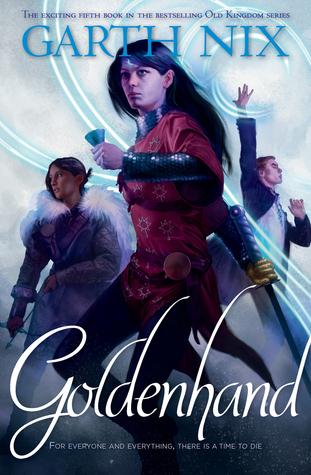 Goldenhand
Old Kingdom Chronicles: Book 5
The fifth book in the New York Times bestselling Old Kingdom Chronicles.
Lirael is no longer a shy Second Assistant Librarian. She is the Abhorsen-in-Waiting, with dead creatures to battle and Free Magic entities to bind. She's also a Remembrancer, wielder of the Dark Mirror. Lirael lost one of her hands in the binding of Orannis, but now she has a new hand, one of gilded steel and Charter Magic. When Lirael finds Nicholas Sayre lying ...
About the Contributor
Anastasia Hadjidemetri is the former editor of The Booktopian and star of Booktopia's weekly YouTube show, Booked with Anastasia. A big reader and lover of books, Anastasia relishes the opportunity to bring you all the latest news from the world of books.