As a child, Brad Hogg's grandmother wouldn't let him win at anything. She believed that as he wanted to be a sportsman, he needed to learn competitiveness through failure; victories couldn't simply be handed to him.
Hogg believes that such an upbringing has attributed to his success, saying that "it gets you ready for life."
He's now adopted this same thinking with his daughter, never allowing her an empty win. "If we're playing board games I don't let her win, I even go to great lengths to cheat."
The problem with that? "She's now learnt to cheat."
Brad Hogg,  the Australian International cricketer, actor, farmer (not according to his father), media presenter, commentator, speaker, coach and now author, visited Booktopia recently to chat about his book, The Wrong 'Un. Have a listen to his chat with John Purcell below, and learn more about his grandmother, his tendency to cheat when playing with his daughter, and exactly what he means by the wrong 'un.
This slideshow requires JavaScript.
To celebrate Booktoberfest at Booktopia, order The Wrong 'Un by October 31st and you'll go into the draw to win a non-fiction prize pack worth $1000! And if you order any book from the Booktoberfest showcase, you'll go into the draw to win a year's supply of books. That's a $50 gift voucher every week – for an entire year!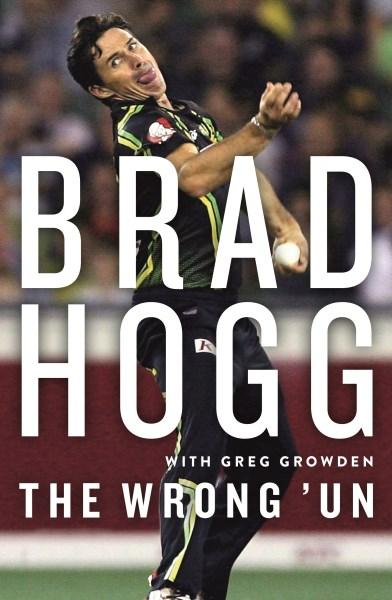 The Wrong 'Un
Memorable, unpredictable and often hilarious, The Wrong 'Un is the inspirational story of a man who will never give the game away.
At 45, George Bradley Hogg – cult hero of the Big Bash League, and in recent years a star of the international T20 circuit – is still in his prime.
From his childhood cricket obsession in rural Western Australia to the day he donned the baggy green, Brad overcame numerous setbacks and bouts of self-doubt. During a seven-year gap between his first and second Test appearances
About the Contributor
Anastasia Hadjidemetri is the former editor of The Booktopian and star of Booktopia's weekly YouTube show, Booked with Anastasia. A big reader and lover of books, Anastasia relishes the opportunity to bring you all the latest news from the world of books.