Amie Kaufman and Jay Kristoff are the bestselling authors of the young adult space opera trilogy, The Illuminae Files. Illuminae is book 1, Gemina the sequel. The third book is yet to be released.
They now answer the Booktopia Book Guru's Ten Terrifying Questions.
To begin with why don't you tell us a little bit about yourself – where were you born? Raised? Schooled?
Amie: I feel like I have to answer this one, because we all know Jay was not born, but made.
Jay: Harsh. But fair.
Amie: I was born here in Australia, but my mum's Irish, so we went back and forth a lot while I was growing up. I'm a Melbourne girl though, and that's where I live today, down by the beach.
Jay: I was born and raised in Perth, the world's second most isolated capital city. It's a pretty quiet town and no good bands ever toured there (sorry Perth, but you know it's true) so I fled to Melbourne some years back.
What did you want to be when you were twelve, eighteen and thirty? And why?
Jay: When I was twelve I wanted to be an astronaut because, space. I turned out to be terrible at maths, so no joy came of that. When I was eighteen, I wanted to be a rock star. Anyone who's been to a big rock show will understand the why's of that one. At 30, I was working in advertising, and pretty sure I had no idea what I wanted to do, except not be working in advertising. Because convincing people to buy crap they don't need with money they don't have isn't good for the soul.
Amie: When I was twelve, I wanted to be a writer, I'm pretty sure. I'd just been on the most amazing school camp my grade six teacher organised, where we wrote our own books, and I was falling for it big-time. When I was eighteen, I had no earthly idea what I wanted to be, but I thought I might be a human rights lawyer. Those kinds of questions still interest me a lot. When I was thirty, I was back to wanting to be an author again, and working on what would be my first published novel.
What strongly held belief did you have at eighteen that you do not have now?
Amie: That there is frequently such a thing as absolute right and absolute wrong. I saw the world in more black and white terms. The more of it I saw, though – and no doubt thanks to studying history, literature, law, conflict resolution, stuff like that – the more I realised that there are many sides to every story.
Jay: That nose rings were an excellent idea.
What were three works of art – book or painting or piece of music, etc – you can now say, had a great effect on you and influenced your own development as a writer?
Amie: Wow, these questions are HARD.
Jay: Seriously, what do they think we are, good with expressing complicated ideas in words or something?
Amie: There are so, so many answers both of us could give for this one, and on any given day they'd be different. Today, I'll pick Isaac Asimov's Foundation, which I remember blowing my mind the first time I read it, waking me up to the idea of science fiction that asks huge questions; Anne McCaffrey's Dragonriders of Pern series, which is responsible for my obsession with series set on other worlds (and plagues, actually), and the Live at Olympic Stadium album by Muse, which plays almost constantly while I write.
Jay: The Hobbit was the first book that really opened my eyes to the notion of fantasy and science fiction. I know it's the done thing to hack on Tolkien these days, but that was the book that started me on the path. There's a song by Meshuggah called Bleed that I wrote all my AIDAN passages to – not a great endorsement for the band that the song puts me in the mindset of a psychopathic artificial intelligence, but there you have it. I'm also going to go with the music of Ludovico Einaudi. He's been a constant in my house since I switched to full-time writing.
Considering the innumerable artistic avenues open to you, why did you choose to write a novel?
Amie: Well, for a start, budget. You can blow up anything you like in a novel.
Jay: Exactly. You don't have to sit around in meetings explaining to people why you need more money for special effects, and how this one explosion is critical to the whole movie's success.
Amie: Also, you get to stay home in your PJs a lot.
Jay: And Ugg boots.
Amie: Never forget the Ugg boots.
Jay: And there's, you know, the creative reasons.
Amie: There are those as well. Like that when you write a novel, it's an incredible collaboration of imagination with your readers. You need them to bring themselves to the story as well, to help bring it alive. That's an amazing experience.
Jay: And your novel is going to be different for every reader – it can be whatever the reader wants or needs it to be, what they make of it thanks to their own experience.
Please tell us about your latest novel, Gemina.
Jay: For those who have read Illuminae, you'll remember that the whole time our gang was on the run, they were sending out maydays to their destination, Heimdall Station, but never getting back a reply. In Gemina, we meet two new characters – Hanna, the station commander's daughter, and Nik, a reluctant member of the station's mafia—and they basically go all Die Hard on a space station (with a dash of Aliens) as we see the hostile takeover that was responsible for Heimdall's radio silence.
Amie: Gemina is designed and illustrated like Illuminae, but it has an extra, awesome design element that wasn't in the first book. Hanna keeps a visual diary, and likes to sketch to help her think. Those sketches have been provided by our incredibly talented friend, #1 NYT bestselling author Marie Lu, and they really take things to another level.
What do you hope people take away with them after reading your work?
Amie: We hope they walk away with lots of questions buzzing around in their heads, but we don't want to tell them what those questions should be.
Jay: It's like we said – a novel is different to every person who reads it, and once it's out of our hands, it belongs to readers. We hope they'll think deeply on lots of the things we raise, but the questions they ask and the answers they find are up to them.
Whom do you most admire in the realm of writing and why?
Amie: Man, these questions are hard! I thought 'ten terrifying questions' was just a snappy name, but you guys were serious.
Jay: Probably Stephen King for me. His body of work is phenomenal, his ability to switch between drama, thriller and pure panty-soiling horror is unmatched, he wrote an incredible book on writing (called, strangely enough, On Writing) and raised a #1 NYT Bestseller for a son. Not bad work.
Amie: I'm going to go with Terry Pratchett. His ability to take the everyday and just tilt it sideways a fraction, showing you a whole new view of it, was incredible. His books have made me laugh and cry, and every time I read them I learn something new about the world.
Many artists set themselves very ambitious goals. What are yours?
Amie: World domination. And I think Jay wants to buy a castle in Scotland, paint it black, and affix speakers playing heavy metal music to the outside. Is that still the plan?
Jay: Totally still the plan. I'm going to try and get the one next door to J.K. Rowling.
Amie: If we're going to be real for a moment (not our strong suit, people actively encourage us to make things up for money), our goals are ambitious. We want our books to make a difference to people. I'm going to quote Jay's last book, Nevernight: "The books we love, they love us back. And just as we mark our places in the pages, those pages leave their marks on us."
Jay: That's one of the greatest things a writer can achieve, for their books to help shape people. And beyond that, we want them to just plain entertain people. That's incredibly important. And finally, we want to still be writing in years to come. I mean, we're basically unemployable otherwise.
What advice do you give aspiring writers?
Amie: Read widely, outside the field you want to write in – that's your inspiration, and you don't want to cook with exactly the same ingredients as the authors you love. You want to add some touches that are all you. And just keep writing. Don't worry if it's bad. Our first drafts are bad. Just keep going. Finish. You'll keep getting better.
Jay: And whatever you do, don't listen to people who tell you that you can't, or shouldn't. It doesn't matter what they think, or what they say. It doesn't matter what they believe. It only matters what you think, what you believe. Because if you believe you can do it, and you're meant to be doing it, then you will. You can. And that's all there is to it. No more, no less than that.
Thank you for playing, Amie and Jay!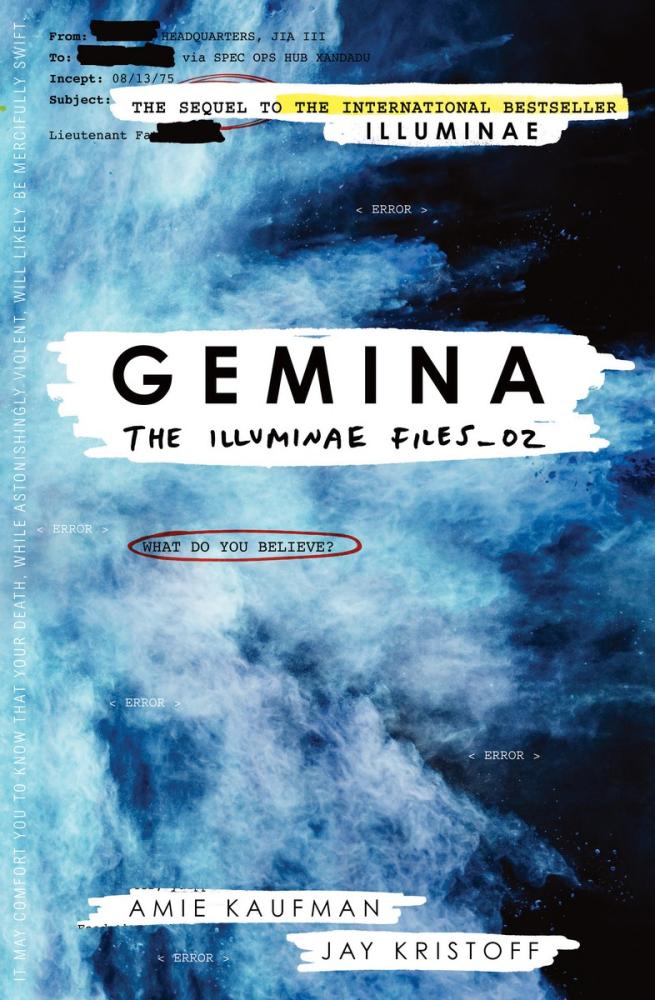 Gemina
The Illuminae Files Series: Book 2
Moving to a space station at the edge of the galaxy was always going to be the death of Hanna's social life. Nobody said it might actually get her killed. The exhilarating sequel to the NYT bestselling Illuminae
The saga that began with breakout bestseller Illuminae continues aboard Jump Station Heimdall, where two new characters will confront the next wave of BeiTech's assault. Hanna is the station commander's pampered daughter, Nik the reluctant member of a notorious crime...
About the Contributor
Anastasia Hadjidemetri is the former editor of The Booktopian and star of Booktopia's weekly YouTube show, Booked with Anastasia. A big reader and lover of books, Anastasia relishes the opportunity to bring you all the latest news from the world of books.