Adapted excerpt from Work with Me: How to get people to buy into your ideas by Simon Dowling.
I was sitting in a café with my client Susan, a senior manager for a large organisation, while we did some planning together for an upcoming conference. Susan's phone rang. 'Sorry,' she said, glancing at the screen. She identified the caller, rolled her eyes and turned the phone facedown on the table. 'No thank you,' she said with a sigh, as if she was speaking to the rejected caller.
'Bad news?' I asked.
'He's hard work – and he only started with our business a few months ago.'
How do you think this person (whoever the caller was) was going to achieve anything in the company if he couldn't get others to take his calls? The barriers were up before the work had even begun. It was going to be a long, hard struggle to get Susan to agree or cooperate with anything. Bad news if Susan is your boss!
People buy people first
Before anyone buys into your ideas, proposals or strategies, they decide whether to buy into you. This includes deciding whether they will even listen to you.
Here are some of the questions your target audience might ask themselves about you (at a conscious or unconscious level):
•    Do you know what you're talking about?
•    Can I trust you?
•    Are you just in this for yourself, or do you have my best interests at heart?
•    Do you have your act together?
•    Do I enjoy your company, or do you drain me?
•    Do you get how the world works?
These are the types of judgements we make about others all the time, typically based on scant evidence. As humans, we unconsciously judge a book by its cover. Psychologists call this thin slicing. Every time we make a judgement like this, it shapes the way we perceive a person, and those perceptions affect the way we feel about them. It's in this way that, as the Japanese proverb says, 'a reputation of a thousand years may depend upon the conduct of a single hour'.
So what reputation do you create for yourself in any given moment? When your key stakeholders – the people whose cooperation you depend on to get things done – see your name pop up on their phones, or in their inbox, do they feel inclined to help or to run in the opposite direction? Do they look forward to a meeting with you? Do they view you as someone who has credibility?
Champions of buy-in do everything they can to create a positive emotional response in those they communicate with, from the very beginning. This favourable feeling is what I call a bias to yes. Here's a few things you can do to create a bias to yes in your stakeholder relationships:
1. Be clear in your intent. How do you want others to experience you? What are the two or three words you'd like them to use to describe you if I bumped into them in the street? Do those intended perceptions support your ability to influence and generate buy-in? Be clear about your intentions and then work hard to align what you say and do with that intent – after all, your words and actions are all people have to go on.
2. Strike the right balance. According to behavioural scientists Amy Cuddy, Susan Fiske and Peter Glick, people socially judge others on two universal characteristics: competence (how intelligent, skilled and strong are you) and warmth (how likeable and trustworthy are you?). I add a third element: pace (what's the speed and intensity with which you think and speak?).
These three factors help you to assess how you might be presenting to a target audience, and whether you need to adjust your behaviours to suit that audience. Each of us has all three categories in our repertoire. But by thinking of them as variables – a bit like dials on an old-school amplifier – you're able to consider what aspects of your style you could 'turn up' and what you could 'turn down' to project the best version of yourself in any scenario, given your understanding of what your target audience is likely to respond best to.
3. Make them look good. Reflecting on my days as a performer in improvised comedy, one of the principles we lived by was: make your partner look good. I think there's gold in this for anyone who wants to build a strong collaborative relationship. And it's a good test to apply to every interaction you have. It's pretty simple: if you don't make your stakeholder look good, they probably won't want to work with you.
Work with Me: How to get people to buy into your ideas.
You have ideas. You have projects and initiatives that you need to get off the ground. But here's the rub – unless you can get others on board, those ideas aren't going anywhere.
So how do you build willing and enthusiastic support for your ideas – where people work with you, not because they have to, but because they want to? This is the gentle art of buy-in.
Work with Me is your practical guide to creating genuine buy-in around your ideas and initiatives.
Praise for Work with Me:
"Simon is amazing at what he does, and this book is like having all his wisdom in your pocket. Work with Me is absolutely full of brilliant advice that will guide you to true collaboration."
– Cyan Ta'eed | Executive Director and Co-Founder | Envato
"I cannot remember the last time I read a book, each and every word, from start to finish in one sitting. This is that book. There are so many useful and reflective insights, tips and exercises, that I am now going back to page one to read it all again."
– Mel Dunn | Vice President, International Development | AECOM
"True leadership is not to be found in the best ideas or the most thorough preparation but in our capacity to drive influence, to build buy-in, to create a sense of willing participation in enthusiastic followers. Work with Me is an invitation to all of us to be more engaging leaders."
– Dan Gregory | CEO | The Impossible Institute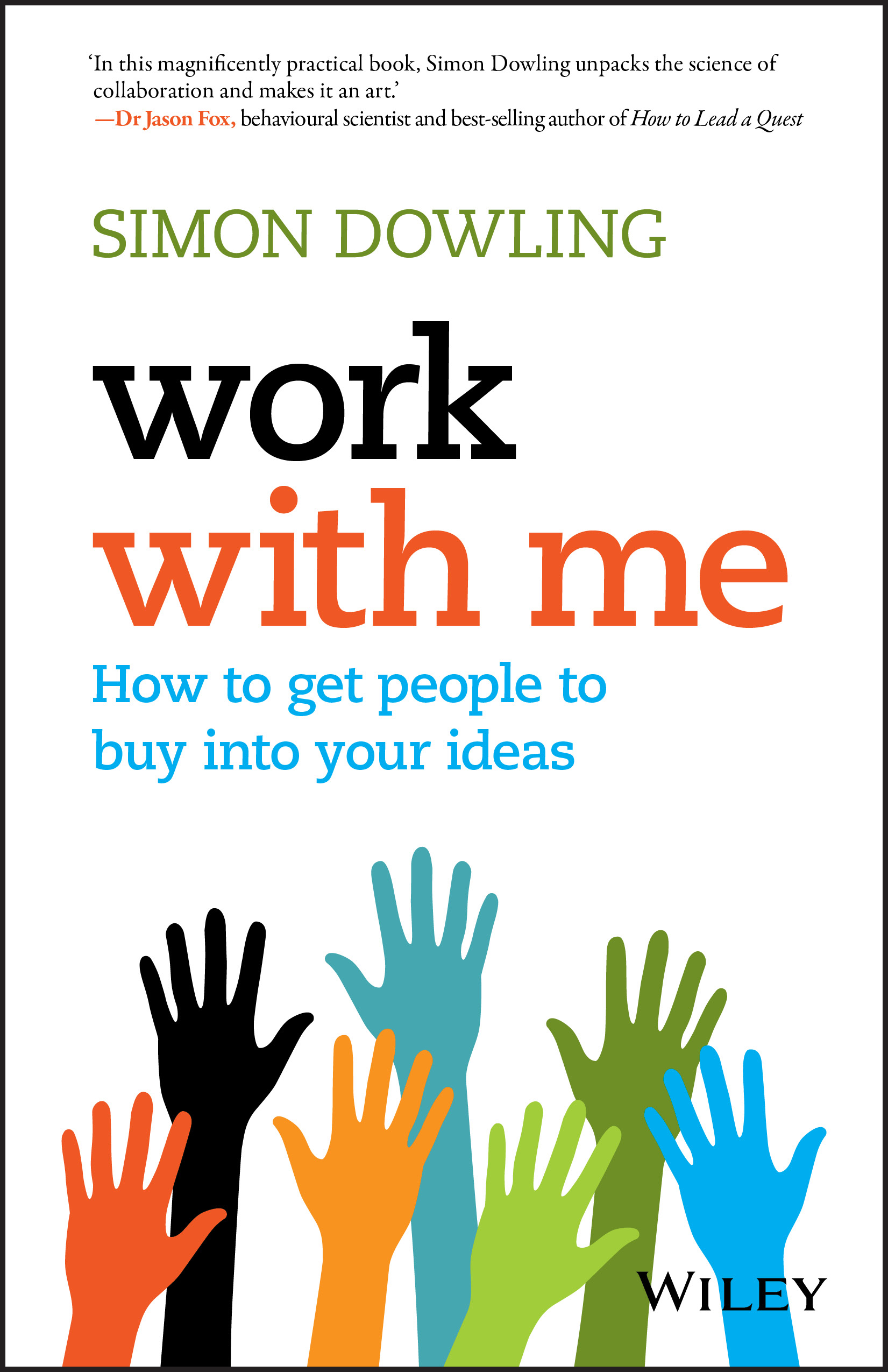 Work with Me
Work with Me shows you how to master the art of the 'buy-in.' You achieve better results when people go along with your ideas because they want to, not because they have to; the key is knowing how to build that kind of commitment. This is the art of buy-in, and it's one of the most powerful skills you can have. When people are fully on board, they bring their full selves to the project. This drives their priorities, their performance, their innovation and ultimately, your outcome. Buy-in sits at the heart of creative and collaborative cultures; it drives highly adaptive and nimble teams...
About the Contributor