It's not everyday a historian visits Booktopia, so we were super thrilled when Roland Perry visited us this week.
Roland Perry is one of Australia's best-known authors. He writes powerful biographies and his newest, Celeste, tells the story of Countess Céleste de Chabrillan, the French courtesan turned countess and best-selling author. Her story is both shocking and moving, while her spirit and gumption jump out at you off the page.
Caroline Baum, who reviewed the book, called it "a riotous romp." Listen to her podcast and read her full review below.
Sorry, no more signed copies available!
This slideshow requires JavaScript.
Review by Caroline Baum
When I started reading this biography of Countess Céleste de Chabrillan I kept doing a double-take, thinking I was reading fiction as it was so full of improbable episodes of scandal, audacity and melodrama. This is a juicy account of the life of a woman whose appetites and daring led her to become one of France's most celebrated courtesans, when such women wielded tremendous power and were the celebrities du jour.
Along the way she may have invented the can-can. The darling of the dance halls also takes part in death-defying chariot races, has an affair with one of France's most celebrated writers, and when she's shocked the seemingly unshockable Parisian society, she does it all again in Melbourne of all places. A riotous romp.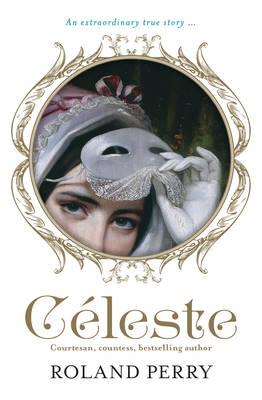 Celeste
The Parisian Courtesan Who Became a Countess and Bestselling Writer
The true story of the Countess Céleste de Chabrillan is a rich and tempestuous tale of an extraordinary woman.
Born in the gutters of Paris in 1824, Céleste made her name as a dancer in the Parisian dance halls, where it is said she invented the can-can. Then, as an equestrienne at the Paris hippodrome, her daring feats on horseback thrilled the crowds. However, it was as the city's most celebrated courtesan that the young Parisian found genuine fame and fortune. Strikingly beautiful and charismatic, her lovers...
About the Contributor
Before entering the exciting world of books, Bronwyn served in the Royal Australian Air Force, travelled extensively and worked (still does!) as a barista on the weekends. Books are her true passion. Bronwyn's debut fantasy novel Relic is coming out in 2019 with indie publishing house Talem Press. They are to publish her entire trilogy called The Relic Trilogy. In her spare time, Bronwyn writes, reads and enjoys keeping fit (which she undoes by eating loads of chocolate) with Martial Arts and personal training. She can't answer what her favourite book is but she has a soft spot for Peter Pan (J.M Barrie), Outlander (Diana Gabaldon), Stardust (Neil Gaiman), The Illuminae Files (Jay Kristoff and Amie Kaufman) and Six of Crows (Leigh Bardugo). Fantasy, sci-fi and YA make up the majority of her bookshelves.